I have been having so much fun trying out new meals and food at Whole Foods. I just recently did a series on How to Save Money at Whole Foods using their 365 Brand. A few weeks ago I had an awesome giveaway for a $75 Gift Certificate in celebration of Mangoes!! You can find some great Mango Tips on that post, including my favorite Mango Smoothie Recipe.
I have been making an effort lately to make fish once a week for dinner. It is super healthy and the entire family will eat it so I have been pushing myself to try out different fish. I am a Salmon or Shrimp kinda gal, but I did try some Paiche from Whole Foods a few weeks ago. This is a great fish to try out because it has a mild, buttery flavor and it doesn't have a huge fishy flavor (which is what I like so much about salmon). It is also a great fish for novice cooks because it is very hard to burn or dry out (sign me up)!!
It does best seared or broiled, but of course, I had to do it differently…. I breaded it!
1/2 cup Panko Bread Crumbs
1/4 cup grated Parmesan Cheese
1/4 tsp paprika
1 egg
1 tbs lemon juice
1 tbs water
1 lb Paiche
Heat the oven to 350°F. Spray a shallow baking pan with nonstick cooking spray. Combine bread crumbs, parm and paprika in a bowl; mix well. Combine egg, lemon juice and water in a separate bowl. Spread the egg mixture over your fish and then spoon the bread crumb mixture over the fish, patting gently to coat the fish. Bake at 350°F for 10 to 15 minutes or until the fish flakes easily. It was TASTY!! No fish taste at all and I loved the crunchy topping!
I sautéed some pineapple in the skillet which is a super yummy sweet side to go with your fish!
Add some coconut oil to your pan and heat until melted.
Cut your pineapple into squares and toss into the skillet.
Sprinkle with brown sugar and turn until it caramelizes.
YUMMY!!!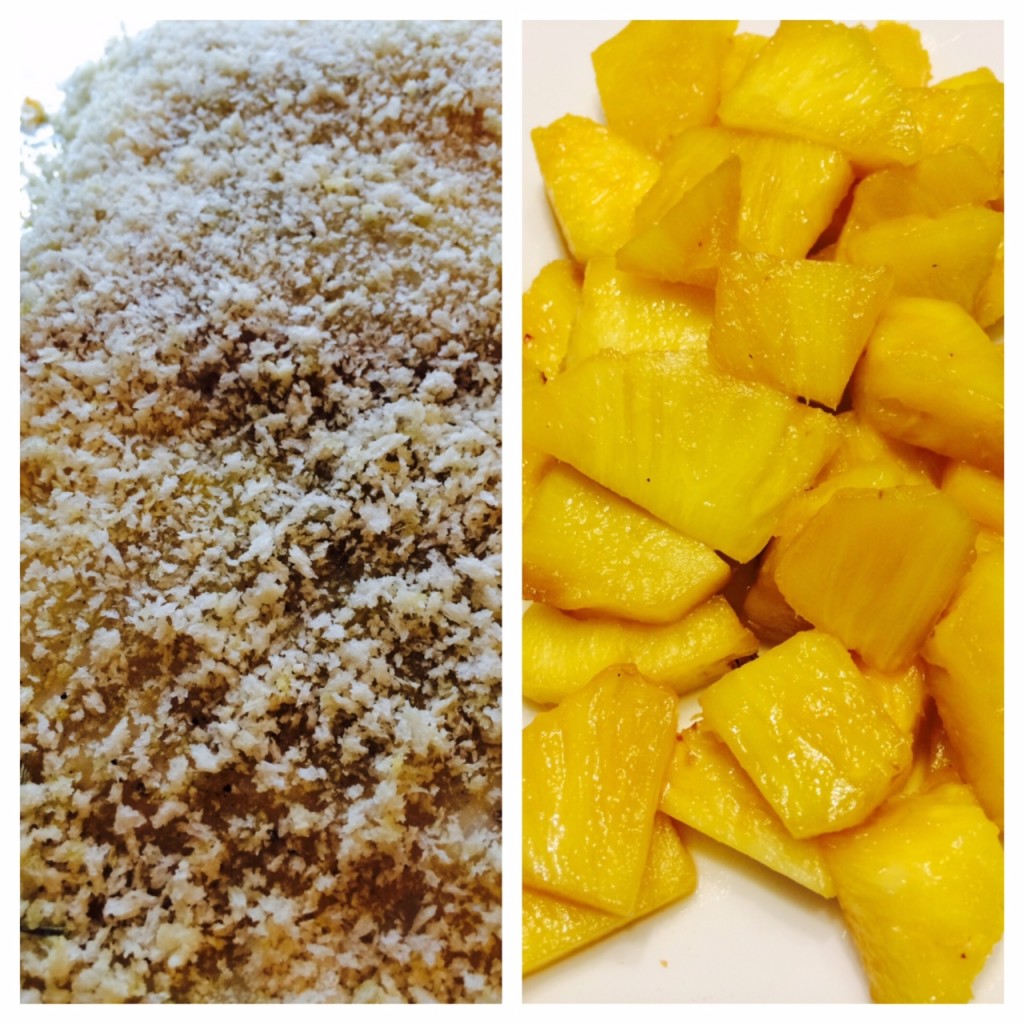 If you are looking for some great fish, I highly recommend shopping Whole Foods. They have strict quality standards and a third-party verification process. I believe this is SO important because what is given to the fish ultimately ends up in us!
Whole Foods prohibit the use of antibiotics, added growth hormones and by-products in feed.
It is safe to buy farmed seafood at Whole Foods because is is raised in carefully monitored environments that are best suited to each species. They are never kept in over crowded pens or tanks!
Whole Foods quality standards require producers to minimize the impacts of fish farming on the environment by protecting sensitive habitats. Producers also monitor water quality to prevent pollution, source feed ingredients responsibly and do not treat nets or pens with toxic chemicals.
You just can't beat the quality of Whole Foods meat! I can taste the difference and their quality standards assures me I am buying the best wild caught and farm raised fish around!
I would LOVE for you to share your favorite fish recipes with me! I need to experiment with new fish and fun new recipes :)
I was provided free food from Whole Foods to prepare this meal for my family. However, all ideas and opinions are my own! You can read more about my Disclosure & Disclaimer Policy here. Feel free to contact me with any questions! Thanks for reading!