Mangoes are a superfood in my book! Besides being super yummy, mangoes are very nutritious. They have Vitamins A, C and D. They are also anti-viral which makes it a great fruit to have on hand at all times!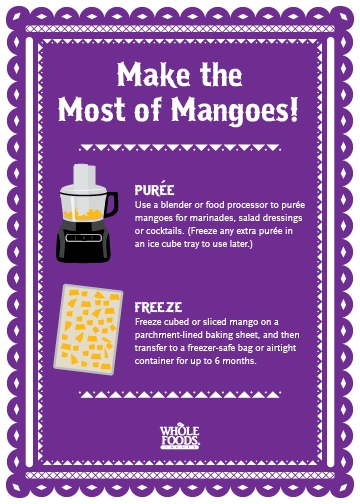 Marvelous Mango Facts:
How to select and store mangos:
Give it a (gentle!) squeeze. A ripe mango will have a slight give, much like a peach or an avocado.

Don't judge a mango by its color! Fully ripe mangos may have red, golden yellow or green skin.

Check the cheeks and shoulders. The sides of a mango are called "cheeks." A mature mango should have full cheeks and "shoulders" that rise above the beginning of the stem.

Ripen at room temperature. If you need to speed the ripening process, place the mango in a paper bag.

Move ripe fruit to the fridge, which can help slow down ripening, if needed.
A handful of ideas of what to do with Mangoes:
Peel and chop mangos and store in the freezer. This is my favorite way to use mangoes because it is an easy way to keep them on hand for tossing into kid-friendly smoothies (or even DIY baby food). Check out one of my FAVORITE Mango Smoothie Recipes here. This is a great recipe for newbie smoothie drinkers because it is so sweet!
Check out this great Whole Foods video if you don't know how to cut a mango. Who knew it could be so easy?!
Create dried mango snacks by placing peeled and sliced pieces of mango on a parchment-lined baking sheet and cooking at a low temperature for 2-3 hours.
Puree mangos for marinades, dressings, drinks or even mango butter!! YUM! Here are some recipes to get you started!
Mango Salsa. Stay tuned for this one. I will be making this with some salmon.
Mango Mocktail. Just in time for summer!
Fresh Mango Marinade. This would be great over chicken!
Mango Cucumber Salsa. Who doesn't love a great salsa?!
Check out Whole Foods Recipe Database for even more Mango recipe ideas!
Get signed up for your chance to win a $75 Whole Foods Market Gift Card to get your MANGO ON! Use your Gift Certificate to create your own marvelous mango recipes and to check out some of the other wonderful items that Whole Foods has to offer!
I was provided food from Whole Foods to cook with my family. Whole Foods also provided this giveaway for the readers of Motherhood Support. However, all ideas and opinions are my own! You can read more about my Disclosure & Disclaimer Policy here. Feel free to contact me with any questions! Thanks for reading!