We have been whittling away at our Christmas Bucket List and we marked two of those things off our list this weekend. With Christmas comes family traditions, Santa, talk of baby Jesus, family fun and SPENDING MONEY! I am sure we are all feeling the effects that Christmas gifts, pictures with Santa and other holiday happenings have on our pocket books! I posted recently about how we got FREE pictures with Santa and how you can have some other holiday fun for free or close to it!
We went cheap again this weekend :) I had seen on another blog (SO sorry, but I can't find the link now to give credit) that had a TON of Christmas ideas. We had fun Friday night trying one of the things on her list. All aboard the Polar Express!!!! I dvr'd the Polar Express movie (free!) or you can check a copy from your local library (also free)! This is such an adorable movie that it will end up being one of those holiday classics for us (along with Rudolph the Red-Nosed Reindeer and the island of Misfit Toys ,one of my favs growing up)! Anyways, the recommendation was to create your own Polar Express ride. Get the kids ready for bed and have a ticket under their pillow and then take them somewhere special…. how CUTE is that?! So, I found these FREE printable train tickets, which you can completely customize and stuck them in the kids stockings. We gave them a bath before dinner so as soon as we were done eating, I started ringing the Christmas bells we have. Cody ran over to the stockings and was SO excited to find a ticket and even more excited when I told him it was for the Polar Express! We got in the car (which I told him was our own personal Polar Express… imagination goes a LONG way with the kiddos!) and went around looking at Christmas lights (free!). Cody LOVED it and Grayson actually kept making noises of excitement too! There is something magical about Christmas lights and Christmas music. There were some great displays and one house actually had lights synced to music on the radio. It was AMAZING! O.k. so we did stop at Starbucks to get Hot Chocolate (did you know they will steam it at a lower pressure for the kiddos so it isn't so hot?!), but I made a mental note for next year to make some cocoa at home before we leave (also free :) ). It was nice and peaceful just driving around with the fam! Cody held on tight to his ticket because he was afraid he was going to lose it like the girl did on the movie :) When we got home, we had to punch his ticket like the conductor did on the movie :) NO, I didn't make any cool words! Cody was happy just to get a punched hole on it! It was cute how into it he got!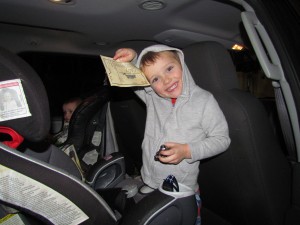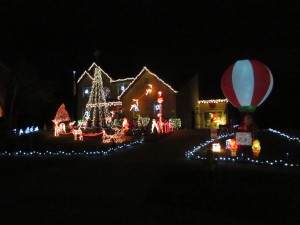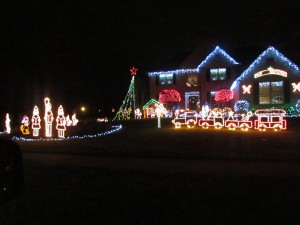 We also went to the Neiderman Farm Christmas Walk! This is a FREE walk-though Christmas Display. Visitors can enjoy tens of thousands of lights that illuminate the path
. You view life-size nativity and several Biblical scenes telling the real story of Christmas. There are hundreds of decorated trees and live animals that the kids can enjoy! The walking path is wheel chair and stroller accessible- bonus! You can enjoy your FREE hot chocolate and cookies after the walk in their barn while listening to and enjoying FREE entertainment. They even had a FREE Christmas play Saturday night! I liked that this was something that integrated the bible and Jesus into Christmas (because a lot of the holiday is focused on Santa and elves!) since Cody has really been getting into God and Jesus from school. Below you can see Cody enjoying himself on a large train they had at the end of the walk.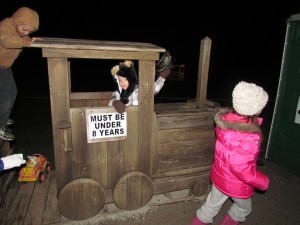 So there you have it folks. No matter where you live you can enjoy taking a ride on the Polar Express :) and if you are local to cincy, make sure to head on over to the Neiderman Family Farm for their Christmas walk! Having fun during the Christmas season does not have to cost a thang!
On a side note…. Kim and I discussed how sometimes trying to do all the holiday fun can leave you feeling stressed and overwhelmed! I have liked that we made a Bucket list this year and we can just do them as we have time. There is no pressure to get to them all! All that really matters is being together with your friends and family during the holiday season!! Happy Holidays!