We made a bucket list of local places we wanted to check out for the Holidays. We probably won't get to them all, but it was fun sitting down with Cody and making the list! We looked up activities in the Family Fun Magazine, and the websites listed on our Family Fun Calendar Page (scroll to the bottom and you will see links to lots of local websites that list events). One place I didn't realize was really geared towards kids was Bass Pro Shop. A friend of mine mentioned they take their kids all the time and I was baffled! Wasn't Bass Pro Shop for hunters and fisherman?! What in the world did they have there for kids? Well, let me tell you, they have EVERYTHING there for kids! I was SO impressed with what they offered FOR FREE that I had to post about it.
Here is a list of just some of the activities they had there for us to enjoy for FREE:
Pictures with Santa. Yes, you get a 4X6 photo with Santa FOR FREE! It does have the Bass Pro emblem (small) in the bottom right corner, but it also has the year which I liked. There was no line when we went (right before lunch) and you can go through as many times as you would like. I didn't love the ones I got of the boys, but I know we will be back soon and we can get some more! How great is that?!
Crafts
Train Table that the kids can control
Shooting Range
Remote Control Cars
Coloring Station and other activity tables
Boats and 4 Wheelers the kids can "play" on
There was more, but this was just a few of the activities in Santa Land! Also, they have a huge aquarium with tons of fish the kids can see and they have feeding times so the kids can watch them eat. I loved that it was a cold day and we were still able to enjoy some fun indoor activities for FREE! They have food for purchase and an arcade area as well. I highly recommend going. They have a little for everyone, so while the kids are playing you can get some holiday shopping done! They have the Elf on the Shelf there as well which we started last year. We broke down and bought the video this year which is short, but cute. Cody has been having fun trying to find Bo (our elf's name) every morning!I LOVE this time of year!!! Can't wait to keep checking stuff off our Bucket list and finding other fun events along the way!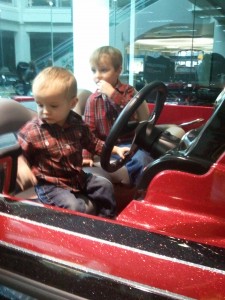 They both had SO much fun getting on all the boats. There was a ton in the mall too, just outside the store.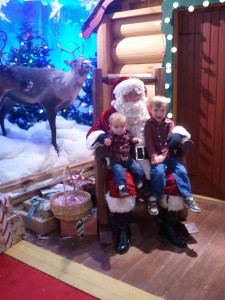 This was taken with my phone, but they do give you a professional 4X6. I liked that they didn't care how many pics I took with my phone. I wish I would have brought my nice camera so note to self for next time!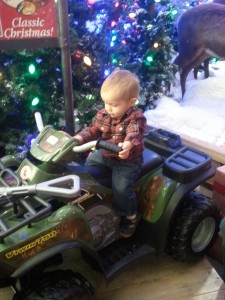 How cute is this little guy?!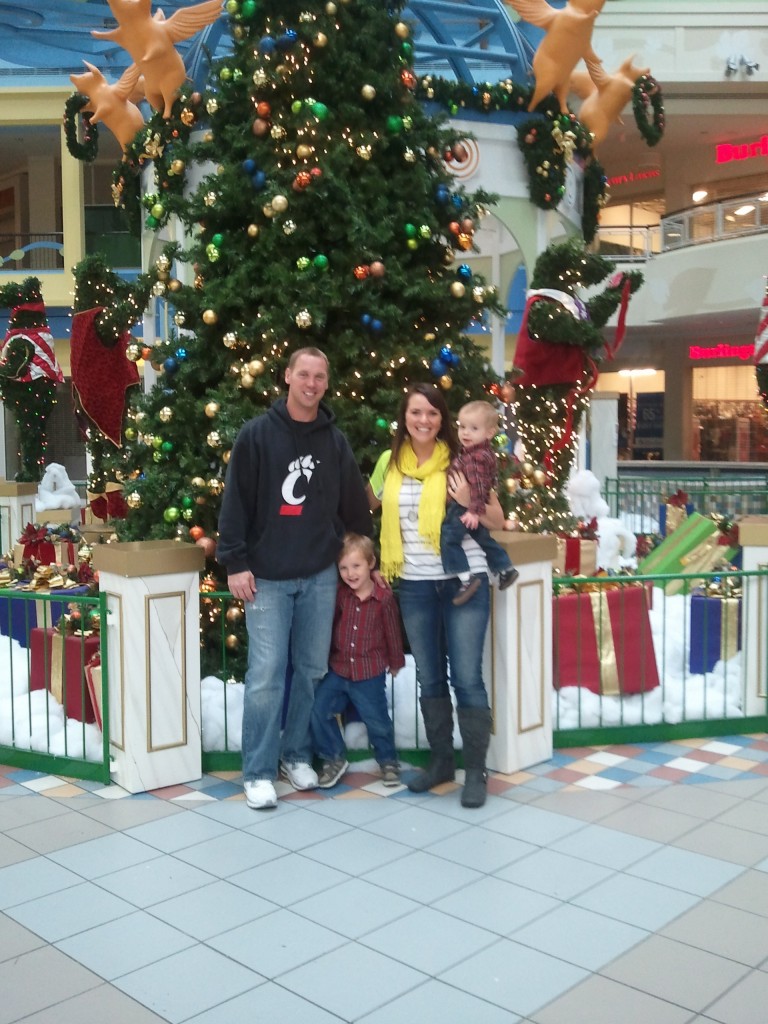 There was a mall Santa there as well with NO ONE in line. That mall is totally empty! We didn't pay for the pics, but we did steal some photos out in front of their display :)
Have you found any great holiday events lately?? What does your family enjoy most around this holiday season?