I LOVE this time of year and I have REALLY been feeling the Christmas spirit! I blogged last week about how to get FREE pictures with Santa and have some holiday fun on the cheap. This past weekend we had some more Christmas fun!
We went to the Sharon Woods Holiday in Lights which was SUPER cool! I have never been, but for only $10 a car (with the coupon on the website), it was totally worth it. They have so many beautiful lights and the boys LOVED it. Even little Gray was pointing and oohing and awwing at everything! After seeing the lights, you can visit Santa Land where they have shows, carolers, a train display, hot chocolate and cookies, play area and pictures with Santa. You can actually visit Santa Land without seeing the lights if you are looking for something fun to do with the kids on a cold night! It was super cute and a lot of fun.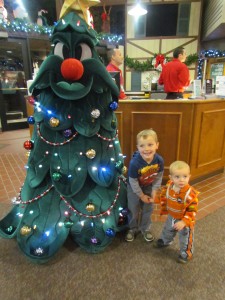 Saturday we went to pick out our Christmas Tree, a fun family tradition. We end up picking a new spot each year and this year we went to The Big Tree Plantation. It was HUGE! They have carriage rides, Santa, cookies and crafts for the kids, a fire pit to warm yourself up (although this weekend was gorgeous!), live animals, complimentary hot chocolate, tons of Christmas decor to purchase, and a swing set for the kids to play on. I have to say that although there was SO much for the kids to do, it wasn't my favorite one that we have done. It was super commercialized and I liked the one we visited last year, as it was more low key. I did like that they do FREE personalization on any of their ornaments, as we get an ornament each from from every tree farm to put on the tree. Steve and I actually started our collection in 2000…. yea, that is a LONG time! We had fun decorating the tree and I tried to get my Martha Stewart on and made a big batch of hot chocolate using these Santa mugs that have been passed down from my grandma and popcorn. How fun is it doing these things with the kids?! I may get into more than they do! HA! We finished up the night with a carpet picnic (pizza and salad- no I didn't Martha Stewart that… hello Donatos!) and watched Brave which was a really cute movie.
Another thing that really got me into the Christmas spirit was making my own wreath for the front door. Yes, I know, I do have an inner Martha right?! lol. My girl friend found a wreath she liked on Pinterest, so a few of us decided on it and one of my friends went to Hobby Lobby and bought everything and then we just split the cost. It was SO much fun because we all got together one night, had dinner and wine and made some wreaths! We decided that we HAD to make this a tradition so we are looking for more wreaths that we can make for each season…. yes, we are ate up! So why not just go out and buy a wreath you ask? Well after several hours of making this I asked the same thing, but when you are done, you do feel a sense of accomplishment :) AND every time I see my front door I smile because I actually made something! It was great being able to get together with friends, have fun and feel crafty (because I am SO NOT crafty)!
We started with a wire coat hanger and bent that to make an oval/ circular shape
Hot glued wire sporadically around the hanger
Ran the deco mesh around the hanger, attaching it with the wire
You can use as much or as little as you want. I went around once with the red and then once with the green, but the other girls did a lot more than that.
Then you add other decorations, attaching it with the wire.
Using a hanger makes it easy because you can easily hang it on your wreath hanger!
I loved that all three of us had the same things, but used them in different ways, creating three unique wreaths! We were all fighting at the end about whose was the best :)
What have you been up to this Holiday Season?! How do you create a memorable Holiday for the family?