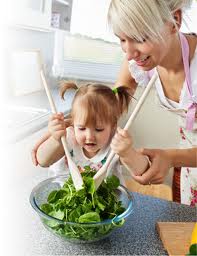 As a follow up to Jennie's post last Friday about her family getting started with Juice Plus, today I'd like to explain how your kiddos can get their Juice Plus+ for FREE! Yes, I said FREE!
The program is called the Juice Plus+ Children's Health Study and it's super easy to get started. But let me back up for a sec, in case you missed her Friday post, I'll quickly explain Juice Plus+ in a nutshell:
The (USDA) recommends we eat 7 to 13 servings of fruits and vegetables every day. Most people don't come anywhere close. That's why there's Juice Plus+! Juice Plus+ is a whole food based nutritional product that provides nutrition from 17 different organic fruits, vegetables, and grains — like apples, broccoli, kale, parsley, and beets — in a convenient and inexpensive capsule or chewable form. Taken daily, Juice Plus+ helps you bridge the gap between what you and your family should eat and what you do eat, every day. Unlike the overwhelming majority of nutritional products on the market today, Juice Plus+ is backed by original clinical research. It has been proven to help prevent heart disease, cancer, & diabetes, boost immunity, protect DNA, improve skin and gum health and more! In fact, results of the Children's Health Study have shown that children and parents don't get sick as often, therefore, they don't take as many over-the-counter or prescription drugs, miss less days of school, and visit the doctor less often! (especially important this time of year!)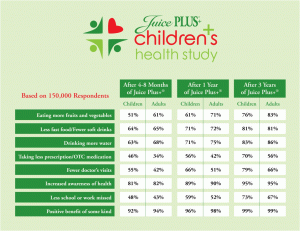 So how does the Juice Plus Children's Health Study work? And more importantly, how can your children get all the nutrition from 17 different fruits and vegetables everyday for FREE?
The way the Children's Health Study works is simple. For every parent, grandparent, or other adult that signs up as a Juice Plus+ customer, the study provides Juice Plus Chewables or Capsules for free to a child (ages 4 – college age) for up to FOUR years. At various intervals adult participants are asked to fill out a voluntary survey to determine whether (and how) their families' health habits have changed as a result of taking Juice Plus+. It's that easy! If you'd like to participate in the Children's Health Study please see my contact info below – I'd love to help your family get started with Juice Plus and answer any questions you may have.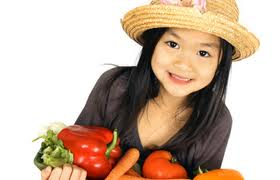 So you may be wondering why Juice Plus+ is offered for free through the Children's Health Study?
Over the years, feedback from Juice Plus+ customers in regards to improvements in their health has been overwhelmingly positive. Within just a few months of making Juice Plus+ part of their daily lives, both kids and adults find themselves eating better, feeling better, and living better. Basically, Juice Plus+ was serving as a springboard to better health. Juice Plus wanted to be able to better document these positive results so they decided to ask Juice Plus parents to share their families experience through a short survey. As an incentive to participate, they decided to offer Juice Plus free to the child participant.
The study is based on three important concepts:
1.Good nutrition is the foundation of health and inspires other healthy lifestyle choices.
2.The best time to establish good health and nutritional habits is in childhood.
3.The key to getting children to adopt good health habits is parental involvement.
The Children's Health Study has since proven what we knew to be true all along: Juice Plus+® makes a real difference in family health and nutrition. The results of the first 150,000 families who have responded to our surveys are documented here — and the news is very, very good!
If you'd like to learn more about Juice Plus+, please visit my website www.jennycombsjuiceplus.com. And, if you want to get your family enrolled in the Children's Health Study, I'd love to help. Please email or call me. jenniferacombs@hotmail.com 513-515-22228
Cheers to a happy and healthy new year!
Jenny