I am always looking for new ways to reinvent food for the kids and my family. I think we all get into meal time ruts, whether it be with our main dishes or snacks. I have been in LOVE with the meals I am making from our Freezer Meal Workshops and it has totally made me feel like a gourmet cook and has allowed me to bring a ton of variety to our dinner table! We have one once a month so email us for more info!! jennieandkim@gmail.com
Now that I have taken care of dinner, I needed some ideas for snacks and lunch. I have been collecting these over time and wanted to share :)
Fruit/ Veggies cut up with dip (can use yogurt, cream cheese or dressings as  as healthy dips). I am addicted to the Wildtree blends as well because I can get a block of cream cheese and mix it with some of  these: Jalapeno Pepper Blend  or Garlic and Herb Blend and it makes Cody think he is getting a treat with his veggies :)
Fruit salad: I feel like this just jazzes up plain old fruit. Sprinkle a little Strawberry Cheesecake Blend over top! YUMO!
Fruit/ Veggie skewers: I am not a big fan of skewers, but it makes food look pretty and gives the kids something to do (just make sure they are old enough to use them!
Cut sandwiches out with a cookie cutter. Cody LOVES this!
Tuna or egg salad with crackers. Cody gets a kick out of anything he can put on crackers…. for whatever reason!
Make your own healthy "lunchable" so they can assemble themselves
Soup in thermos
Homemade healthy treats (every once in a while you could put in a candy splurge or something they like as a treat to surprise them)
Muffins: these are great for anything. I throw lots of healthy extras in muffins and then you can freeze them as a quick snack! Kim makes corn bread muffins with nitrate free hot dogs cut up inside and freezes them for an easy lunch for Luke!
If you want to moderate what they are eating so you brown bag most of the time you could let them buy at hot lunch for a change if you are o.k. with what the school is serving that day
Salad with dressing on the side: I find letting kids dip their food into anything is fun for them!
Get the flat out wraps and put anything in there- meat, veggies etc.- cut up like a pinwheel
Crackers and cheese
Hb eggs: we eat these every day. Good for breakfast, snack or any other time :) Alton Brown suggests baking your eggs in muffin tins (whole) at 350 for 35 min. Voila! You have hard-boiled eggs. I have been doing this for months now and it saves me from boiling the eggs. They turn out great. You get a little brown mark on the side that was laying against the muffin tin, but it doesn't taste funny or anything.
Cheese sticks
Yogurt popsicles (not sure how else to word it). I would get the organic kind because the others have a lot of JUNK in them. You can also freeze these for hot days or put frozen in the kids lunch boxes and they will be ready by lunch time
Popcorn: there has been a lot of stuff coming out about bagged popcorn. You can buy the kernels and make it yourself and then use some yummy Wildtree popcorn seasonings and oil to flavor it up the ALL NATURAL way!!
Bagel sandwiches- I am loving the bagel thins at the moment
Regular sandwiches- add lettuce, cucumbers, or hummus to make it healthy. You can pack the different condiments and slices of "stuff" separately in your silicone baking cup so they don't get soggy
Dried fruit
Yogurt & granola: make yogurt yourself. Cheap and easy peasy!
If you make taco meat (for taco salad with chips etc.),  spaghetti & meatballs, etc. warm it in the am and put it in their thermos it will stay warm until lunch
salsa and crackers or chips
Homemade pizza
Leftovers from the night before
Bagels with pizza sauce and cheese melted on them
Apple/banana with PB, tahini, or almond butter wrapped in a wrap
Quesadillas with fruit & pb, chicken and veggies etc.
Freeze juice pouches (natural kind) and then use them as ice packs and they are thawed by lunch
Fruit and cheese kabobs
Celery with pb and raisins- an old classic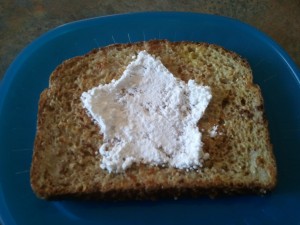 We had french toast for breakfast this morning so I used a cookie cutter and put some powdered sugar in it to make for a fun twist on breakfast.
Other links I found with great resources and ideas!
Bento Phenom- google it!
Check out our
 aStore
with our fav food "stuff"
Other fun stuff!
Kim and I are so passionate about feeding our kids healthy diets. Now, that doesn't mean we never eat bad. I figure if 80% of our diet is good then I can be satisfied with that. If I am craving skyline, then I don't want to deprive myself of that here and there. Everything in moderation :) Since we have been working towards keeping certain things out of our diet, I am always trying to find good resources with great ideas.  I have been collecting these for a while so I hope it becomes a great resource for you. Please email or comment on any other great resources or food ideas you have! Also,  check out my
Food Pyramid
post with GREAT links to help you get your child meals healthy, portioned and well balanced!
We would love for you to join us at Whole Foods for our Baby and Toddler Food Workshop or our Freezer Meal Workshops where we fill your freezer with 10 healthy meals! Email us for more information:
jennieandkim@gmail.com