I am telling you what- Easter was SOOOO much fun this year with Cody being a little older and really being able to enjoy it, BUT now it is back to reality which means packing up the rest of my house for the move on thursday/friday and finishing up my finals this week for school…. all while being 6 months preggers! It has definitely all been a whirlwind, but so worth it in the end!
My old self (pre-Cody) would have been completely engulfed by all of the moving and chaos and not stopped to do ANYTHING else other than getting us packed and ready to go. I am so happy that I am learning how to let some things go and be in the moment with my family (slowly but surely!). I knew that we could pack and work all weekend to get things done BUT I wanted to celebrate Easter with Cody and make family memories and I am so happy we did!
Now that Cody is getting a little bigger he is really getting into celebrating and having fun with all of these traditions I enjoyed as a kid. Christmas was totally different this year and watching him open his gifts and getting out cookies for Santa etc. was such a joy. Here we are, 4 months later, and it just gets better. I had bought a few easter crafts for him to do which he loved and that started getting us both in the Easter spirit. Cody can be more on the shy side so I started getting him hyped to see the Easter Bunny all week long! By the time we got there, he was SO excited to see him that I really could not believe his reaction… seeing this life size bunny was like the coolest thing he had ever seen in his life! I WISH I would have brought the video cam to capture his reaction. He was going crazy- waving and hugging and kissing him! It was short of ADORABLE!!!! I wish I knew how to use my scanner (don't laugh, I suck at techy stuff ok!) so I could show you this pic we got of him completely cheesin' sitting on the Easter Bunny's lap! The entire way home we talked about how he got to meet the Easter Bunny and he got to get his picture taken with him!
The next thing we did was dye eggs. I had gotten a kit for a buck at the dollar store before finding out some info how to dye them naturally so we ended up just using our kit. Cody loved it, although it was a little messy, he somewhat got the hang of using the little dipper to put the eggs in and out of the colors. Our kit came with this crayon that you could write or draw with on the eggs and it would show up once you colored them. Cody liked "drawing" on the eggs and then seeing his creation once he took it out of the dye. Once the eggs were dry, Steve helped him decorate them with stickers (since we weren't planning on eating them- what can I say I am getting a little freaked out about all the dye stuff going on!).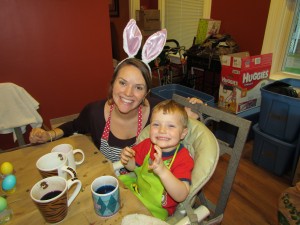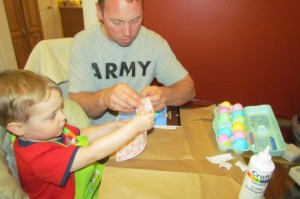 Next was the Easter Bunny cake. This was something my mom use to do with us every Easter when we were kids and I really wanted to carry on the tradition with Cody. Steve and my dad don't like coconut (which is what you use for the hair) so I opted to dye my icing and use sprinkles to give him some color! I do make my own icing which is AWESOME but not particularly healthy :) I bought a boxed cake as well. I was thinking of making both from scratch because there are some great healthier cake and icing recipes in my Super Baby Food book but I ended up running out of time. A lot of the healthier icing recipes are for cream cheese frosting which I am not a huge fan of. Either way, it turned out great and really not too hard. Cody helped me mix everything and cook it and then I iced it all (which was a little time consuming). If you want to make your own: I used one box cake (I am sure if you make yours from scratch it would be a single batch) and you fill two round cake pans and cook. When you are finished you will use one round as the face. The other round you use for the ears and bow tie. You want to take the second circle cake and cut out the ears (kindof like a moon, on opposite ends of the circle and then the middle part will end up looking like a bow tie). Ice it all, use whatever you would like for eyes, nose, mouth and whiskers. Some ideas: jelly beans, hershey kisses, icing, licorice etc. Get creative!!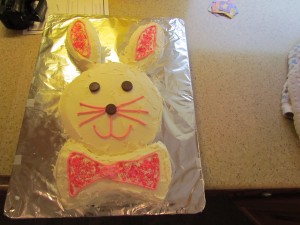 Then.. it was Easter! The "Easter Bunny" planted little notes all over the house with our dyed Easter Eggs so that we had a scavenger hunt to find Cody's Easter Basket. He wasn't really sure about it until the third clue. He realized every time he found another clue, there was another egg! By the fourth clue he was running to get to the next one! It was SO fun watching him figure it all out and then he was so surprised to find a cool basket with little goodies inside! Of course, he got spoiled by both Grandma's too with some BIG baskets- they actually put the "Easter Bunny's" goodies to shame!! lol!
After making all of our stops to the fams, we celebrated with an Easter Egg Hunt for the kiddos at my moms. It was a little too wet outside so we brought the hunt inside! All the kids enjoyed it and had a blast opening up the eggs to see what was inside!!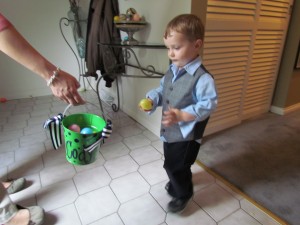 Overall, we all had SO much fun and created such great memories! With all the craziness that is life right now it is so nice to take a time out and experience the enjoyment of Easter through the eyes of a child. Celebrating all of these things with Cody over the last week has really made me feel like a kid again and brought me back to all those things I enjoyed as a child. Our lives are so busy and crazy and this is such an amazing gift our kids give us!! Hope you all enjoyed your Easter celebration as much as we did! I would love to hear all about it!!