Who doesn't love some mouth-watering wings?! Of course, an ice-cold beer to go with them takes it to the next level! My entire family loves wings and had the opportunity to partner with Buffalo Wings & Rings which, of course, we were stoked about!
Buffalo Wings & Rings is upping the game when it comes to family- friendly and grown-up compatible restaurants (which us as parents LOVE am I right?!) They have little game systems which are free for the kids to use, so as a family of 5, we can go to a restaurant with awesome food and drinks while the kids can still have fun and not drive us crazy! They have bright and inviting dining rooms with 50+ TVs, chef-inspired recipes and of course their signature wings.
I am always impressed with how friendly the servers are there, even when they see my crew coming in… 3 boys under the age of 9 isn't always the quietest or cleanest :) My husband always gets their boneless wings and I love their grilled wings. You choose your style, pick your flavor and heat. They have so many other options if you aren't in the mood for wings. I love their burgers and their cauliflower wings are a great choice if you are keeping it light! I also appreciate they have several different options for the kiddos.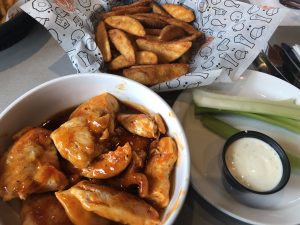 I LOVE their grilled wings! To make them even healthier, ask for the sauce on the side!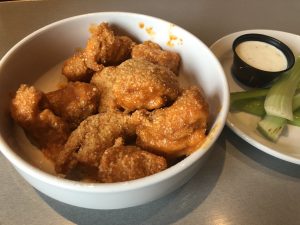 Boneless Wings- my hubby's #1 pick!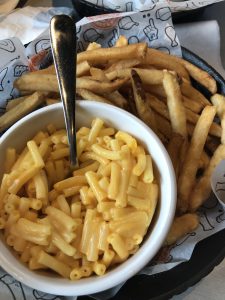 Like I said, plenty of options for the littles and the portions are big
so if you have little eaters they could definitely share a meal.
I can see why they have grown from one store in Cincinnati, to 59 locations domestic and international. It's just that good! They also have the Buffalo Love Foundation which was established in July of 2016 as a way for Buffalo Wings & Rings to give back to the local communities they serve!
If you haven't registered for their FREE Club '84 don't wait! Sign up now and get a FREE starter! I would love to hear your favorite menu items at Buffalo Wings & Rings. Right now, you also get a $5 bonus card when you buy $25 in gift cards. If you are feeling lucky, get entered to win my $75 Gift Card Giveaway!
Thanks to Buffalo Wings & Rings for sponsoring this giveaway! They sent me gift cards for my family to enjoy so that I can share my experience with you. All thoughts and opinions are my own. Thanks for reading!