The boys and I have started making a summer Bucket List towards the end of the school year over the last few years and it has worked out great! I tend to over commit myself to all the fun things during summer because let's be honest, I want to have the fun too!! I am like a kid in a lot of ways, but then I realize I am the mom and the more time I spend out of the house is just less time I am home getting everything else done. This is an example of how we decided to organize our weeks this summer:
Kings Island or the Zoo. Since these are two of our favorite summer activities we agreed we would rotate one of these each week.
Pool day. We may go to the pool for an hour before dinner or after an errand day, but we set aside one day for pool fun.
A new adventure. One of my favorite books if you live in Cincinnati or near Cincy is Adventures Around Cincinnati. They have two awesome books that both give endless ideas of local fun, along with descriptions of each adventure, age groups it is good for etc. We looked at our summer calendar and picked 1 new thing for each week we had free.
FREE DAY! We may just take a walk, run through the sprinkler or the boys can play outside, but this is a day they can have fun at home and I can catch up on house work and other mommy duties!
Kids class day and errands. Both of my kids have a class once a week and then we run errands after that.
Organizing our weeks has really helped me set boundaries for myself and helped me to NOT feel like we have to do something every. single. day! They have so much fun at home and this has made me see (on paper) that we have plenty of fun adventures through the week and errands and chores just have to be part of the summer so I don't feel so guilty. We also have our fun in the mornings. I make my way home by 2 to lay the little down for a nap. My older two have quiet time which consists of either reading, the quiet bin, summer homework, play outside or in the playroom, watch a show (if they have gotten their chores and checklist done for the day). This allows me to get some things done while the baby naps and for everyone to get some downtime which I desperately need by the afternoon!!
I printed out a calendar for the summer so I could write in the fun things happening locally and then if we have a free day and I am all caught up or are looking for something to do after nap time I can check the calendar for something fun for us to get into.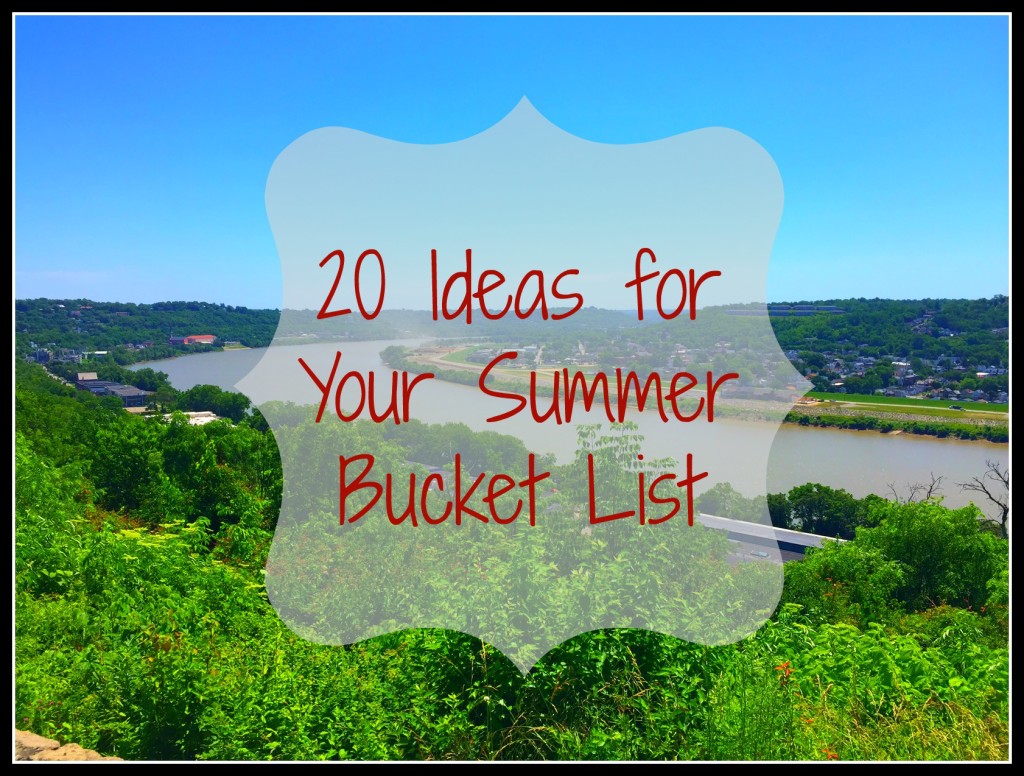 Summer Bucket List Ideas
Kids Bowling: Kids Bowl Free! If you are local to Cincy or Kentucky, check out Axis Alley for their awesome deal on Summer Bowling for the kids!
Swimming
Fishing at a local park
Check your local library: they always have summer reading challenges, crafts, story time, movies and other fun happenings in the summer.
Festivals. If you don't have a huge amusement park by you there are always great festivals during the summer with rides and games that the kids can enjoy.
Drive In Movies. This is one of my favorite things to do! Cozy up in the back of the car or on a blanket and watch a movie outside.
Check your local parks for outdoor movies: we have so many parks that do outdoor movies so write the days on your calendar and then if you can make one through the summer it's icing on the cake!
Camping in the backyard or in the basement. This may not be as fun for us, but the kiddos will LOVE it and it's FREE!
Make a new recipe together: My kids love helping me in the kitchen so look at Pinterest together and pick out a new recipe to try together. If you have older kids, let each one pick a recipe and have a cook off! Make it fun!
Free Kids Workshop at Home Depot or Lowes: these are great! They offer a new workshop once a month. Just register (it's free) and take the kids for a fun craft morning.
Those local to the Cincinnati Area Bucket List Ideas:
Liberty Center: This is one of my new favorite places as it is so close to us. They have events, outdoor movie nights, free movies at the theater, summer concerts and much more. Check their website for deets.
Deerfield Township: check their events page for fun summer events.
Adventures Around Cincinnati: buy the book! It is SO WORTH it!
Newport on the Levee: Check out Axis Alley, The Aquarium, Ride the Ducks Tour, a Movie or one of their many restaurants. Don't forget to stop into the Candy Shop for your free piece of fudge.
Kings Island
Zoo
Cincinnati Museum Center: they offer a few free fridays during the summer so if you don't have a pass you can take the kids for free.
Smale Park: I LOVE this park and wish we lived closer. They have SO much for the kids to do and so many restaurants to choose from.
Hiking: one thing my kids have really loved doing is hiking. We have a park by our house that has some great trails, but we did pick a new place to try this summer that is farther away. I have also heard the book 60 hikes within 60 miles is a great read. I have had this on my list to buy.
Prasco Theme Nights: these have gotten super busy over the last few years, but it is an amazing FREE event. The kids can make crafts, play on bounce houses, watch a baseball game, grab some grub and ice cream. This is a Christian based company and they like to give back to the community in this way.
Hopefully this has given you some ideas to add to your Bucket List and how to stay organized and somewhat SANE during summer break! Happy Summer!