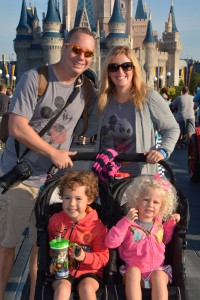 It takes more than a little pixie dust to make the most of your Disney trip. As you plan, you will receive advice from everyone who has ever been and I've decided not to be the exception! In a three-part series I will share tips and tricks I learned from my first time at Disney.
Counting down, at number three….RENT A STROLLER FROM AN OUTSIDE COMPANY! What? You didn't know this was possible? Yes, all things are possible in the land of Disneyworld and renting the perfect stroller is no exception. It is less expensive to rent one from an outside company and they have a nice variety of popular strollers.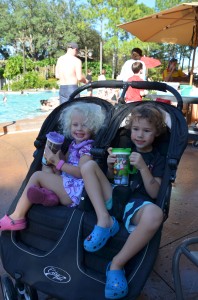 Having a nearly three and five year old, I knew I did not need a stroller in the airport but it was a necessity at the parks. We used Simple Stroller Rental, and the name says it all! I was able to order the specific stroller I wanted online months in advance, even choosing the time frame I wanted it delivered! All of this was very simple to do and not very expensive. A side by side double stroller that could recline was exactly what I wanted and I selected the City Mini Double and rain cover just in case. They also have the BOB Revolution, Baby Trend Snap & Go and Joovy Caboose Sit and Stand strollers available to rent.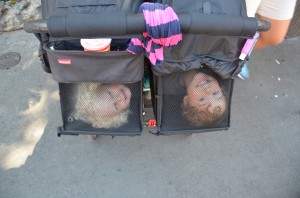 Shortly after we arrived at our hotel, Will from Simple Stroller Rental texted me that he was running early and would be to our resort in about 10 minutes. This was perfect since I was just gathering my bearings and we were walking around exploring. He arrived with the stroller which was in pristine condition and looked brand spankin' new! He gave us a quick tutorial (I had watched the video online on how to open and close it but the hubs was clueless) and he let us know we now had his cell phone should we need anything this week. And of course we did! We discovered we would be leaving our hotel early on Saturday so it was best for him to pick up the stroller late on Friday night. He was extremely accommodating and flexible and even offered to come to our room to pick it up! What phenomenal customer service!
I cannot say enough great things about my experience with Simple Stroller Rental. I highly recommend using them on your next trip to Disney. Throughout the week, the stroller was easy to use, glided well throughout the park, was simple to lock and unlock and the recliner was perfect for my two tired kiddos. My youngest even fell asleep twice in it- something completely out of the norm for her! Let's face it, not having the perfect stroller could seriously ruin your trip, or your back. Having this stroller and not having the hassle of bringing our own was a life saver! The convenience of having it delivered and picked up from your hotel is definitely worth the money.
Pam was provided a free stroller to experience with her family while at Disney. However, all ideas and opinions are her own! You can read more about my Disclosure & Disclaimer Policy here. Feel free to contact me with any questions! Thanks for reading!