This time a year is a little confusing to me because we teach our kids not to talk to strangers or take anything from them and to watch what food they put into their bodies and then here comes good ole' Halloween…. you tell them to do the COMPLETE opposite! Oh well, it is a ton of fun to celebrate and I just couldn't imagine NOT doing it! :)
Now that I have kids, I have come to the realization that during the holidays, I am addicted to creating traditions for my family…. so much so that I don't think I can keep up with all of them each year lol! Either way, it is so much fun finding new and exciting things to do around different seasons that I guess we don't have to do it all every year right?!
I talked about how much fun we have been having now that the hubs isn't working constantly and we really haven't stopped. Cody had his first preschool party (have I told you how much he LOVES school and how amazing it has been for him!!!?? YEA!) called the Harvest Party. Being the crazy, protective mom that I am, I signed up to do a craft (because I just HAD to be involved somehow)! Of course, that meant that I had to come up with the craft and provide it which I didn't realize ahead of time. I search and searched on Pinterest and found something easy enough… or so I thought.  The rice spider web was super easy, but after many attempts at the spider I gave up. Thankfully, I know my not-so-crafty self and bought back up spiders that we ended up glueing on and it worked out just as good! The kids were so adorable and it was lots of fun seeing Cody in his element with all his new friends!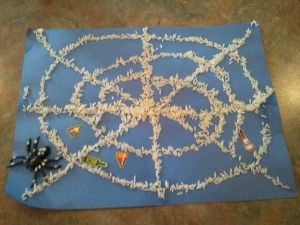 The other thing we did was go to the Book Bums Halloween Festival. Kim has been telling me how great this place is and I have to agree. I was SOOOOO impressed by this FREE festival. They had the fire dept there with their trucks for the kids to check out and a smoke house for them to go through. They had a TON of games with prizes for the kids (all free), a costume contest, story time (which was inside this huge tent with a black light… it was amazing!), animals, bounce house, pizza, chili, hot dogs, water and juice (all free) and more! It was SO fabulous that I HIGHLY recommend it for next year! That is on our list as a must visit!! I am excited to go visit for story time as well. They building is set up like a coffee shop, but with a kids area to play. The have live bands on Saturday night so I think it would be a great way to have a night out without having to get a sitter!
Did someone say BOO!!!!!???? We have had a lot of fun getting to know our neighbors and one thing the kids do around here are BOO bags. I am sure those of you in neighborhoods are doing this too, but this was the first time I had ever heard of this. A child makes a bag filled with Halloween goodies and they leave it on your doorstep, ring the doorbell and run. Then you get the bag (the person who gave it to you stays a secret) and then you refill the bag with things you buy and do it to someone else and so on. There is a pic of a ghost that you have to put on your door so that others know you have been boo'd! By the end of it, you should see the pics on all the neighbor's door! How cool is that?! Cody and I had fun filling his bag with lots of goodies that we found in the dollar bins at Target and JoAnn Fabrics. My neighbor gave me the great idea to go to the store after each Holiday and stock up on the Holiday inventory that is left. Then you have items to pull from for the next year that cost ya pennies. I found that even at JoAnn's their Halloween items were marked down significantly already.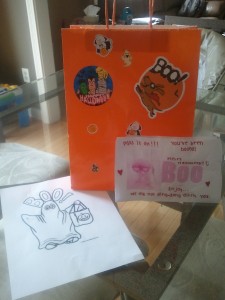 Another REALLY FUN thing we did over the weekend was take care of Cody's class pet Gus. Gus is a stuffed animal, a fish to be exact. Each child gets a few turns over the school year to take Gus home. With Gus comes his favorite book that you can read and a book that each child fills out with what Gus did at their house and pictures to show the other kids in the class. Cody loved being able to read through this book, seeing what Gus did at his friends houses. Each day at snack time, Miss Megan (his teacher) reads through what Gus did while he was gone so each child gets a snack time all about them… how cute! We had SO much fun with Gus (and even took him across state lines to Cumberland in KY) that we did NOT want to give him back today! I actually think I had even more fun than Cody did with Gus! I loved taking pics of Gus and Cody doing all the fun things we did over the weekend. I think this is something that the kids will remember forever and you could do it with a play group or a home school group you have. It is just something I think is super fun and memorable!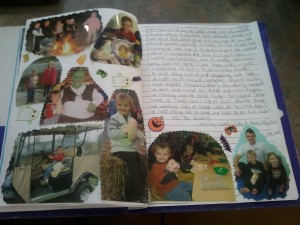 What traditions does your family have for Halloween?
What fun things have you been doing leading up to Halloween?
You may also like: