I feel terrible since it has been months and months that I promised pics of my almost completed yard! The day has finally come lol :)
There were many things on our "wish list" when looking for a new house and we got almost everything on the list when we got our house, minus a traditionally shaped yard. We live in a culdesac (one of our wish list items), but with that came an irregular shaped yard. Not only was it a funky shape, but it was a hill so there was not a lot of useable space. We knew the kids would play a lot in the culdesac and driveway with the kids in the neighborhood, but I really wanted a space we could use for entertaining and relaxing in the back so last spring my hubby went to work and close to 4 months later our backyard was transformed!
My hubby did the work himself so I was hating life during that time because he literally worked on it every spare minute he had and I needed a break, BUT being able to enjoy it now is a blessing!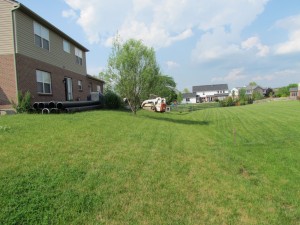 So if you can see it here, our backyard is actually pretty big, but oddly shaped. It is long and narrow like a bowling alley. It was also pretty much a straight hill down so not much useable space.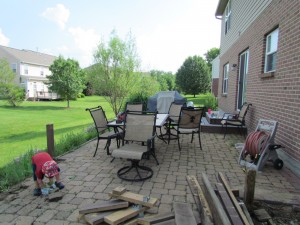 These two pics show the small paver patio which came off the house and was really the only useable space of the whole yard. The hill started directly after the patio ended.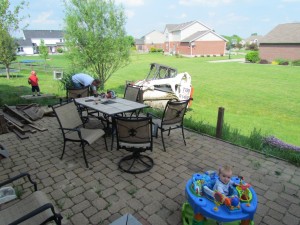 We could have built a large deck, but we knew that if we dug the yard out, we could have a lot more useable space.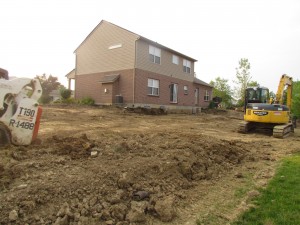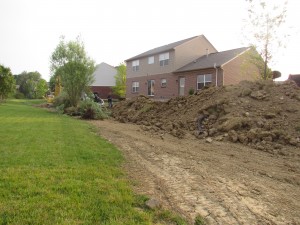 38 truckloads of dirt later…. it was time to get the patio poured!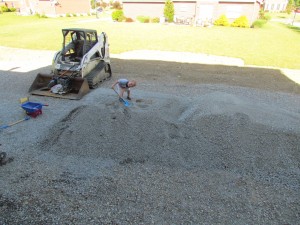 It was hard to capture in pics, but hopefully you can see here how much more space we have just behind our house which doesn't include the side yard and yard behind our driveway. Also, it is completely flat! The only bad thing about digging down is that we had to add a lot of steps to get out the back door! The hubs is putting in a wrought iron hand rail for me since I am so clumsy and know I will take a spill if I don't have something to hang on to!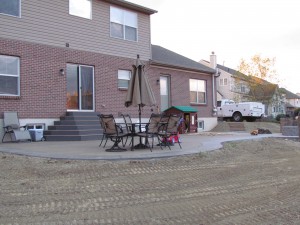 You can see some of the side yard here. This is where I plan to have my garden :)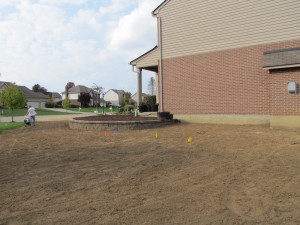 Front yard bed. Not sure what I want to put in here!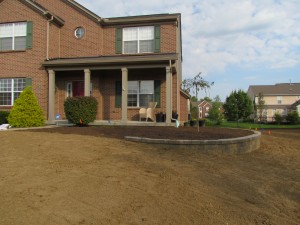 Space behind our driveway.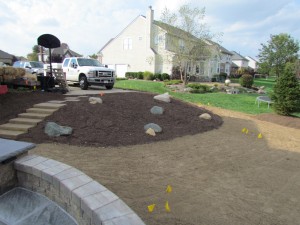 Fire pit area… yeah baby!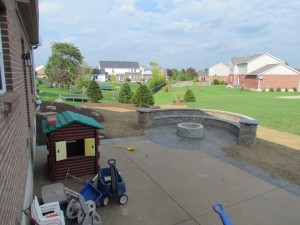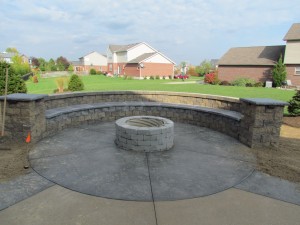 We had some trees brought in to add privacy as the years go on. We tried to plant them strategically. We still wanted open space for the kids to be able to run between yards and play with the other kids, but we wanted privacy where we would be eating meals or just hanging out. I am sure we will add more trees as the kids get older and aren't rummaging through the neighborhood as much, but I think what we did will work for now!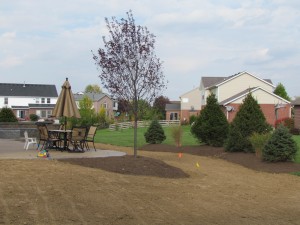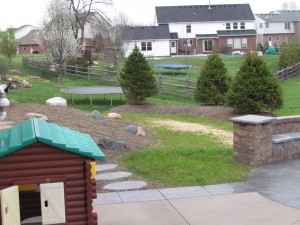 We chose these Norway trees specifically because they grow very quickly and will give us almost complete privacy in just a few years! Love my neighbors, but would like to eat or enjoy a glass of wine in privacy :)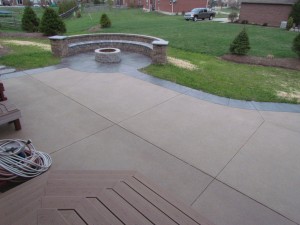 This is a view of the patio split. Table area on one side, fire pit on the other. We want to build a nice grill this summer and I would love to put some comfy chair/ couch furniture in the middle (in the future!). I would say we tripled our useable space just with this patio, which is awesome! It has enough space for the kids to ride their bikes and it is a great space for entertaining!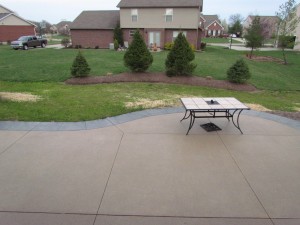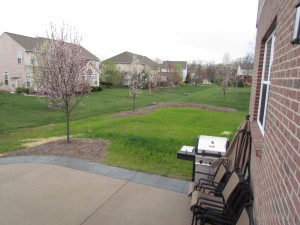 This space will be used for the kids playground we have that is in storage. Daddy is going to be bringing that home soon to assemble and I know the boys are going to have a blast with it!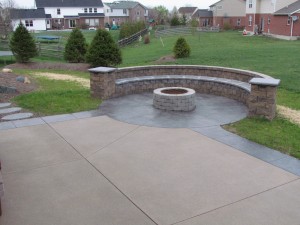 This is my favorite addition!! We LOVE having fires, whether it is for smores with the kids or just hanging out me and the hubs for some quiet time after the kids are in bed. I had seen this on pinterest and begged Steve to create a replica for me. He did an amazing job!!!!
Overall, I have been really happy with the way everything has turned out. We still need to add flowers to all the beds, build steps leading out of the mud room/laundry room, a hand rail to the main set of steps and eventually we want to add a Pergola over our table area of the patio. We have really been enjoying it and I can't believe the difference from when we moved to now!
What transformations have you made to you house that you can't live without?