Our eyes are SUPER important and just like the rest of our body, we need to take care of them! I got Cody's eyes checked for FREE before he turned a year with the InfantSEE eye program. He had a clean bill of eye health at that point. At 3, our pediatrician did an eye test with this machine and he passed. We just had his 4 year check up two weeks ago and he barely passed the eye exam. The doc said a lot of times, kids that young are squirmy and if they aren't staring straight into the machine it can give you a bad "score". My doc wanted us to get Cody into see the eye specialist to be on the safe side.
I was referred to two eye docs who specialize in pediatrics and we ended up going to Village Eye Care. Their office was so cute, with a toy room for the kids and everything. They were VERY thorough and the exam itself took almost an hour. Cody was amazing at listening and following instructions and we talked about that before hand. I would recommend doing the same just so they know that they really need to have their listening ears on for the doctors and nurses ( I think it always helps to set the boundaries and rules ahead of time so the kids know what to expect)! He ended up getting a clean bill of eye health once again so no glasses for now! I did however learn a few things from the process I wanted to share:
Starting around age 4 to 9 kids can develop astigmatism, which is basically one eye being strong than the other. If you don't fix this with either glasses or an eye patch, the brain will go the easier route (using more and more of the stronger eye and less of the weaker eye). This can lead to a child going blind in that eye or a lazy eye. What I find so fascinating about this is that with glasses or an eye patch, you can completely fix this and it is usually only a few years of this and then their sight is back to normal. So it is SUPER important to get their eyes checked!
The first class I took with Cody was a Tummy Time class at the Cincinnati Family Enrichment Center. Michelle was his teacher and she is AMAZING!!! She is the most knowledgeable person on kids and natural living and she is a HUGE resource for me! She is an OT at Children's, she does Craniosacral work, teaches Tummy Time classes and so much more (I cannot say enough good things about her!!!!). I was asking her about the eyes and she said a great thing to do with the kids at home (whether they have eye issues or not) is to "play a game" with them… have them cover one eye and point out different things in the room and have them follow you with that one eye. Swap and do the same with the other eye. This is great to strengthen both eyes so you don' have the issue with the first point!
Some things you can observe if your kids are having problems with their eyes is squinting when reading a book, holding things close to their face, complaining of headaches and then of course if they are vocalizing blurriness.
The eye doc recommends if they are o.k.'s at their InfantSEE visit, they don't need to come back until 3 and then the summer before Kindergarten and then annually after that. Of course, if you see other issues that concern you in regards to their sight, make an appointment before then.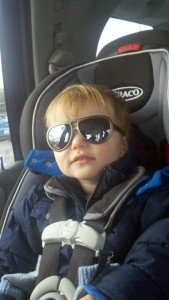 How cute is my little bug?! Here he is looking GQ over 2 years ago!!!
Covering those baby blues with sunglasses. Keep those eyes protected!!
Hope this helps! I would love to know if your kids have needed glasses along the way and if you have any other tips for parents that I haven't included!