So my husband "surprised me" (um yes, he got it for himself, but acted like it was for me!) with a brand new t.v. for Christmas. He was ecstatic since we have had the same t.v. for at least 6, maybe 8 years. It's a smart t.v. (whatever that means), HD, 3D, and I am sure lots of other D's, but to me it just looked like a big black box on my wall. We both knew we didn't want to have it on a table, we wanted it on the wall to make for more space in our family room, but once I saw it I was sick to my stomach! When I walked in my house I use to see my beautiful fireplace and mantle and now all I saw was a big black box.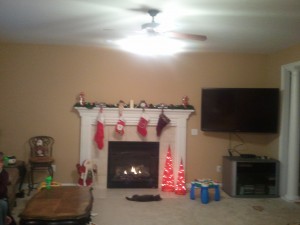 I got to work on Pinterest and pinned about a million different ways to cover the big black box, yes, there are lots of other people out there who want to cover it too! There are some amazing covers that will cost you a pretty penny as well. The cheapest and easiest things I found was to put a frame around it if it sits against the wall or getting a cheap print and adding some hardware so you can "hang" the artwork over the t.v. when not in use. Seeing ideas on how I could hide the big black box put my mind at ease… phew!
In the meantime, the hubs hid all the wires in the wall which made it look 100x better and I had him move over a bench I had for the t.v. "stuff". I figured I would use it in the interim… we are looking at Ikea for an actual bench/ entertainment stand. We found a few, but still need to make a final decision!  When I actually saw the finished look,  I didn't feel so repulsed :) It actually looked pretty good! Now I just needed to find a way to make the wall in its entirety look more balanced (see the poor little left side of the wall?? It was feeling left out)!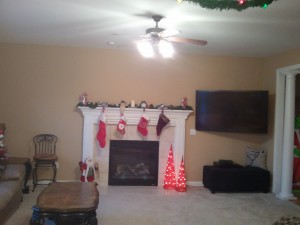 A friend of mine, yes I have no creative gene of my own so I steal ideas from others, has this adorable photo wall in her house that I have LOVED. I decided to use her idea and headed to my favorite little place-Ikea (which is where she got the stuff for her photo wall… told ya I steal all ideas from others)! I got the two floating wall shelves there and I already had the black frames. A lot of the frames are big so I wasn't able to put too many pics on it so I may swap that out at some point. I only have ONE picture of the boys hung in the house so I was happy to get some pics up of them. I had some baby pictures of the boys lying around so I used those, but I still need to go through pics I have taken and actually have them printed and hung! I am actually working on a photo wall in which I hope to add lots of pics of the boys!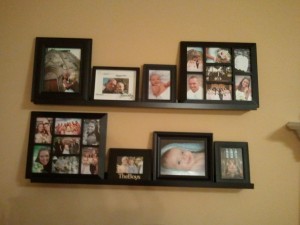 I do LOVE the way it turned out and the entire wall looks completely balanced! I don't even think I will use a cover for it. What can I say, the big black box has grown on me :) Now I just need to find something for above the fireplace. I am thinking artwork with some lanterns or over sized candlesticks??!! Thoughts?!