Cody is capable of doing many of the little things on his own, including chores. I have friends who rave about Chore Charts and how they have made such a big difference in their day-to-day life with the kids. I didn't really get it until the last 6 months or so. We are always on the go and I felt like all I was doing before we went somewhere was nagging Cody to get ready. "Cody, you need to get dressed". "Cody, you need to brush your teeth". The list was endless. I realized a Chore Chart was a MUST! Not only did I want a list of chores like getting dressed, put on shoes, brush hair etc., but I also wanted some real chores he helps with like put his dishes away, vacuum, clean his room etc.
I searched high and low for the perfect chore chart and I found them on etsy at Responsible Rugrats! I LOVED the idea of magnets with pictures on them since Cody can't read yet (although she does have word only magnets for the bigger kids). I also loved the magnetic boards she makes because they are a perfect size (not too cumbersome and not too small) and they are simple for the kids to understand. One side says To Do and the other side says Done. I wanted the Chore Chart to stay in the kitchen so I was really looking for something that matched somewhat. The reason I chose Responsible Rugrats is because you can completely customize your chart with NO additional charge!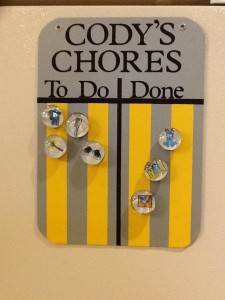 I sent her pictures of my kitchen colors and she designed a one-of-a kind chart for me. She can also personalize them with your kids names on them as well! You can also choose between other great pre-made charts on her site also! She has a list on her site of all the chores magnets she has. I had a few other chores I wanted and she made them for me, no questions asked. I love when vendors make it EASY for you!!
The Chore Chart matches my kitchen perfectly! It is SO adorable!! It came with an adorable bow and magnets on the back so I had the option of hanging it on a wall or using it on the fridge. I went through all the magnets with Cody when we got them and got started right away!! Cody LOVES it! He feels like such a big boy because he gets to look at the magnets and pick which chore he wants to do first! He likes moving them over when he is finished too. I think it makes him feel like he is accomplishing something! I have been SO happy with it and as long as I remember to use it, he seems to like doing it and I DON'T have to NAG! I may have to remind him to look at his chart, but I don't have to ramble off an overwhelmingly long list of "stuff" that he needs to do. He can keep going back and referring to the chart! I have actually thought about purchasing a second one to keep up in his room for things like, take a bath, brush teeth etc. (that we do upstairs) because he wants to take his chart upstairs with him just so he can move it over to the Done side!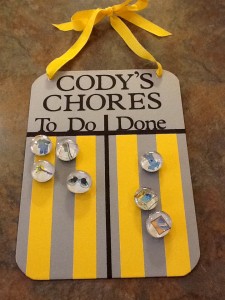 I will say that the magnets are not suitable for the little ones since they like to put everything in their mouths (!) so make sure you put the board and magnets up high enough that the babies can't reach them. Also, I would recommend going with darker colors on the part of the board the magnets will be on. As much as I LOVE my colors and how it was decorated, the magnets have left black marks on the yellow. You could use the lighter color for the words…..
I HIGHLY, HIGHLY recommend Shelly and if you want to get the kiddos one of their own she is offering 15% off until February 1 using MotherhoodSupport1!!! GREAT dealio considering she only charges $22 per chart!! This is one of those things that never goes out of style and that you can use with them for years!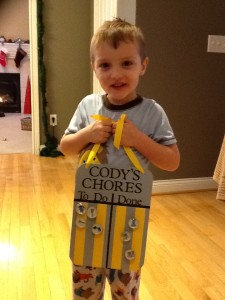 I would love to know if you use Chore Charts at home and how they work for the kids! If not, be sure to grab one from Responsible Rugrats before the discount code expires!