First of all, I wanted to let you all know that Grayson is doing great and I hope to have a full report to you with lots of information by next week! Thanks for all your thoughts and prayers!!!
I also wanted to send out a Happy Birthday message to my dear, sweet hubby! We have been through a TON together! Ups and downs, good times and bad times. You really know someone after 16 years (yes, it is sick to think it has been that long, but we really are just that old!) and you grow and learn together through that time. I have to say that even though we drive each other crazy half the time, I could not imagine living this crazy life with anyone else! I will never know another person who will support me in the way that my hubs does. No matter what, he is always there for me and that has not changed since the day we met. He truly is my rock, my security, and for that I am forever grateful. He has taught me how to love  unconditionally and that true love can conquer all.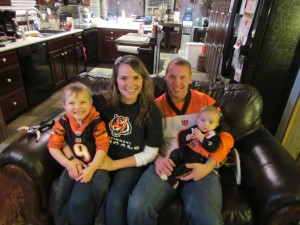 Cheers to the most amazing husband and father a girl could ask for!!!
You da bomb baby :) Love you BUNCHES!