I wrote about Cody's lego themed 3rd birthday at The Little Gym on Tuesday and promised links and info to everything today. Cody LOVES his legos and him and daddy build with them all the time. I got the idea to do a lego themed party when I saw the coolest lego cake on pinterest! I knew as soon as I saw it that I had to do it up lego style.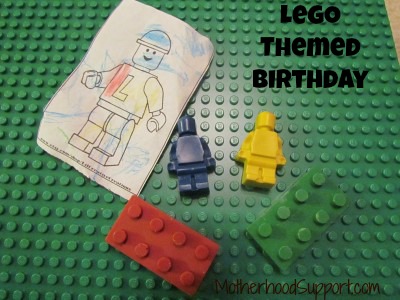 I searched for Lego ideas and found a ton of blogs and websites with GREAT ideas. Since I really wanted to go minimal this year, I only picked a few things to do, but you could go totally crazy with this and there is SO much cool stuff to do. We may have to revisit this theme again another year or do it for Grayson because there is just so much to choose from! You can google "lego birthdays" and you will see a sea of options. I thought I would list a few of my faves:
Like I said, you could go crazy!! I had a lot of fun with the stuff I did do.
The lego cake. There are a ton of ways to do it, but I thought this one was the easiest. All you need is cake mix, frosting (I make my own), gel colors (to dye the frosting) and marshmallows! There is a great video how to with the link as well. A few things I recommend:
I wanted the really bold blue and red colors (since TLG provided plates and those were two of the boy colors I chose) and it takes a lot of gel coloring that goes into making them dark!! I think that the red gel color makes the frosting a little tangy so if you can try choosing lighter colors such as yellow etc. I just think it messes with the yummy flavor of the frosting.
Although this is not hard to do, it is time-consuming. I suggest making your cake and frosting two days before your event and then frost everything the day of. This will save you from being in the kitchen all day long!!
In the how to video they say to use a fork to ice the marshmallows. I have skewers for kabobs and I ended up using that. You can get the entire thing iced and once you slide it off onto the cake there is hardly any "fixing" of the frosting you have to do.
I printed the lego template from Delia Creates blog and just grabbed colored construction paper I had and printed off several sheets. I made Cody's crown and the "green board" for under his cake. I laminated it and then taped it to an oversized cutting board I have. It looked really cool to have a green board under his lego brick cake. I saw somewhere else, a mom spray pained bubble wrap green to look like green board and used it as a table runner! How cool?!
The lego men. I printed those off on regular computer paper from Winks and Daises and use them for his Happy Birthday board and for in the cake. Easy peasy!!
The goody bags!!! These were AWESOME! If you have the time and wanted to make the goody bags yourself, you can find instructions for that. I just didn't have the energy to do it and could not find ANY lego goodies to buy until I searched Esty…. AMAZING the stuff they have on there! You can type "lego" in and you will get pages of stores that could accommodate your wishes. I ended up using two different stores.
DaRosa Children's Art: She was super easy to get in touch with, answered all my questions and I received my items very quickly. I ordered lego key chains and a lego bracelet (for the birthday boy).
LilCreativeCreations: This store has a TON to choose from. I had certain things in mind that I wanted in the goody bags. Vanessa completely worked with me on putting together a package of all of the things I was wanting and was able to put it all into a big cello bag with a pretty ribbon so it was all ready to go. She was easy to work with and made all of my ideas into a reality. You can get 10% off your order (the code is on their homepage) and I will say they are super busy so if you are wanting something for an event, I would order it early.
I LOVED everything, but I think the lego brick crayons and lego men crayons were my favorite!
Lastly, Daisy Mae Tshirts made this ADORABLE 3 shirt for Cody for him to wear special on his birthday! It was sooo cute! I was able to pick the font style and pattern I wanted and it turned out SOOOO cute! I used a pic of him in the shirt for his thank you card from Shutterfly. I LOVE Shutterfly and am more and more impressed by them every time I use them. Their card quality is awesome and you can use as many coupons as you want with them!! SCORE!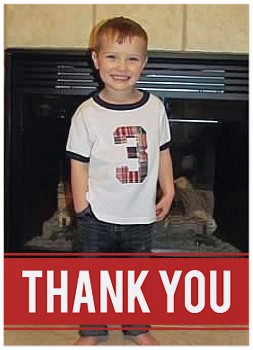 Pictures In Thank You Card