Green Smoothie Challenge

How would you like to have:
More Energy

Less Cravings

Better Mood

Lose Weight
Make the commitment to the Green Smoothie Challenge for 30 days!
You will NOT be disappointed!
What is the Green Smoothie Challenge?
It's EASY! First, decide how many green smoothies a week you will commit to. There is NO wrong answer here, but to get the most out of your green smoothies, I challenge you to stretch yourself! If you are new to green smoothies it might be 3-4 a week. If you already drink them, go for IT and challenge yourself! Can you say 30 in 30 days?! Woohoo! Ultimately, you have to decide what is right for you!
What do you get for signing up?
You will get a FREE E-Book, Smoothies That Will Change Your Life. This book will provide lots of tips, tricks and great recipes to jump-start you to success.
If possible, attend one of my Healing with Green Smoothie Classes. This class is so much fun and you will learn how to get more green smoothies in your diet, how to build a basic smoothie, add super foods and essential oils to enhance the flavor and health benefits. If you are not local to Cincy, I would be happy to do a FREE phone consultation to go over the information I cover in the class! Send me an email if you would like more information!
Just for signing up, I will send you a FREE sample of a doTERRA essential oil! Not only can you use essential oils to address specific health concerns, they are a great way to enhance and change the flavor of your smoothies!
I will also email you a picture of this fun card to place on your refrigerator to help you track your success! It is always fun to have a visual tool to help us reach our goals!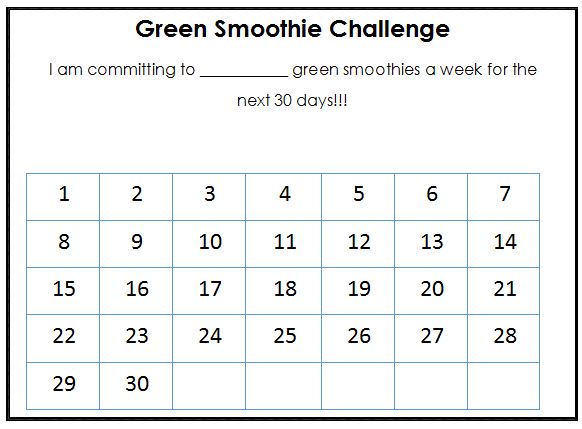 Lastly, you will get a weekly email from me with a recipe, tips and tricks on how to keep up the momentum!
Check out my website, Motherhood Support's, Facebook page where I will be posting my favorite green smoothie recipes to give you even more ideas! Congrats on taking the first step to change your life!