I have been wanting to update the kids playroom since we moved here. I wanted to do something fun and get the toys organized and we finally made the time to get it done!
My playroom and laundry room are right next to one another. I wanted to expand the laundry room so we decided to take out the wall between the two rooms, take out the closet in the playroom and add more space to the laundry room. That project is still under construction, but the playroom was underway!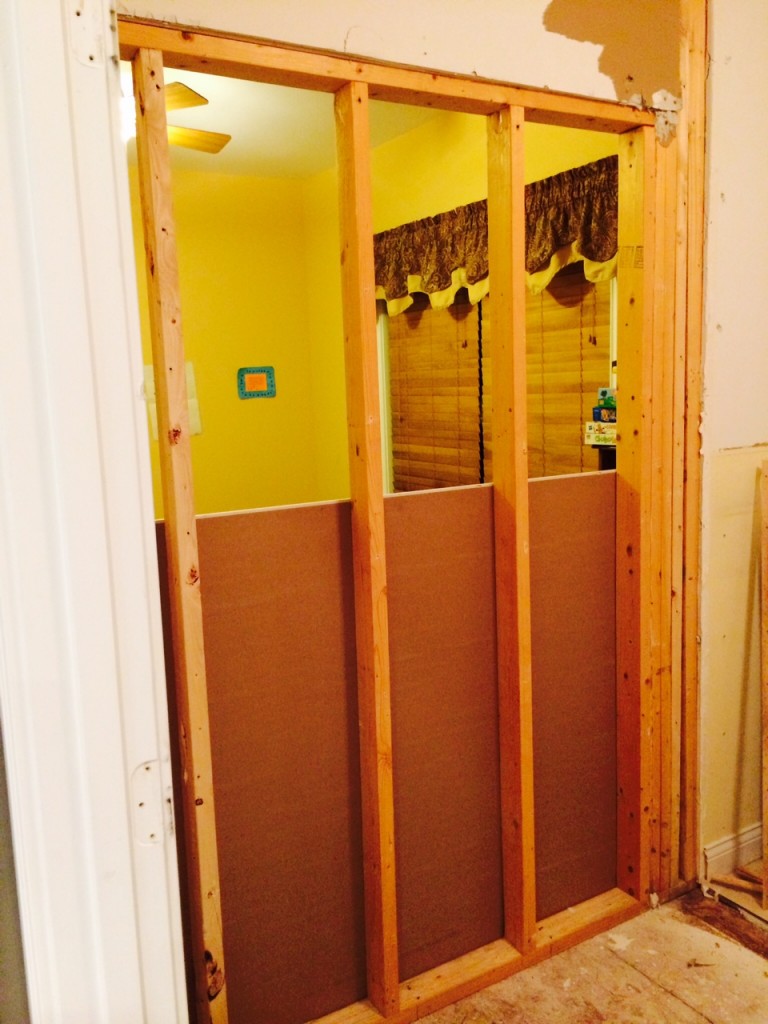 I knew I wanted red walls, but I wanted something to break up the room. The hubs and I went back and forth about what we wanted. As I was looking at the boys play mat, the idea came to me to make a race track on the wall. I knew the boys would think that was the coolest thing in the world and it would be a fun addition to the room! Steve came up with the idea of using glow paint so it would glow in the dark. Even better! :)
I have several friends who have this artwork display and I had this on the list for the redesign. I was so overwhelmed with the kids artwork and I knew this would be an easy way to add, take off and move around their artwork. I typically display a few pieces on the fridge and the rest go in the playroom. I had Steve add one to each wall so we have plenty of space to display their beautiful creations!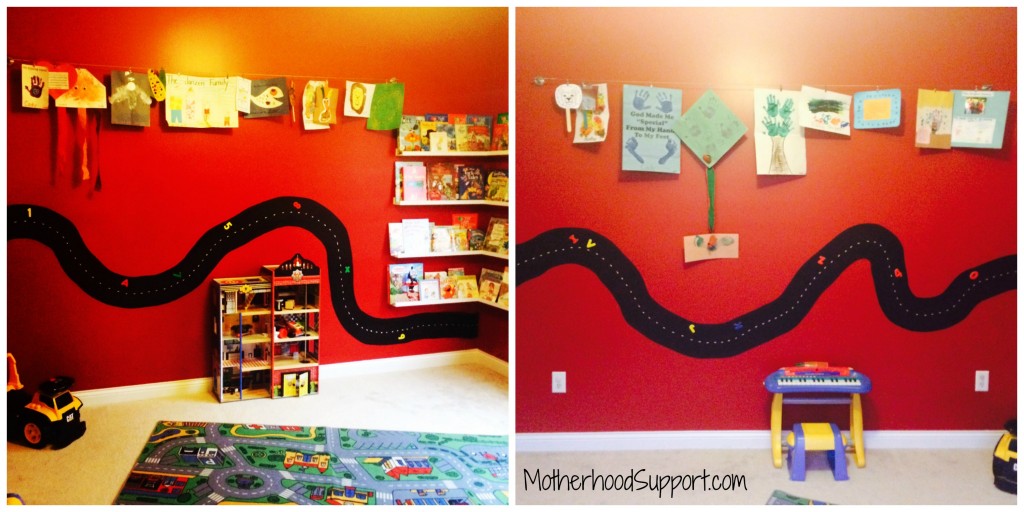 I saw this leaf at Ikea and had to have it! It just seemed a perfect decor item for the playroom and it went really well above the kids table I got at a yard sale for 5 bucks!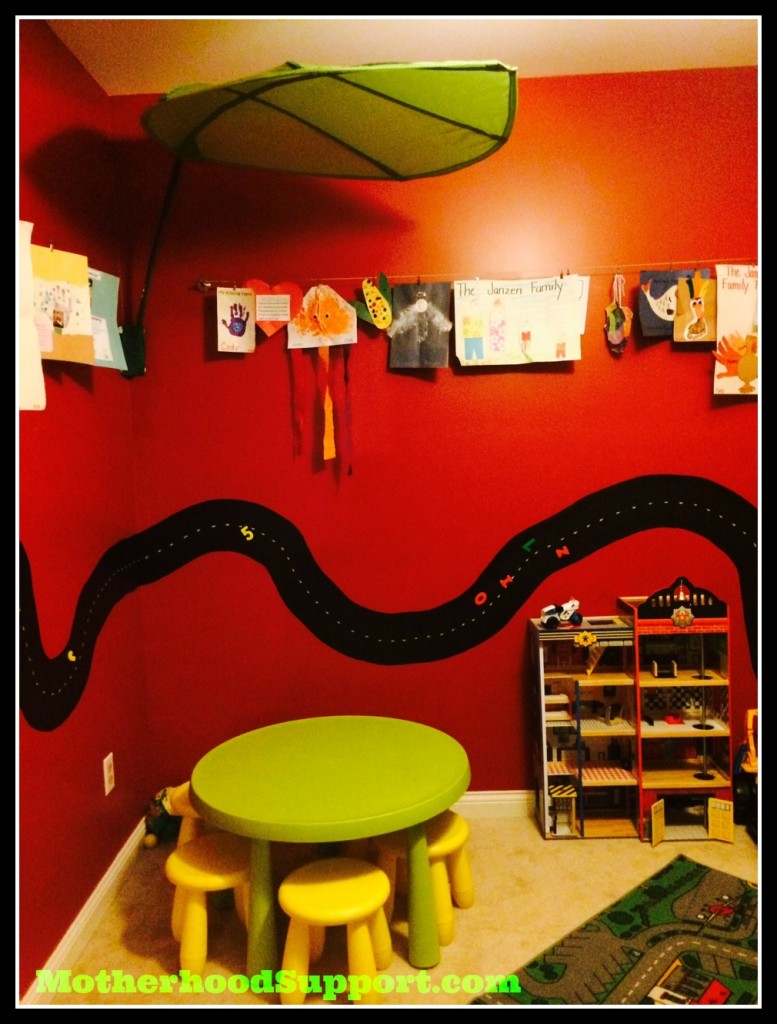 I had these bookshelves saved on Pinterest and knew it was just what we needed in their room. I love that you can see the front of the books which makes it easier for younger ones to pick out what they are looking for. Santa brought them some beanbag chairs for the corner and I added my pillow that I sewed ALL BY MYSELF (oh yeah, call my crafty lol) and I love seeing the boys in there together, reading away. Cody is starting to actually read, which is crazy!, and Grayson just eats up ANYTHING his big brother does so it melts my heart to see them reading together. Gotta love those moments when they aren't fighting!! We got these from Ikea and my husband cut them down to the size I wanted and nailed to the wall. He added caulking to cover the crack in the middle where the shelves came together. He wasn't sure it would hold a lot of books, but it DOES! Tons actually so it is a perfect addition to any room and takes up no space at all!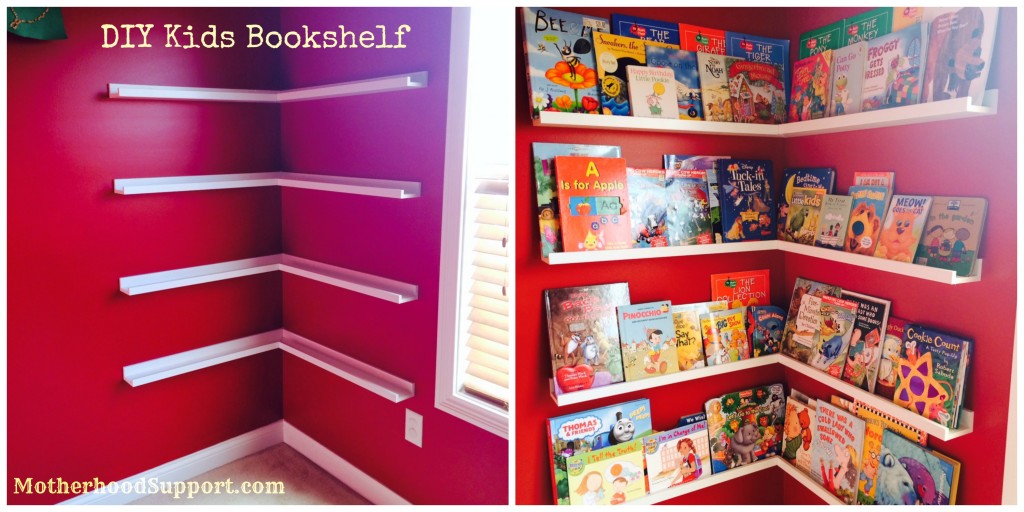 The last thing we did was add shelves, since we took out the closet in this room to add space to my laundry room. We went with wardrobe shelves because they were deeper and are able to hold more toys.. and we can never have enough storage! Once the kids outgrow the playroom, I want to make these shelves an extra pantry so bigger is better in this case! With 3 growing boys in my house, I need all the food storage I can get!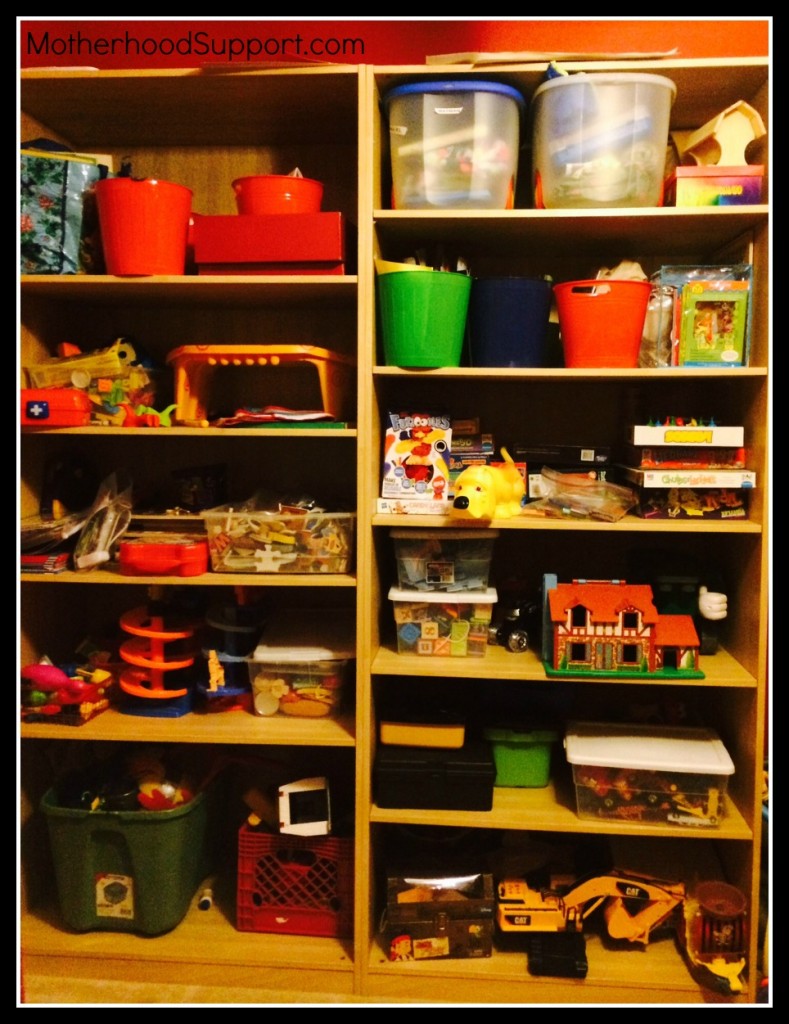 Thanks hubby for another job well done! The boys have a blast and I am happy to have a space just for them!
Be sure to check out other ways I have organized the new house , our other DIY House Projects we have completed and one of my favs, Cody's big boy bed.
I would love to hear about your current house projects and what you have done to keep the toy chaos to a minimum!