I blogged a few weeks ago about wanting to try to eat less meat and more plant-based food. I HIGHLY recommend that you watch some of these documentaries.. they will blow your mind and your thought process about what you put in your mouth! With that being said, I am not ready to call myself vegan, vegetarian or any of the sort, BUT I am on a mission to find and prepare more plant-based meals for my family that we will all eat!! Here are the recipes I have tried and what we thought :)
I started by looking on pinterest and also on Engine 2 website to get some recipes that looked good and that I wanted to try. Made my grocery list from there and then started cooking :)
Kale/ Avocado Salad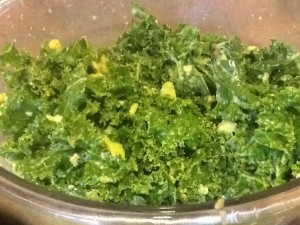 Handful of Kale leaves chopped, off the stem
1 Ripe Avocado (I have been pretty obsessed with avocado so I say add as much as you want!)
Drizzle some lemon juice over the entire salad
Then get your hand dirty! Just start mixing the avocado and lemon juice into the kale, using it like a dressing. The kale actually gets smaller and the end result…. LOVED! My new way for me to get some Kale in my diet!! Yea!
This is from Engine 2 Diet. I actually saw him make it on the documentary and thought it looked yummy! I had been craving it ever since (surprisingly to me since I only put Kale in my smoothies) so I was SO happy that I ended up liking it!
Avocado/ Tomato Salad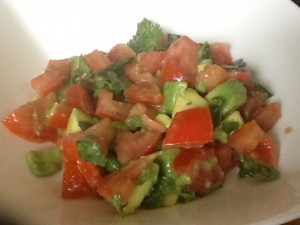 I found this on Pinterest from She's Vegging Out. It was super yummy, but I realized that I didn't love the fresh cilantro in there. It was way too potent for me. I would also add some quinoa (or another grain of your choice)  to it next time to make it a little more filling!
Meatless Sloppy Joes
I really wanted to try to stay away from the "meat substitutes" when searching for meat free meals. Our sister site, Crunchy Savings, posted a great meatless mixture for tacos which I used for sloppy joes. I used her mixture and then added my easy Wildtree Sloppy Joe mix that is super healthy and quick! Everyone LOVED it! We didn't even use buns. Just put some cheese on top and it was delicious!
Shepherds Pie
This was an Engine 2 recipe. This was o.k. It was good (minus the rosemary… didn't dig that), but it just wasn't like Shep Pie. I was a little let down. AND the prep work was pretty intensive. Prob wouldn't make this again. IF I did, I would use peas instead of the green beans.
Lasagna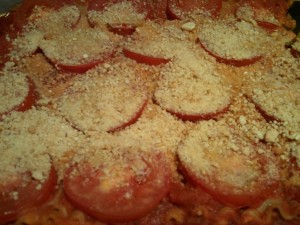 This was another Engine 2 recipe. This was absolutely amazing!!! Everyone loved it! I halved the recipe and it made a full size casserole dish, which fed us for days! I would omit the tofu next time. It doesn't add any flavor and I would prefer not to use it. It does make it look like you are using ricotta so it kind of tricks your brain.  Soooo yummy! Highly recommend!
Vegetarian Lunch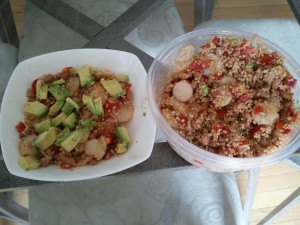 I halved this recipe as well and it made a TON! I could eat on it all week for lunch. I only used quinoa and I omitted the cilantro. I think the chili powder gave it a great flavor. Very summery dish! A little like a salad, but way better! I added the avocado just to my dish I am eating so they don't go bad in the main dish over the week.
Veggie Pizza with Cauliflower Crust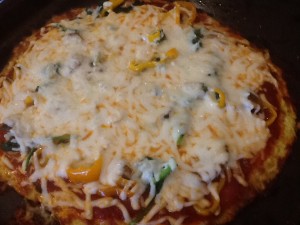 This was my FAVORITE by far! SOOO easy and it was DA BOMB! This is another pinterest find. Just seeing that the crust was made of cauliflower intrigued me. I added spinach, mushrooms and sweet pepper to one and spinach, green peppers and tomatoes to another. Everyone loved them both! I was giddy at the thought of my entire family eating that many veggies in one sitting (including everyone's side salad)!! This is something I will totally be making once a week! Steve was going crazy for it which always makes me smile :) I will say that the serving she recommends makes a small pizza. I used one whole cauliflower head and I was able to make 4 crusts. I made 2 pizzas and cooked and froze the other 2. Try this one FIRST!!!!
I have been re-inspired to cook with all of these yummy, healthy dishes. It has gotten me excited to cook dinner again and it has been awesome using all the different veggies and seeing their beautiful colors! I have kept up with my smoothie a day (most days) and I am using my vitamix a few times each day. I use it to chop all my veggies, it "riced" my cauliflower, it pureed my cashews for my lasagna and mashed my potatoes. The thing is amazing for realio! I have been so inspired I have been using it to make lemonade, O.J., Chocolate Ice Cream and  Strawberry Sorbet. So stinkin easy and YUMMO! It has gotten to the point that the kids some running when they hear the Vitamix going to see what mama is making!
What I have noticed is that the veggie meals have been filling me up, but I don't feel bloated and yucky afterwards like my meat filled meals. I really like that!! I have been using my Wildtree Freezer Meals about once a week, we go out once a week and then the rest have been veggie meals. Not too bad :)
A few things I learned:
Steam your grains in big batches once a week. Then you can just add them to your meals as you need to. This is time-consuming and the last thing you want to be doing every meal is steaming some grains!
If you are trying to cut back on cheese you can grind up cashews and when you put it on anything it looks like cheese! It tricks your senses :) That is what I used on the Lasagna and I couldn't even tell the difference!
If you need a little sweetness to your green smoothies, you can throw a few dates in your blender and it will sweeten it naturally!
If you are making a big batch of something and it calls for Avocado, hold off on adding it to the dish and just add it to your plate as you are eating it.
Overall, I haven't really missed subbing out meals with no meat. What I don't know if I can ever give up is cheese! One thing at a time right?! I feel really good just doing more veggie meals than meat meals in a week and I am having a ton of fun in the kitchen in the meantime!