You all know my love affair with Pinterest and I found a REALLY easy and fun craft that I wanted to do with Cody. It is called Rainbow Rice and is a great alternative to sand. Put it in your water/ sand table or in big bowls you have lying around the house. It was a super easy craft, cheap and fun to make.
Rainbow Rice
2014-01-18 09:16:51
Ingredients
4 cups of white rice (I picked up a big bag at costco so I have a TON left to make more)
2 tsp of food coloring (teach those colors!)
3 tsp of rubbing alcohol (yes it stinks, but once it dries the smell is gone)
Instructions
Mix all together in a ziploc bag.
Once the rice is covered with the color, spread out on a cookie sheet (I would line them with wax paper or foil just to save yourself the cleanup) and lay them out in the sun to dry. It took maybe 30 minutes for them to dry.
After it dries, mix them together, find some fun toys you have around the house and let them go to town!
Notes
I put ours in a baby pool we had, but you could do your sand/water table too!
Motherhood Support http://www.motherhoodsupport.com/
Cody had fun playing outside and inside with this. The rule is he has to keep it in the pool, but if some spills it is easy peasy to clean up with the mini vac! MUCH easier clean up than sand! Use it as a sensory table, fun for digging or hiding things in. A bunch of the neighborhood kids were over just yesterday and they were all playing with it forever!!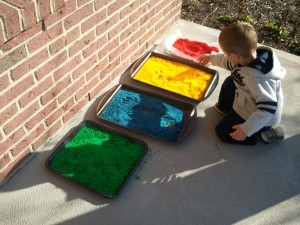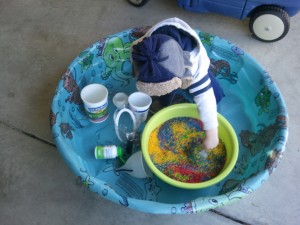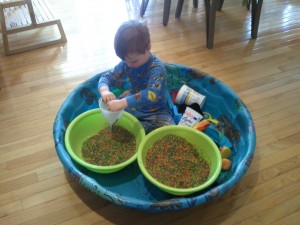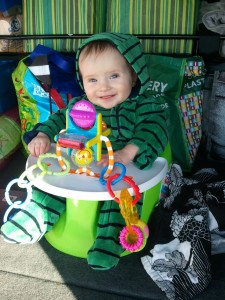 What fun crafts do you do with the kids that keeps them occupied and out of your hair for a bit?!