I have been on the search for more natural skincare and makeup for YEARS! I have tried a lot of companies, but I have never felt like they make a major difference with my skin. As my skin ages, I feel like I need the Vitamin C and Retinal products, but I don't want it laden with other unnecessary chemicals.
I was recently approached by a local mama who wanted me try out EVER Skincare. EVER is a sister company to Stella & Dot. They are in their infancy, only 2.5 years along in their journey. She wanted me to review Sublime, which is their newest enhancer. Sublime is a retinol eye cream that works while you sleep. It's clinical grade ingredients help smooth any fine lines or wrinkles you may have while also addressing dark circles and puffiness. Their clinical results were amazing! In just three weeks, 95% said their dark circles diminished, 92% felt their eye area was more hydrated and 84% said appearance of under eye puffiness was diminished.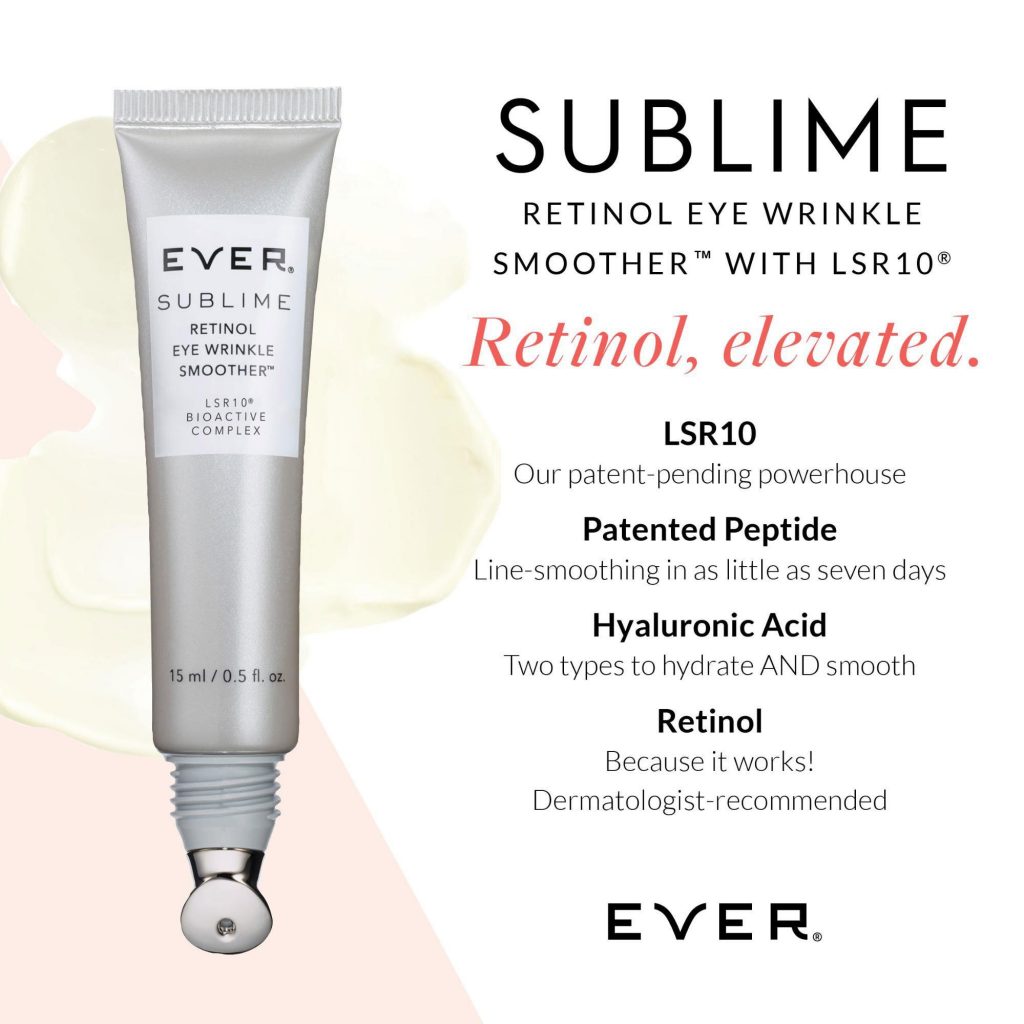 My first question was, "Can you send me a list of the ingredients"? I was super impressed with what she sent me. ALL of EVER skincare products are free of:
Benzalkonium Chloride
Benzophenone
Bisphenol A
BHA & BHT
Chemical Sunscreens
Coal Tar
1,4-Dioxane
Ethanolamines
Formaldehyde
Hydroquinone
Methyl Cellosolve
Methylisothiazolinone
Microplastics
Mercury
Mineral Oil
Parabens
Phthalates
Propylene Glycol
Resorcinol
Sulfates
Synthetic Fragrance
Toluene
Triclosan
What was even more impressive to me is that this company is Ever Conscious. They follow the EU standards, which are much stricter than the US. Although they are not chemical free, I feel like this company is using clinical grade ingredients like Vitamin C that is necessary for aging skin, but leaving out a ton of the other filler chemicals (listed above) that isn't needed and frankly, not good for our bodies to be absorbing.
I am SOOOOO excited to try out this skincare line and am hoping for awesome results to share. I have been using Sublime for about two weeks now. I took a Before pic which I will post at my 4 week mark so we can check out my eyes. One thing I have noticed is a visible result in my under eye area when I wake up in the morning. One eye has deeper wrinkles when I first wake up and I feel like those have diminished slightly.
If you have any questions about EVER you can ask on this post or contact my Rep, Kelley Conner. She is
an Independent Beauty consultant with EVER skin. In 2011 her oldest son was born and it didn't take long to realize she had a highly allergic child. She began to switch out all of their products to cleaner brands in hopes it would help his allergies. The one thing she was having a hard time finding was a good for you skin care line. She finally met another mom at her son's school who sold EVER. Her skin looked fantastic so Kelley started to use it in hopes to have the same results. She liked what she was seeing so she decided to sign up for the discount and quickly fell in love with all the products she was using and decided to share it with anyone who was interested!
I am excited to see my results and try some other products in their line. You know when I love something, I will shout it from the rooftops so fingers crossed this works for me! If you are interested in seeing more of the products you can
check out her website.
If you are interested specifically in Sublime, n
ow through

November 10th

you get Sublime FREE with any purchase over $150!!!