Old West Festival organizers announce they are celebrating the festival's 10-year anniversary this fall with the new cast addition of World Champion Trick Roper and Wild West Showman Extraordinaire, Kalvin Cook, also known as "Kowboy Kal." Kal holds the Guinness Book of World Records world record for the largest loop at over 100 feet, was awarded the honor of Will Rogers Trick Roper of the Year, and won the Montie Montana Award for Showmanship in Las Vegas, Nevada. He will travel from his hometown of Apache, Oklahoma, to entertain families with special performances every weekend during the 2017 Old West Festival (September 9th through October 15th; Saturdays and Sundays 10:00 a.m. – 6:00 p.m.).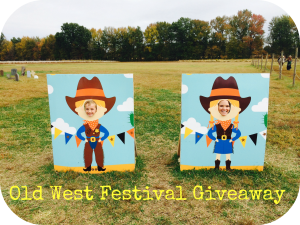 Since its launch in 2007, the festival has attracted more than 20,000 visitors a year. The Ohio-based festival's dedication to creating an authentic experience of 1878 Dodge City especially appealed to self-proclaimed real-life-Cowboy Cook.
In addition to Cook's trick-roping, period re-enactors will also be found walking the streets and performing the roles of cowboys, cowgirls, storeowners, residents, sheriffs, outlaws, and more.
Old West is a one-of-a-kind- event in Ohio, transporting visitors to an authentic Dodge City Wild West town dating back to 1878. Guests can pan for gold, explore the authentic old west town, belly up to the Saloon, and much more. The Old West Festival is located at 1449 Greenbush Cobb Rd between Mt. Orab and Williamsburg, Ohio, just off St. Rt. 32. Parking is FREE. Visit www.oldwestfestival.com to learn more and to purchase tickets. Each weekend is a different them. Check out the schedule below to see which one would be your favorite.
9/16
Faith Weekend (Sponsored by WOBO-FM)
Visit our Cowboy Church each morning at 10:30 a.m. and stay for a FREE concert after the festival close. Included with your free admission is a concert by Gary Strong and Hard Times! Everyone will be sure to enjoy this Bluegrass legend's all-gospel concert.
9/23
Americas Pastime Weekend
See live old-time baseball played by the rules in 1878. Saturday, the Cincinnati Buckeyes take on the Losantiville Black Stockings. Sunday, the Cincinnati Red Stockings battle the Moscow Monarchs. Both games begin at 1:05.
9/30
Romance Weekend
Love is in the air this weekend! Renew your vows throughout the day in our Cowboy Church and buy your sweetheart a rose.
10/7
Heroes Weekend
Members of the Military (active or Veterans), as well as police, fire and EMS receive FREE admission. Just bring a valid ID.
10/14
Halloween Weekend
See what a real ghost town is all about. Kids in costume get in for half-price. Enjoy trick-or-treating around town and be a judge in our pumpkin-carving contest.
If you are feeling lucky, be sure to get entered into my giveaway to win 2 tickets! Good Luck!
This post is sponsored by Old West Fest. All thoughts and opinion are my own. Thanks for reading!