We love getting our goodie boxes each month so we can try out new products! You can get more info on Goodie Boxes from my
initial post.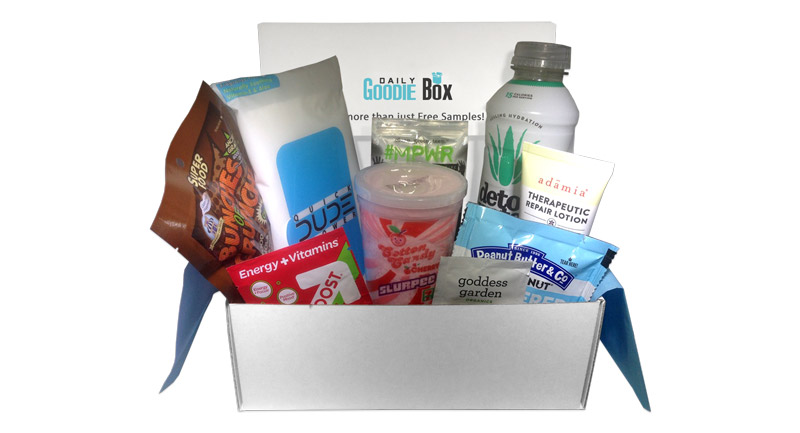 This month I loved that we got a Natural Sunscreen since spring is here! I am trying to eat pretty clean these days because I have had some tummy issues so I LOVED getting the detox water in this months box. I have read a lot about Aloe Vera and how beneficial it is and this comes bottled up in delicious flavors! My boys loved the Grape Flavor we received in our box this month so I will definitely be stocking up on those! It's organic, vegan, kosher, and made in the USA! My kids favorite was the Bunches of Crunches which is a chocolate granola with 10 grams of whole grains per serving! Add it to your yogurt or eat it by itself… yummy!
I have added links to my favs for this month, along with everything else that came in my box. If you haven't
signed up
for Goodie Box yet, you should! Who doesn't love getting FREE stuff?!!! Plus, you get coupons inside for some of the products so if you love it and want to buy more there is even more savings!!
#MPWR Skincare – Zip, Zap, Gone! Spot Treatment Sticks
Goddess Garden – Everyday Natural Sunscreen Lotion
Detox Water – Lychee & White Grape
Slurpee – Slurpee Cotton Candy
EBOOST – Strawberry Kiwi Energy Powder
Adāmia – Therapeutic Repair Lotion
Bakery On Main – Bunches of Crunches
Peanut Butter & Co – Mighty Nut Powdered Peanut Butter
DudeProducts – Quick DUDE Shower Wipes
This post is sponsored by Goodie Box, but all thoughts and opinions are my own! Thanks for reading!