It's Goodie Box time! This is my third box and I love that every time they have sent so many different things for us to try. The concept here is you
sign up for FREE
and they send you a box of free goodies and all you do is let them know what you think about the products once you have tried them. Shipping is free and no credit card is required EVER!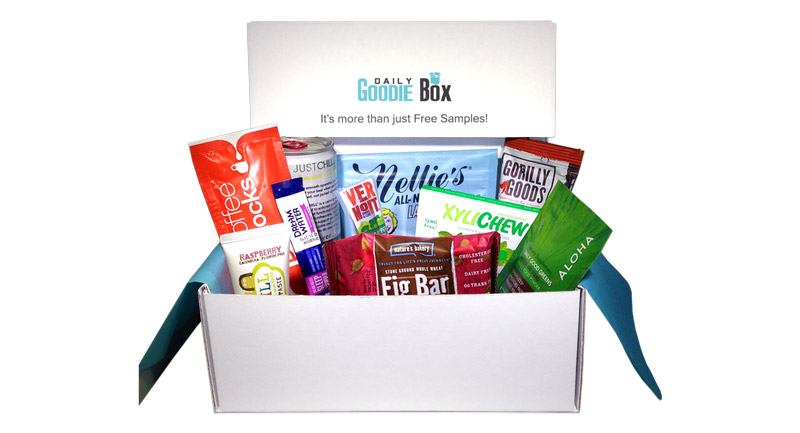 Here is what I received in my February box
Nellie's All-Natural – Laundry Soda Packs
JustChill – Stress Relief Drinks
Vermont Smoke & Cure – Cracked Pepper Beef & Pork Sticks
Nature's Bakery – Raspberry Fig Bars
Jack N' Jill – Natural Toothpaste
Dream Water – Sleep Powder
Coffee Blocks – Butter Coffee
Aloha – Daily Good Greens
XyliChew – Spearmint
Gorilly Goods – Organic Snacks
Some of our favorites this month
XyliChew: This gum is AWESOME!!! Made with no chemicals or artificial sweeteners, GMO and Soy free, Gluten Free and Vegan. Now THIS is gum I feel safe letting my kids have. Woot!
Jack n Jill Natural Toothpaste: A lot of the "natural" toothpastes have a bunch of junk in them so I was pleased to see I could use this toothpaste on Bennett and not be worried about the added chemicals. Get 15% off when you sign up for their newsletter.
Coffee Blocks: I don't drink coffee, but when I did Whole 30 and did a lot of research in the Paleo Community, everyone was trying to make their own Bulletproof Coffee. This genius coffee block does it for you! Check it out!!
Overall, I am still loving getting a new box each month. My family is able to try so many different products and pick our favorite things that we would actually like to buy again! It's free so you have nothing to lose, but to try it out :)
This post is sponsored by Goodie Box. All thoughts and opinions are my own. Thanks for reading!