I had the opportunity to tour the Cincinnati Children's Hospital Medical Center, Liberty Location after some major updates, improvements and changes that have been done over the last year. I love that we live one street away from this amazing facility. I jumped at the chance to check out all of the changes.
The Liberty Campus opened in August 2008 and has seen more than a million patient encounters over the last 7 years, most of which have been through outpatient care. More than 50 pediatric medical and surgical specialty clinics and services are available here, including an after hours urgent care and a 24-hour emergency department. The expansion of the existing building adds a little over 70,000 new square feet for a total of 302,000 square feet in this building and brings more than 210 additional full-time employees.
The entire 4th floor is new and will allow for inpatient services. As in all the Children's Hospitals, they have amazing themes that bring a lot of fun to the kids. The 4th floor is a planet theme, filled with sparkling "constellations" and beautiful artwork.
They had a lot of families weigh in on the new expansion and they added many features that will make their stay as comfortable and easy for the kids and parents as possible.
Patient Rooms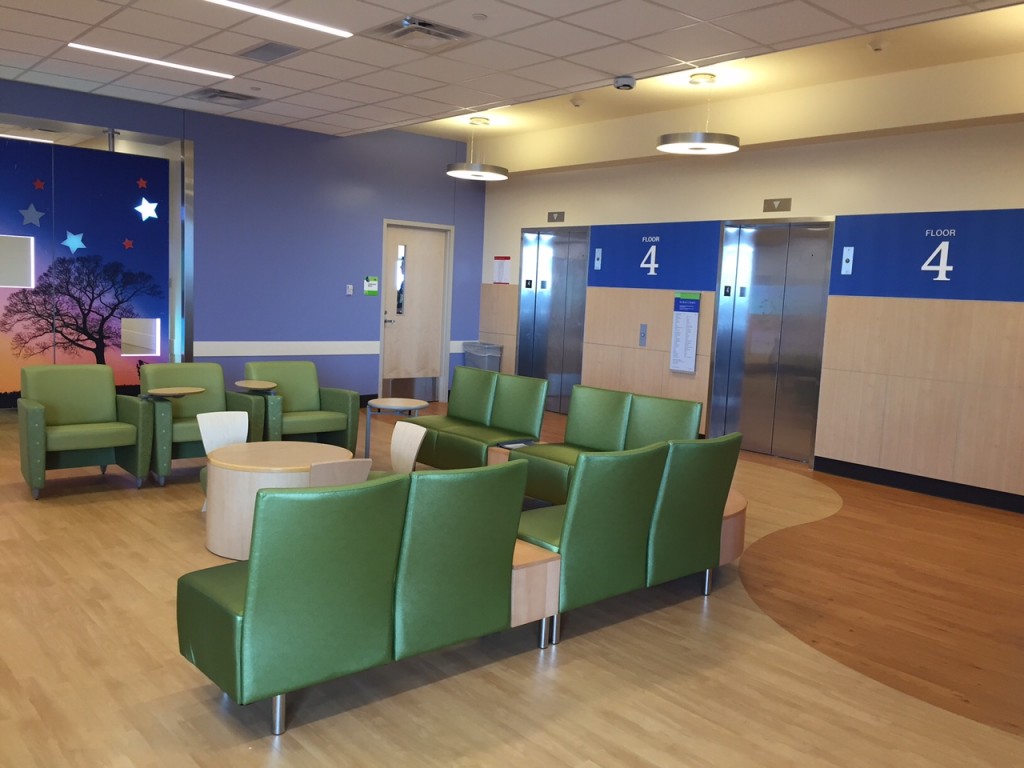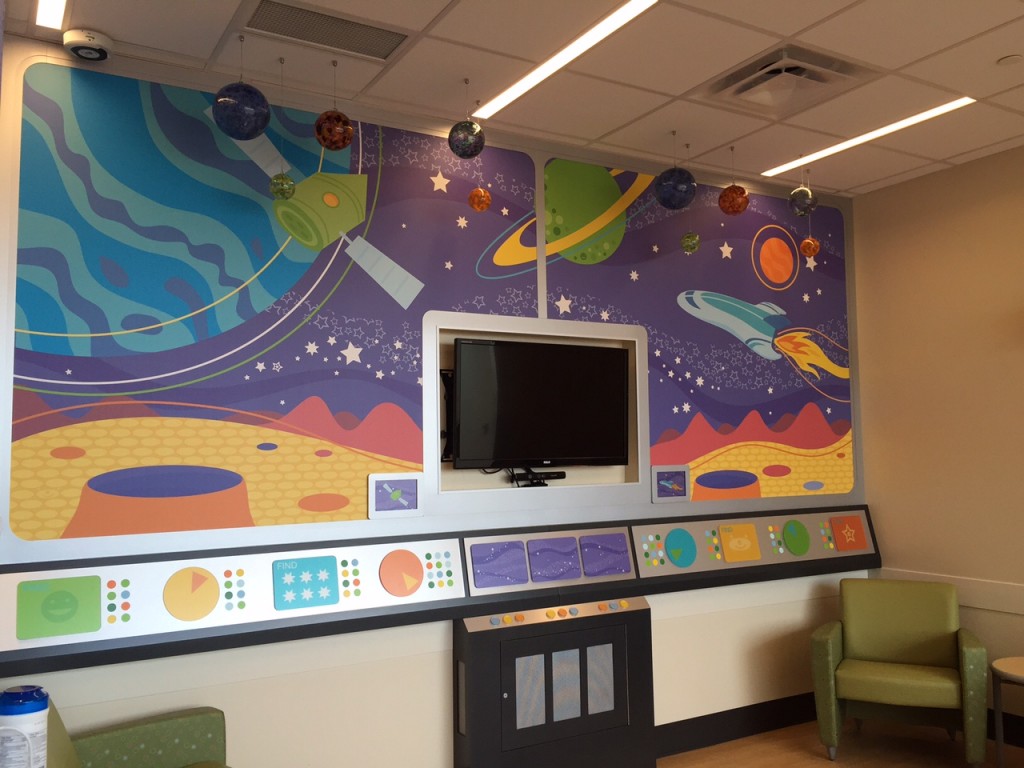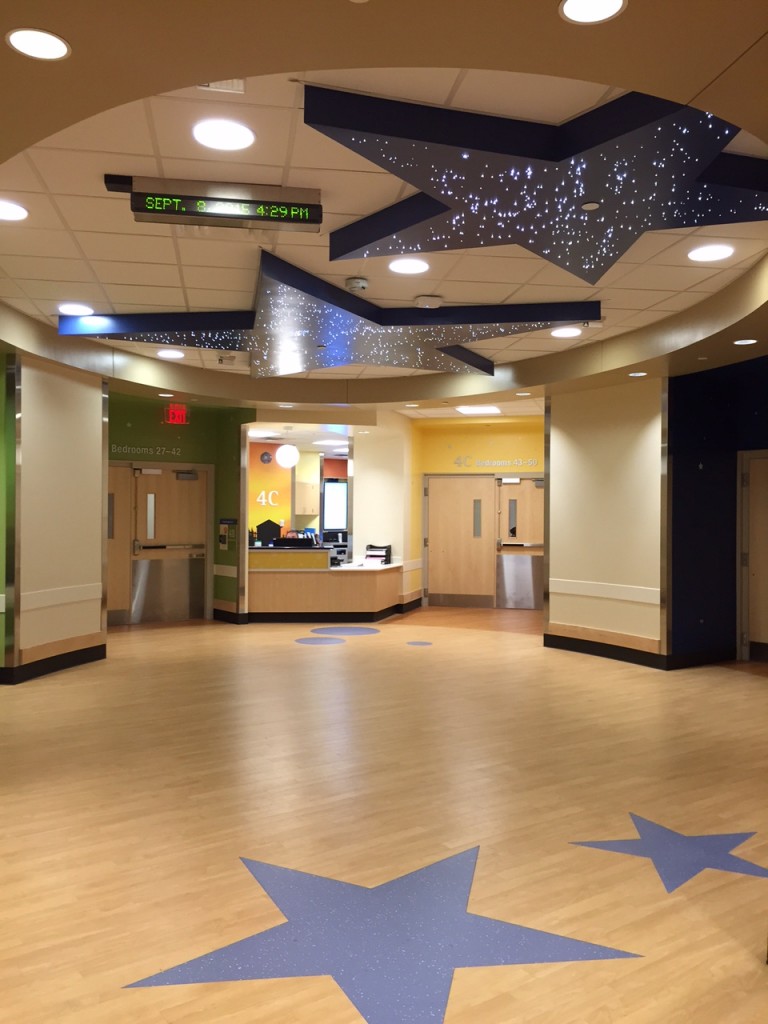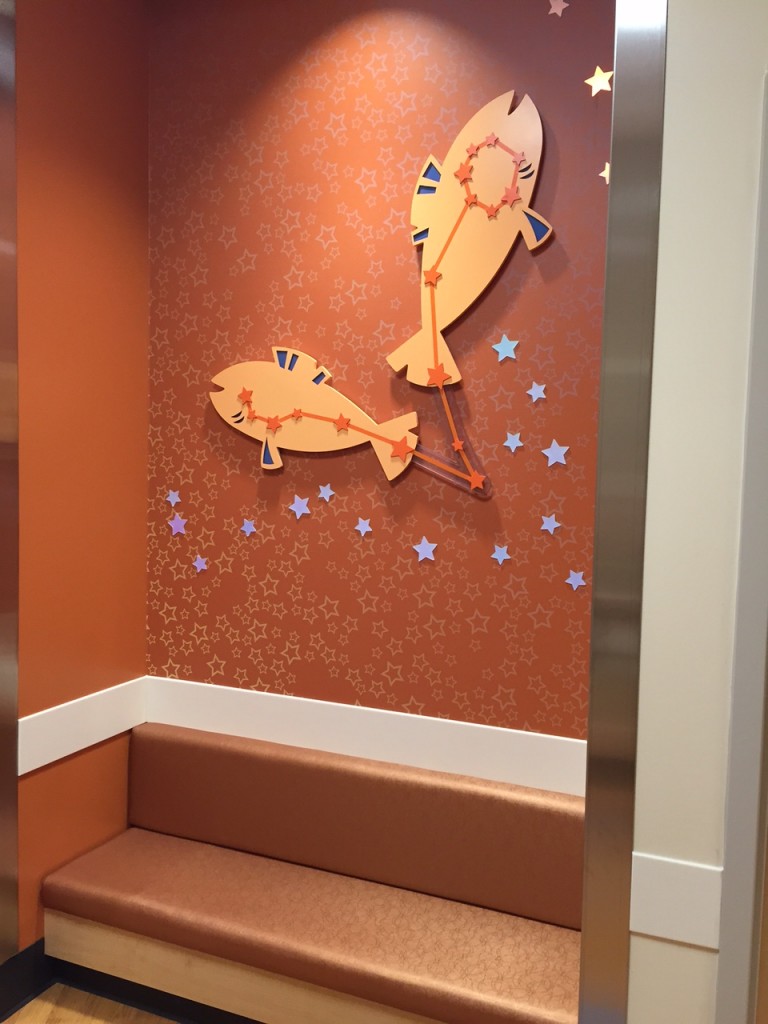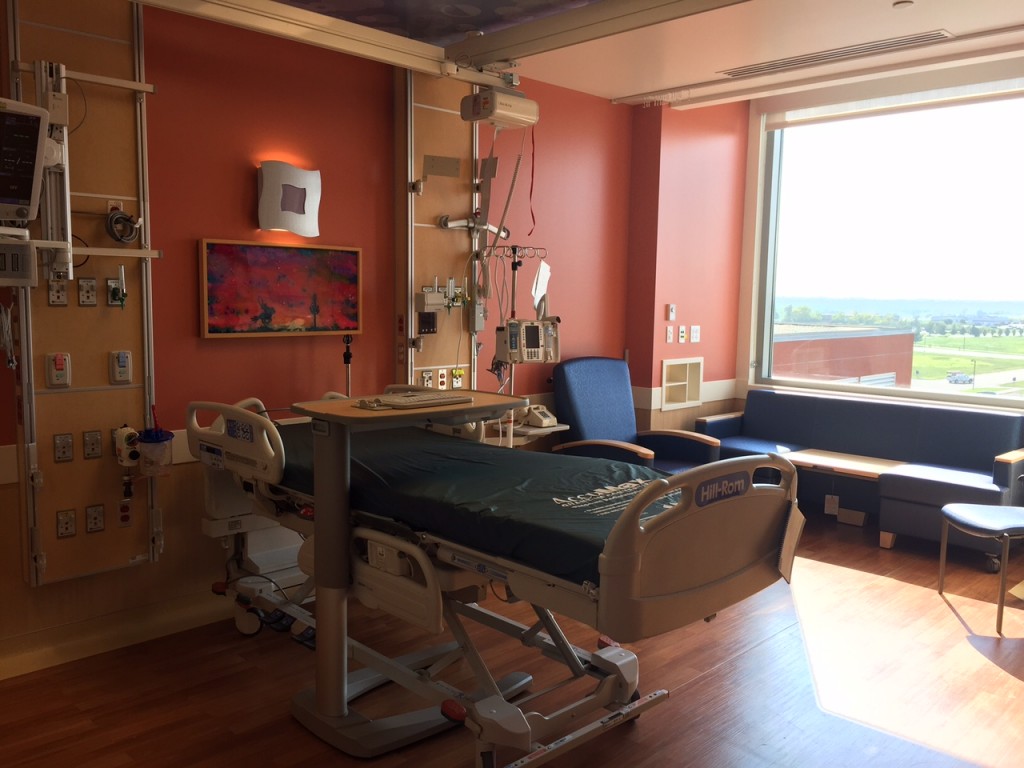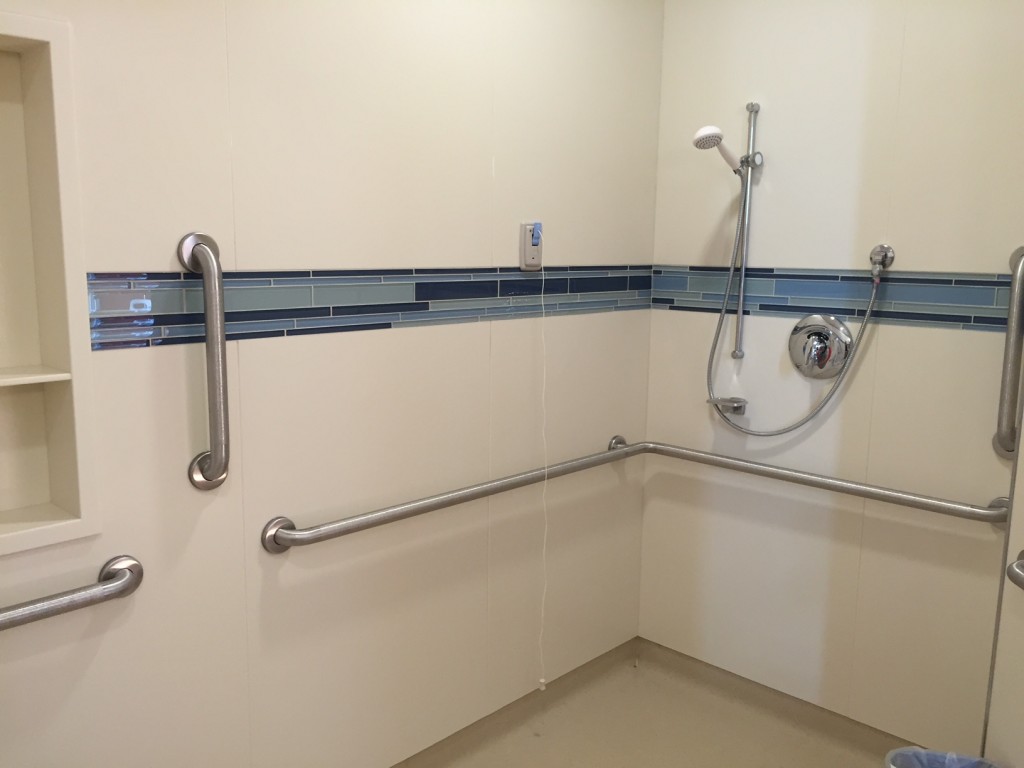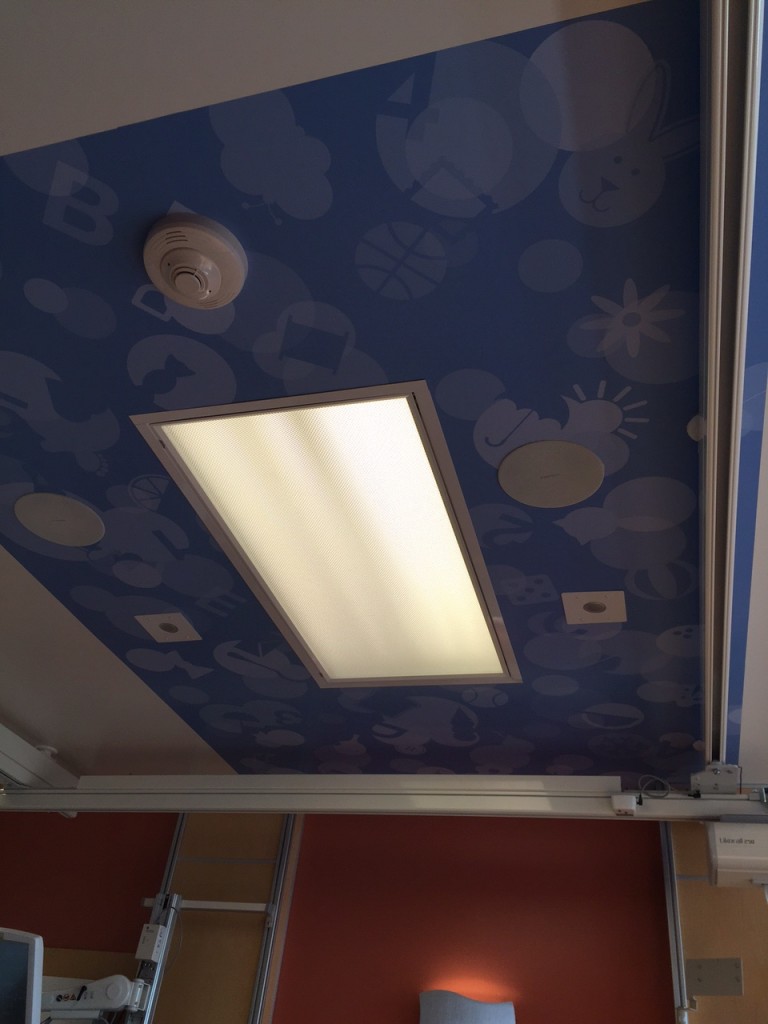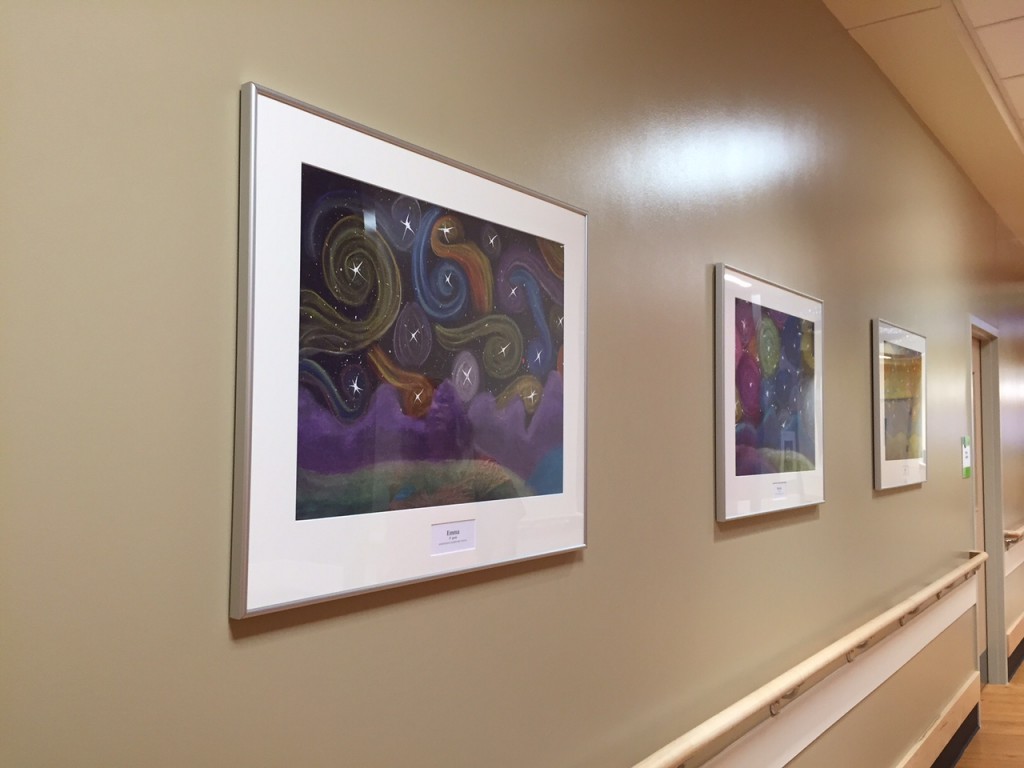 They offer a unique pass-through style openings for stocking of supplies and collection of garbage so if the child is resting the service worker does not need to enter the room.
Similar, but securely locked, pass-through for patient medication. These pass throughs are especially important for the Cancer wing and those kiddos that are immunocompromised. It allows for the least amount of germs to be passed into their room as possible.
The patient rooms are larger than rooms at main campus, better to accommodate family needs while their child is an inpatient here. They offer extra curtains around family space for privacy, and larger showers in every room so the family can also shower right in the room! No need to leave your child.
There was lots of natural light which brightens the entire floor, the patient room and brought an overall sense of happiness.
"Seek and find" art on the acoustical ceiling tiles right over the patients' beds. This brought tears to my eyes. You realize how hard it must be for a child to be poked and prodded and lay in a hospital bed, but the designers thought of every detail, even giving something for the child to look at while in bed.
The hospital's new GetWell Network – an entertainment and education system will be available in each patient room
Sleeper couch for patient's family which, in some rooms, turn into a table. I noticed there was so much more room for the families belongings and places to eat
One really cool feature is the telemedicine capabilities which allow the care team and doctors to communicate directly with specialists at the main hospital downtown. The specialists there can actually see the patient through this technology and can therefore provide improved care through "in-person" consultation. This allows for the child to not have to be transported back and forth to see their specialists.
They also have playrooms for the kids so when they are allowed to leave their rooms, they have a place they can go to have fun and socialize with other children
Hospital Updates
They added a blood bank – for the needs of higher acuity patients.
They have an expanded inpatient pharmacy to accommodate larger inpatient population and chemotherapy requirements and added an Outpatient pharmacy – new service being offered for parent convenience – Hours are 9am to 8pm Monday thru Friday and 10am to 2pm on Saturday and Sunday
The Gift shop was moved and significantly increased in size
They added a Family Resource Center – similar to the one at the main hospital, providing easy access to information, other family resources and service organization contacts
Expanded to full-service cafeteria from small café that was there previously. Includes a new kitchen area, and the main dining room is significantly larger and includes outdoor seating as well. Provides greater access to food throughout the day.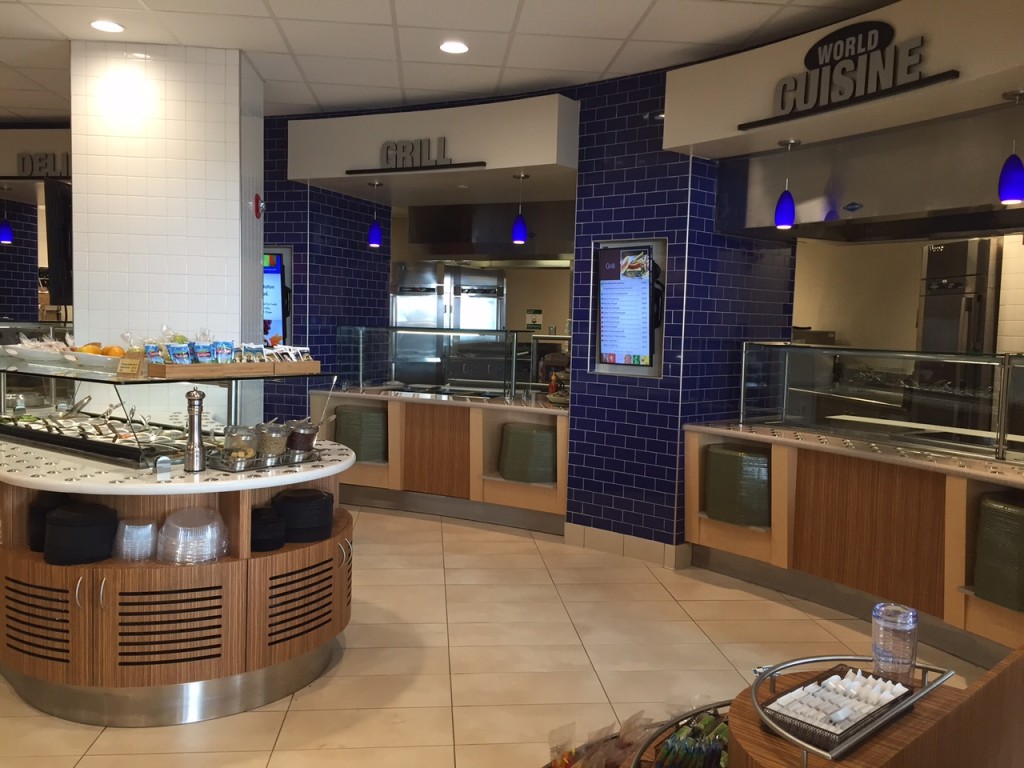 They are building The Proton Center which is nearly 90,000 square feet. This is HUGE! Proton therapy is a type of radiation treatment that uses protons rather than x-rays to treat cancer and helps to focus treatment just on the cancer and not healthy tissue.
Overall, it was such an amazing tour. They wanted to make it as family friendly and home-like as possible. It made my heart happy to see the love and thought that went into planning out this new addition. As much as we all hope we don't have to have a child in the hospital, it is reassuring to see the lengths they have gone to so that everyone's stay is as comfortable as possible.