It looks like summer is in full swing for all of us! WOOHOO! Love me some summer fun with the kiddos and the fam! Stay tuned next week for my post on "How to Survive the Summer with the Kids" since we all know that having them around is great, but can be exhausting for us mamas :)
Now that Cody is finished with Kindy and will be… pause for effect…. a FIRST GRADER (!!!!!), I have been gearing up for summer "homework" to keep him on track. Cody's teachers made sure to make it a point to let all the parents know that kids can fall behind during the summer if they don't practice their reading and writing. They sent home a summer learning packet, but I wanted something he could do every day so I went to Target and grabbed a few Kindergarten Workbooks. I have it mapped out with post its what Cody has to do every day so he can complete it (for the most part) independently. These workbooks in particular help with writing, math skills, sorting, patterns etc. so it is a review of what he did over the year.
His school recommends (and I think a general rule) to read 20 minutes every day and write 3 times a week to keep up with the skills they have gained over the school year. 20 minutes of reading can be some of the child reading to you and you reading to the child. I signed Cody up for the Mason Library summer reading program and I just log everything in online and they get prizes for how many minutes of reading time they accumulate. Every Library does this so ask your local Library for details!
Ideas for getting that daily reading and writing in:
Get the books on C.D. We are in the car a lot, whether it is going to an activity or to Cumberland and these are great to stick in the C.D. player and let the kids listen to the book as they look at the pages. These count towards the summer reading programs so keep track of the minutes!
Go to story time once a week at your local library and have your child pick out 5 books to practice reading for that week. Cody has a "Reading Bag" that they use for school and we have been filling up that bag each week with different books and those are the ones he has to practice with for the week. The next week we had different books so he is being challenged with new words and stories every week. I like to request a bunch of books online so they are ready for us when we can make a Library run. We go to story time and all the books I requested are ready for me to check out- saves so much time! I do a search based off series and just pick out some from each.

Some book series our school recommended:

Levels D-F: Tiny, Puppy Mudge, Max and Ruby, Dear Dragon, Biscuit
Levels G-H: Fly Guy, Danny the Dinosaur, Little Critter, Morris the Moose
Levels I-J: Toby and BJ, Dragon Tales, Poppleton, Mr. Putter and Tabby, Henry and Mudge, Fox and Friends, Froggy, The Littles, Young Cam Jansen, Zelda and Ivy, Little Bear

Get some fun chapter books that you can read to them! Our school gave us a list with hundreds of books that we can read to them, but really ANY book will suffice! I started with Magic Treehouse chapter books and although the boys miss the pictures, I try and use fun voices and expressions to keep them interested. After we read a few chapters, I have Cody draw a picture of one of the things we read and write a few sentences about the story. He has LOVED doing this and loves to show daddy his masterpiece when he gets home. I think this might also help with reading comprehension. Sometimes Cody is so focused on reading the text that he doesn't really comprehend what he is reading. So this makes him really think about what we just read so he can draw it out.
I found some blank "books" in the dollar bins at Target. The school sent home a huge list of Writing Topics (you can also google a list based off your child's age) so I have had him pick one of these and start writing in his book. You could have your kids draw a picture to go with the topic and have them read it to you after. I have learned I have to make it FUN for Cody or he protests and will not sit and do it.
Engage your kiddos before and after reading with a few questions to enforce reading comprehension:

Look at the cover, what do they think the book will be about?
Do a picture walk, flipping through the book looking at pictures and let them guess again? Did they change their minds??
Point out words they don't know or that may be difficult for them during your picture walk.
When the story is done questions you can ask: Tell me what happened in the story? Tell me about the beginning the middle and then end (in that order)? What did the story make you think about? Did it remind you of anything? What characters were in the story? Where did the story take place? What was the problem or conflict in the story? Did they solve it? How?
So there you have it! Some ideas to help keep up the learning through the summer! I would love to hear what you do to keep your kids engaged in summer learning.
In honor of Summer Reading, I have a Giveaway for a super cool Tractor Book! This new series is especially for kids obsessed with tractors! "Casey & Friends" books offer a glimpse into farm life and the machines of modern agriculture. Young tractor fans (ages 4-8) love the use of real photos that show iconic red CASE IH tractors and other farm equipment in action. A cast of cartoon characters explain how they work. Parents appreciate all the added learning possibilities found in the sidebars, picture glossaries and fun farming facts. Big Tractors with Casey & Friends shows how the biggest, most powerful tractors handle the demanding jobs of pulling and powering on the farm. Find out how Big Red and Sammy – the biggest tractors on the farm – use their powerful muscles to work in the field with the rest of the team. Learn about the science of farming and discover how advanced technology makes Big Red and Sammy special.
My boys went crazy for these books and LOVED the amazing illustrations! I was super excited when the author wanted to host a giveaway to one lucky reader! Comment below why your child would love this book and you will be entered in to win! They will also receive a small toy tractor like the one in the picture! The giveaway will close Friday June 19th at NOON! Good Luck!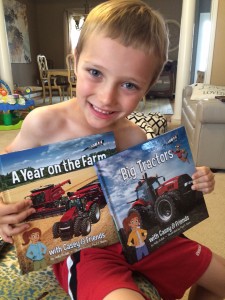 I was given these books and the toy tractor to share my review with you. All opinions and thoughts are my own! Thanks for reading!