I talked last week about starting the Bikini Body Mommy Challenge. I am on week three and still loving it. Some days I don't want to do it, but I have been making myself find 20 minutes to do it because I NEED IT! I have to be honest, it is hard not to be down on yourself after you have a baby. Your body is a mess from weight gain, stretch marks, breakouts, milk leaks, bleeding… the list goes on. I hate that I have to try on 5 shirts just to find one that hides the rolls and bulges. I know it takes time to get things back to the way they were but it sure is hard to be patient!
After I had Grayson I tried Weight Watchers and lost a lot of weight, without any exercise at all. I was back to my pre-baby weight and feeling great. I know that your diet plays a HUGE role in losing weight, but I am just not ready to give up the cookies and comfort foods that are my sanity right now :) So I have committed to my BBM workouts and have tried a few other things as well.
Mama Mio Get Waisted: I have talked about Mama Mio so many times before on the blog. I LOVE their products and this one is no exception. You rub it on your tummy and hips once a day for 30 days, no cheating!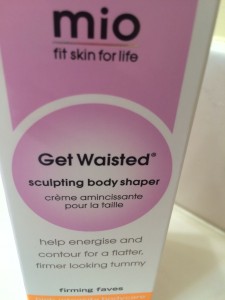 How it works
Get Waisted works by increasing the energy levels within your skin, boosting firmness, tightness and increasing lipolysis. Lipolysis is the natural action that happens when your fat cells release the 'energy' within them – i.e. fat – to give your body fuel. Get Waisted has 7 ingredients that are designed to increase this natural action on the fat cells within your skin, plus skin firmers and tighteners.
I can feel the tingle when I put it on so I know it is doing something. I totally trust this company and would recommend any of their products!
Belly Bandit: I used this after my second pregnancy and noticed a HUGE difference. You can see my before and after pics on my post. I could feel my waist going down every day and even had to go from a medium BB to a small BB because I was losing so many inches. I knew I had to have one this time around because of how much it helped shrink my tummy last time. Unfortunately, I had some major bladder issues from this delivery and could hardly pee for almost 3 weeks. I had to have a catheter several times in the hospital just to empty it because I couldn't go on my own and then when I finally went home it would take me almost 10 minutes and a lot of positioning to get a trickle out…. I won't go into it fully, but because of this, I had a lot of pressure "down there". As a result of this, I could hardly wear my Belly Bandit for the first three weeks. When I did wear it I would feel so much pressure and pain from the bladder issues that I had to take it off after about an hour. With my last pregnancy I was able to wear it morning and night and noticed a lot more change than I did this time. At about week 4 I was able to wear it more often but still not around the clock like you should. I will say that I still noticed it cinching my waist and it feels good to have it on because it really smooths your midsection out. You actually look thinner when you wear it because it flattens the tummy. I have tried the original BB and the BFF and I would recommend the BFF if you are a curvier woman. I have an hour-glass shape and the BFF allowed me to pull it tighter on the top and looser on the bottom where it wrapped around my hips, the larger part of my waist. I had no problem with either of them, but did notice the BFF was more comfy for my body type. Overall, I would highly recommend this to any postpartum mama and WISH I could have worn mine from day one, but it is what it is. I am still wearing it today and baby Bennett is 7 weeks and I will probably wear it for another week or two.
Belly Bandit has a lot of other products they offer to the pregnant and postpartum mama so after you are finished with your BB, you can mail it back (with their prepaid label) to the company and get 20% off any of their products! Not to bad! Good for the environment and your wallet!
I guess what I have learned after three babies is that your body changes every time and although there are some amazing products that we can use to help us get our sexy back, ultimately, we have to be o.k. with ourselves and bodies from day one postpartum and appreciate what we have been through. We will eventually feel like ourselves again, but it takes time and patience and while you are waiting, look at the beautiful baby you made because that really does make all the sacrifice worth it!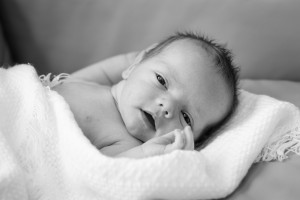 As much as I DON'T want to share my hot mess of a body, I want to keep it real and show you my before and after. The first pics are Day 4 post baby. Sorry for the shadowing. My hubby doesn't pay attention to those types of things when he is taking pictures and I was half asleep to notice until now!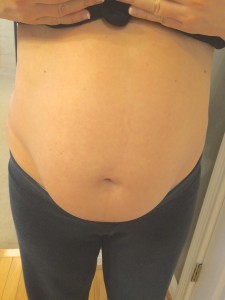 These pics are 7 weeks post baby. Sorry they are closer, I was taking these myself. I tried showing as much as I can here (stretch marks and all) so you could get a good idea how the belly bandit and mama mio products have worked.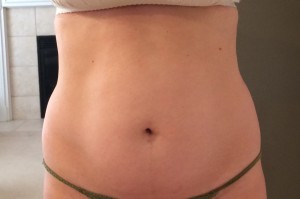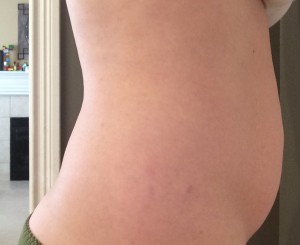 All in all, I am not where I want to be, but I think these products, along with exercise and breastfeeding has helped me lose inches. My next goal will be my diet! One step at a time right?!
What have you tried postpartum that you feel has helped change your body? How long did it take you until you started feeling "normal"?
I received these products for free so I could write about my experiences and share them with you, however, all opinions and ideas are my own! You can read more about my Disclosure & Disclaimer Policy here. Feel free to contact me with any questions! Thanks for reading!