I wanted to share some of my favorite products for pregnancy! This list has narrowed over my many pregnancies, as you realize what you REALLY need vs. what you want just because. So equip yourself to have the best pregnancy eva!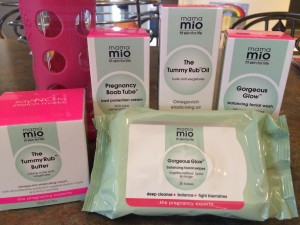 I absolutely LOVE this company! I have used them for every pregnancy and have loved my results! So far I have not gotten any stretch marks thanks to their Tummy Rub butter and Tummy Rub Oil. I layer these all over my belly, my sides, the "girls" and my thighs… yes I am obsessed, but the smell is amaze and it literally glides on like butter! It keeps my skin hydrated and I have never had that awful pregnancy itching belly!
I also recommend their Gorgeous Glow Face Wash and Gorgeous Glow Facial Wipes. I use the wipes when I need a quick pick me up or to refresh my face and it takes off makeup beautifully. I LOVE their face wash because it is free of the nasty chemicals that most face washes have, it lathers great and smells awesome! It cleans my skin really well too. It also helps with those hormonal skin changes that comes with pregnancy like breakouts.
You can also use their Boob Tube while preggers, but I save mine for AFTER! Check out my post about this product here.
Mama Mio is fabulous and I feel confident using them while pregnant with their NO NASTY POLICY: Every Mama Mio product is paraben free, petroleum free, phthalates free, sodium laureth and sodium lauryl sulphate free, colourant free, synthetic fragrance free and xenoestrogen free. If it is nasty, it is a no-no. Even their fragrances are natural!! You can see their full line of pregnancy skincare here.
I have used their nursing bras in the past and they are GORGEOUS and comfy! It is nice to invest in some nursing bras while prego because your bust GROWS and the nursing bras allow for that growth. The bands have extra length to move the hooks as you grow! What I love so much about this company in comparison to other nursing/pregnancy bras is how beautiful they are. Let's face it mamas, sometimes we can feel a little less than pretty with our growing tummies (among other things that get bigger on our body while pregnant!), yucky breakouts, achy feet and swollen ankles! Cake Lingerie allows you to feel beautiful and sexy while pregnant and breastfeeding. Just because we are nursing those babies and have growing bodies, it doesn't mean we have to give up the "Victoria Secret" style lingerie. They offer sleepwear, bras and underwear so you can feel amazing in whatever you wear and surprise the hubs with your gorgeously glowing body in your lingerie! I am trying out their new Caramel Licorice Twist Bra and panty set this pregnancy and it is SUPER comfy! I can wear it under anything because of the nude color and it has a bit of sheer to the panties that make me still feel like a sexy mama! The straps are thick so it supports that growing chest too! I love that I can wear this all through my pregnancy and then while nursing getting years of use out of it! Of course, it is pretty enough to wear beyond that too! You can see the full set here, along with their other products.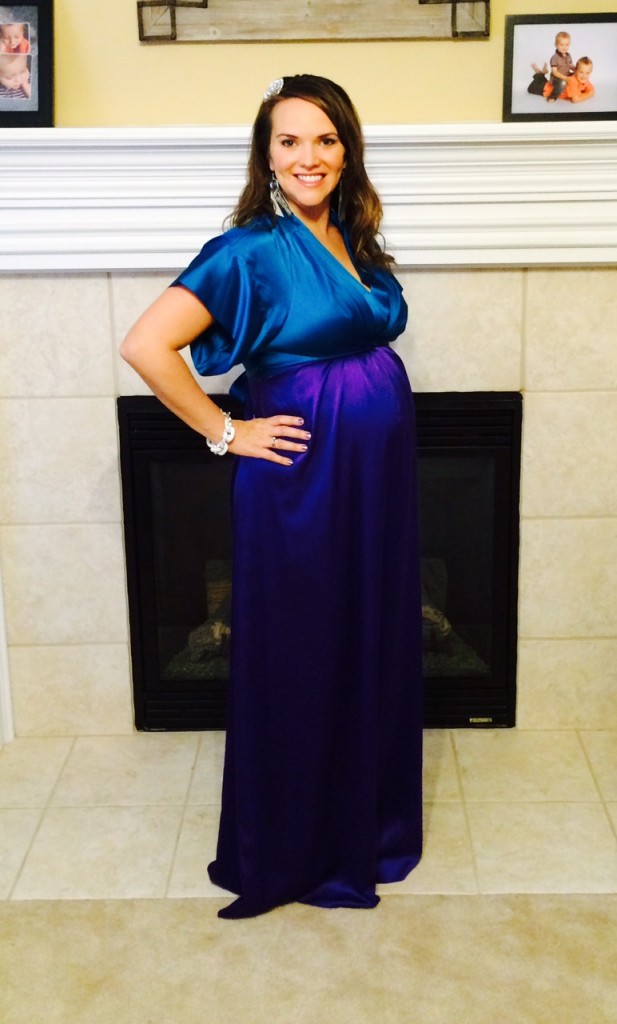 I obviously have a TON of maternity clothes since I have been preggers several times before. I get bins and bins from friends and am so grateful that I haven't had to buy many maternity clothes to fit my growing belly, but I ran into a problem this last pregnancy because I had a black tie event to attend and needed a formal, long gown to wear. I didn't want to buy something considering this is my last pregnancy and let's be honest…. who wants to spend over $100 on an evening gown they can't wear again and again?! As I was searching for a dress, I came across Borrow For Your Bump! I have to say this is GENIUS! I wish I would have know about this service with my first pregnancy! They offer a variety of maternity clothes that you can rent at a minimal cost for the length of time that you choose and you send it back when you are done! I loved this idea for the evening gown I needed because it was a one time event that I needed a fancy dress for and I was able to get online, shop and pick the dress of my choice. They give you instructions on finding the right size for your body type and then it ships directly to your house! Once you are finished the item(s), you just put it back in the box it came, slap on the return shipping label that comes with garment and send it back so no extra shipping expenses for you! It was SO easy to navigate the site, choose what I wanted and return when I was finished.
I know you are going to ask, but what if it doesn't fit me when I get it? Well, I actually had one dress sent to me about a week before the event and it was way too long for me and just too much material. I let them know and they and another dress shipped out to me within two days so no need to worry! It truly is a hassle free service! If you follow me on social media you have already seen the dress, but I have to say it was GORGEOUS! You have to remember too, these are designer dresses that would cost you over $300 to purchase and you can rent it for a fraction of the cost!! You just can't beat it! They also have a styling and gifting service,the Bump Love Club. Mamas fill out a profile and they ship you 10 items to your doorstep. You keep what you want and send back the rest all for a $49 deposit (which is applied to your final order). I love that as prego mamas we have options to look and feel beautiful! No moo moos here!!! We deserve to feel our BEST!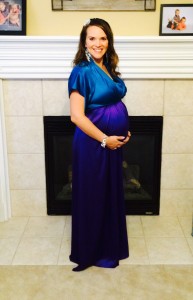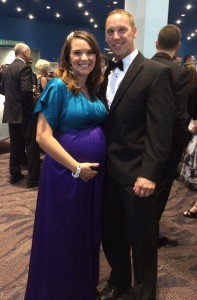 Essential Oils
Last but not least, essential oils are a MUST for pregnancy! This is the only book you need to walk you through what oils to use for what while prego, for the birth and for your newborn! It ROCKS! Stephanie Fritz is very well-known and has done her research! Some basic oils we all need in our pregnancy arsenal include:
Digestzen and/or Ginger: for morning sickness
OnGuard: a protective blend that helps boost immune system and battle germs
Lavender or Serenity: this helps with the pregnancy insomnia. I have noticed a HUGE difference when I use these… I sleep so much better! These can also help with anxiety and stress.
There are so many more oils that are awesome! I especially like using them for my tired aching feet and legs! Feel free to email me for more information on which oils are right for you!
Pregnancy is not easy, especially when you have other little ones running around! We deserve to feel our best while we go through all the crazy changes that happens to our bodies AND our hormones! I hope this list gives you some great ideas on how to equip yourself for those LONG 9 months!! :)
I was provided the products above for free to experience during my pregnancy. However, all ideas and opinions are my own! You can read more about my Disclosure & Disclaimer Policy here. Feel free to contact me with any questions! Thanks for reading!