I have been so excited starting Grayson in the big boy class at The Little Gym Mason! This means that he goes in all by himself, without mommy! I blogged in the past about how I made small steps with Cody, giving him opportunities for independence and I think The Little Gym Mason is a great step towards that independence and growing up! He has been a little teary eyed going in, but Mr. Nic takes him by the hand and reassures him every step of the way! It has been great for him and he loves that he has something just for HIM!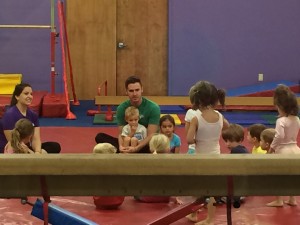 The Little Gym Mason is offering some fun ways to give back this month! Every time you share one of their posts on Facebook, they will donate $0.25 to the Mason Food Pantry! In addition to this, everyone who shares at least once will be entered into a drawing to win a FREE Mini Birthday Bash!!! We had one of Cody's birthdays at The Little Gym, but this is a little different. You get the same great package, but you only have to have 10 kids or less, to fulfill the requirement so no need to stress you can't find enough kids to fill the spots! Start sharing, earn some money for the food pantry and win yourself a FREE Mini Birthday Bash!
Stride Rite has also joined The Little Gym's Big Hearts, Little Shoes campaign, an initiative to help spread shoes and love around the globe by supporting the charity Soles4Souls. From Sept. 3 through Sept. 30, visit your local participating Stride Rite location to donate outgrown or unwanted shoes in a designated drop box. For every pair donated, families will receive 20% off towards a same-day purchase of new shoes.
Did you know that there are over 300 million children without shoes? Without shoes, many children are more susceptible to illnesses and will never be allowed to walk through the doors of a school. These children have walked without shoes. Until now… SO get going and start spreading the love through these awesome charities! Thanks The Little Gym Mason for being such a big part of our world :)