Kim and I took the kids to the Newport Aquarium last week and had a fabulous time! I remember when we use to go with just two kids (Luke and Cody) so it was a lot of fun being able to take our newest additions along for the ride! Grayson was an absolute trip. He was walking around putting at everything while letting screams out of just pure excitement. He calls Cody "baba" and it was cute seeing him yell out "baba" while pointing to the different exhibits.
There were some new and exciting things for us to check out at our visit. They had some new Shark Rays that joined the shark tank. Sweet Pea arrived at the Newport Aquarium in 2005 and was the first Shark Ray on display in the Western Hemisphere. Scooter was added to the Surrounded by Sharks Exhibits in 2007 to create the first ever Shark Ray Breeding Program in the world! WOW! The newest additions: Sunshine is the youngest of the Shark Rays at the aquarium and is about four years old. She came to the Aquarium from the waters of Taiwan and was on display in the Coral Reef exhibit before transferring to the Aquarium's off-site research and holding facility.  She is now on display in Surrounded by Sharks Exhibit and Spike the newest member of the Shark Ray group.  Spike weighs just over 200 pounds and is the second male added to the Surrounded by Sharks Exhibit at the Newport Aquarium. They are SO beautiful and HUGE! Sweet Pea, is just over 6 feet long and weighs approximately 230 pounds. She is the largest in their collection and their longest Shark Ray resident!!  They updated the shark viewing area with blue lights and some decor which made you feel like you were in the water with the sharks, sting rays and fish! The Shark Rays were coming right up to the glass so the boys thought they were there just for them!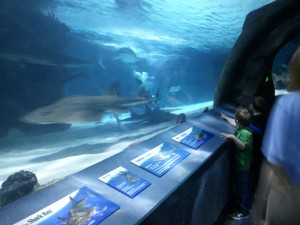 Another new addition was the Nile Crocodile, TUT! Tut was born on a crocodile farm in South Africa. He is 15 years old, nearly 12 feet long and weighs approximately 300 pounds!! YIKES! Tut was recently rescued from the crocodilian farm in Florida. I think the kids favorite part of the exhibit is walking on the glass over the water!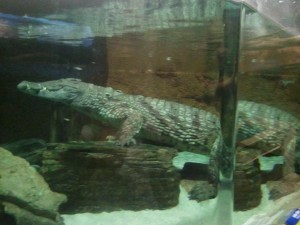 Overall, it was a great trip! We followed up our visit with some Dewey's Pizza, Coldstone Ice Cream and a walk around Newport. If you are wanting to visit the Aquarium, they have a great deal going on now Mondays through Thursdays through May 23rd. You can buy one Penguin Encounter or Backstage Animal Experience and get one FREE! Awesome dealio!