I dabbled in a little bit of everything this weekend. Variety is the spice of life right?! Friday night was date night. We had to cancel our last date night because Grayson was sick, but everything worked out in our favor for Friday. A friend of mine and I decided to swap babysitting every other month to save on paying a sitter. She watches my kids one night a month and I watch hers one night the next month. I think this is a GREAT option if you want to save some money on babysitting and have your kids in bed when you get home! No picking up the kids late and bringing them home or having to find arrangements for them to spend the night somewhere. We decided to go to Whole Foods for the Friday night wine tasting. I have been wanting to try it out ever since Kim surprised me with a GNO wine tasting there. I LOVED it!!!!!!! (thanks girl!) Steve isn't a wine drinker, but they have beer on tap you can buy so he did that. They charge $5 for 5 glasses of wine with 5 different food to taste. If you bring your wine glass back the next time, it is $4. Steve paid $3 for just the food. It was set up really well and it just flowed throughout the store. They even have these cup holders that hook to their carts so you can put your wine glass in it and get your grocery shopping done!! Now that is what I call smart shopping!! They also have beer tastings on Tuesday nights. 6 beers, 6 bites for $6. At the Mason location, they offer BYGO pizza free on Tues.. Kill two birds with one stone! You can take both the pizzas home (not cooked) and stick them in your freezer for another time! Bonus! After our "appetizers" we went out to eat and used a gift cert we had. Then UDF for ice cream. It was a pretty cheap date and SOOO much fun! Nice to get out of the house, away from the kids and spend time with my MAN!
Saturday morning we met a friend at the Mason Public Library for PAWS for Reading. The kids (all ages) bring in their favorite books (or can borrow them from the Library) and have the opportunity to pick from several dogs that they want to read to! They have each dog sectioned off so they have their own little area and the kids get to sit on the bean bag chair or the floor and read to the dogs! Cody can't read yet, but he told the story through the pictures. He was timid while we were in there, but talked about it the rest of the day so I guess it was a success. The Mason Library offers it the second Saturday of every month.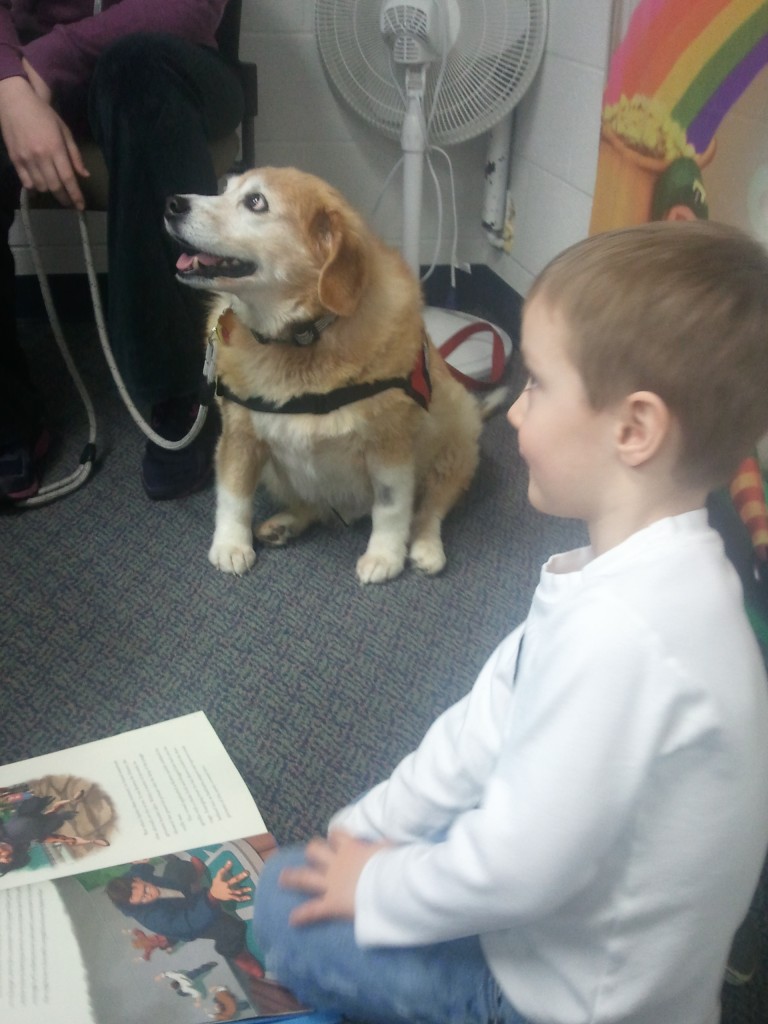 Saturday night was a GREAT night!! Kim and I had the opportunity to take the boys to the CINCINNATI CYCLONES game!!!! My step dad use to take us as kids all the time and I hadn't been in forever, but the magic was there the minute I walked through the doors. They play great music (the boys were having a blast dancing around!), the crowd had amazing energy and the Cyclones kicked some behind! They have this adorable half time tradition where you Chuck a Puck… you buy a puck and everyone throws their puck out on the ice and one number is drawn for free tickets. Super cool. They have the cutest mascot too :) Cody and Luke LOVED it and this is something you really HAVE to try with the kiddos!!!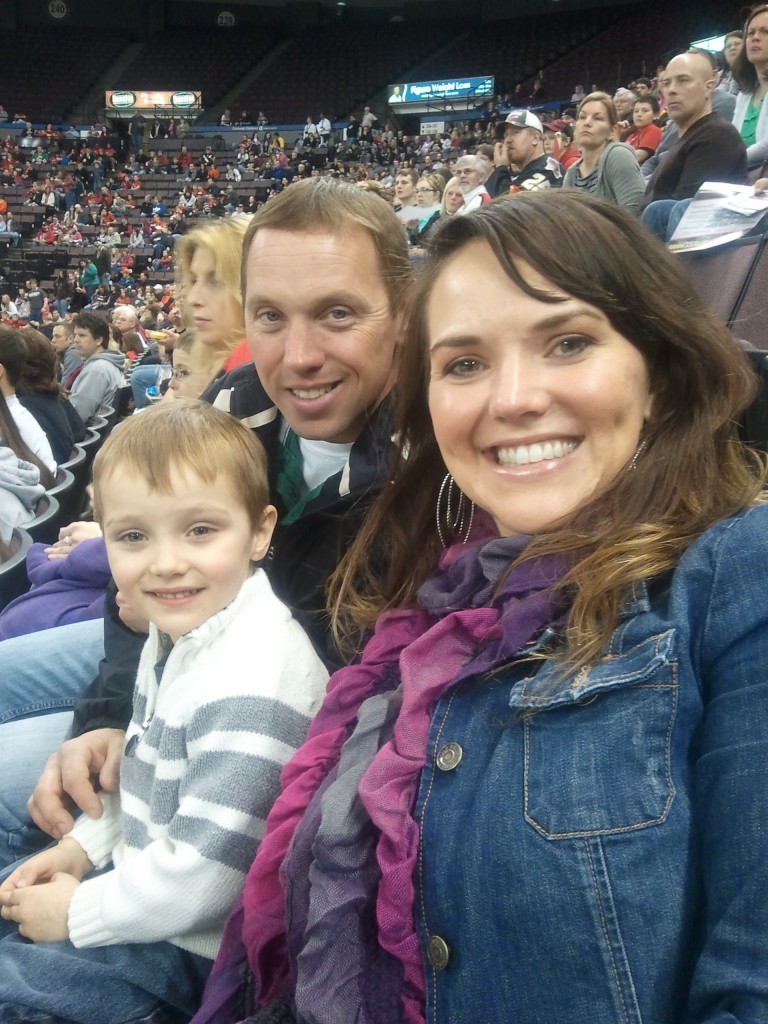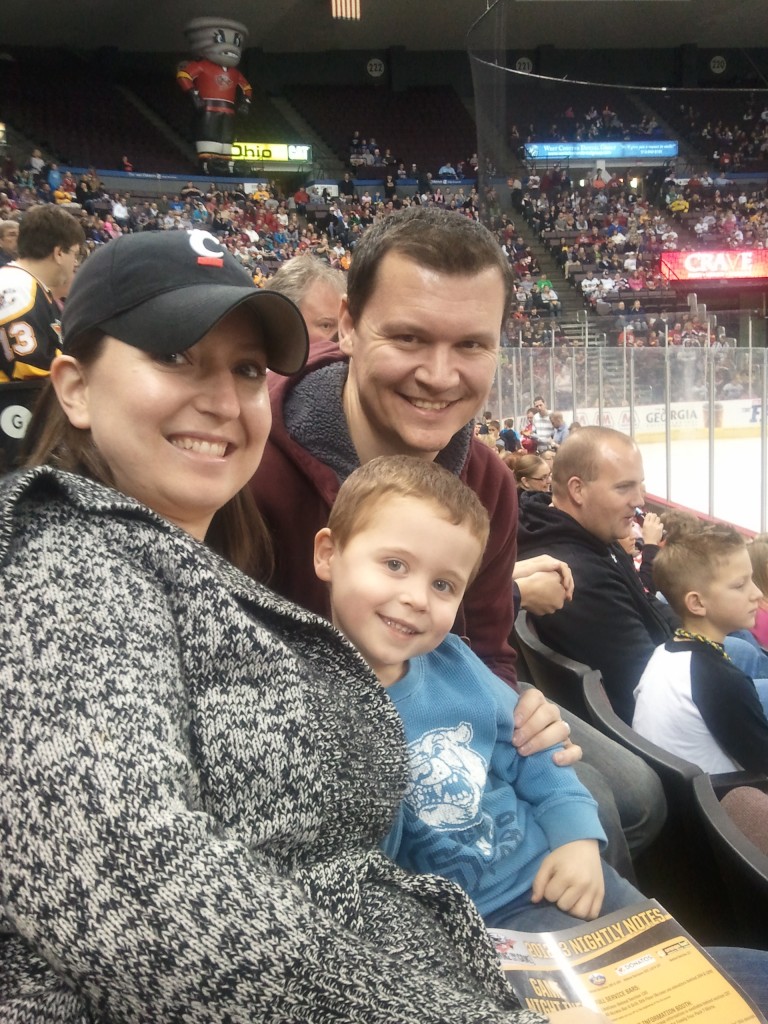 Sunday was BEAUTIFUL out and Cody had fun playing outside with the kids in the neighborhood. We had the only snow left on the street from our snowman so they had fun shoveling and playing in that! I went to a Tower Garden workshop which I had been wanting to do since I heard about the concept from my friend, Jenny. The last few weeks I have been doing research on some raised beds for soil gardening and pretty much had my heart set on that until last night. I will much more on this on Friday so stay tuned for some info on hydroponic gardening and the pros and cons of both soil gardening and using the Tower Garden. I plan on making up my mind by Friday and I will document my process on whichever I decide! Afterwards, Jenny and I went out to dinner at an adorable little restaurant (have no idea the name), but they had all the windows open and it felt like we were sitting outside. 5 hours later I headed home…. what can I say, it was nice to have some girl time and enjoy the beautiful weather!!
What did you do this weekend? Anything new, different and exciting? Anyone ever tried hydroponic gardening? I would love to hear more about it!
****Also, priority enrollment starts at The Little Gym for summer TODAY! EVERYONE who reserves their spot for summer will be entered to win a FREE Fall Semester! Pay in full for the 10 week session and receive a $15 instant savings ($170, instead of $185) plus 5 bonus classes OR place a deposit of $75 and receive 5 bonus classes. Offer good through March 23rd!!!*****