I blogged at the beginning of the week about choosing between starting a soil garden or a hydro/aeroponic system called the Tower Garden. I did a lot of research this week and I came to the decision that the Tower Garden is right for us! There are certainly pros and cons to both, but it just seemed to all come together this week and the Tower Garden was just perfect for us.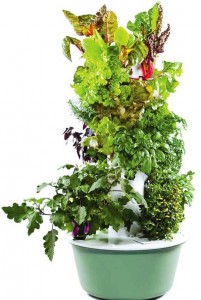 You can have a soil garden straight in the ground, but you need to really get the soil ready for that for several years. Another option is raised beds. There are a few different things you can build them out of, which include pressure treated wood, cedar or redwood. We had decided on cedar and after pricing out the wood for approximately 92 square feet was going to cost about $600. That doesn't include compost, ph testing kits for the soil, seeds, etc. Now I went into this knowing that you put more money into a garden the first year or two and that you will start making it back after that so I didn't have a problem with that, BUT I started realizing the how much WORK having a garden is. NO, I don't mind to put in some work for my food :), but I have two young kids and would love to had one more so I wonder how much time can I really commit to gardening. Then I went to the Tower Garden Workshop and the wheels started turning in my head :)
The Tower Garden seemed pricey to me at $500 until I priced out the wood for my raised beds :) Here are some of the reasons I chose to go with the Tower Garden:
Actually saving money this year on my garden as opposed to raised beds (this is going with cedar. pressure treated is less expensive than that, but I didn't price that out)
You use only about 10% of the water and land space that you would use for the conventional soil garden (this is great for your water bill and your yard!)
If you have to move, you can take your Tower Garden with you, can't take your raised beds.
You don't have to water it, but once a week!!! Hello….more TIME for me to do what I want!
You don't have to WEED!!! Yeah!
It grows the plants twice as quick as conventional gardening because it gets so much oxygen!
You don't have to worry about succession planting like in soil. You can put the plant in any pod you would like after you have removed the plant that is not producing any more.
You can grow up to 10 months out of the year!! You can even bring it inside and grow while the winter months hit ya hard!
You can close to 60 plants in it other than root veggies. I will be blogging all about the produce I use and what I find to grow best etc.
Some Cons:
It does run off electricity, but it only increases your bill by about $7 a year. Some Tower Garden owners are actually using solar panels to run theirs so that would be something amazing to look into for sustainability.
You have to add Tonic Water (made by the company) to it throughout the growing season. This is literally like 5 different minerals that are found in soil. There are some owners who have been trying out their own concoction so you could play around with making your own.
Price: it is a little pricey, but cheaper for me with the route I was going. I liked that you get the option to spread the payment out over a year without any interest so it is super manageable. I am sure that some of you engineers out there could build your own for much cheaper, but I think you have to really know what you are doing to get it working well. NASA developed this with Tim Blank and they have certainly perfected it. They have a HUGE area at Disney with the Commercial Grade Tower Gardens that they have been using for a LONG time! Can't go wrong with a system that has been tried and used with much success!
I am certainly not saying that this is superior to soil gardening. Soil gardening has been around forever, but I feel like for this time in my life I can still get the produce I want, teach my kids about where food comes from and do it in half the time (hopefully)! I am really looking forward to trying something new and different and will try to keep you up to date on my findings!!!
Here are some links to some people using the Tower Garden that I found fascinating. Hope to learn from them before I start mine :)
Peace At Home (she has some amazing You Tube videos with great tips and things she has learned along the way!)
Pictures of Crop from the Tower Garden
You Tube about a restaurant growing all produce on the rooftop with Tower Gardens!
This video is long, but she has GREAT tips on growing in the tower and did some side by side studies on plants in soil and in the tower garden.
I would love to hear your thoughts on all of this! I know there are die hard soil gardeners out there so I hope I didn't offend anyone :) I just love that there are new ways to get food to your table, organically, and as natural as possible!