I have been going to Cumberland since I was 16 with my hubby, who at the time was my high school boy toy :) We have come a long way since then and have many, many years of Cumberland memories! I love boating, the water and just relaxing by the fire. Everything there is S-L-O-W paced so it is a great change of speed for me. It is a time for us to regroup as a family, slow down a bit and enjoy nature and each other!
Our favorite things to do down there is ride around on the golf cart, sitting around the fire roasting marshmallows (who doesn't love a smores?!), getting out on the boat, throwing rocks in the water (o.k. so that is a fav of my boys!) and hanging out on the porch. It is absolutely serene there and I LOVE it! It is an exciting new chapter seeing the boys experience everything :) Although we can't just go out on the boat and enjoy our cocktails until the sun goes down like we use to (!), seeing the boys have a blast in a place that we have been enjoying for years is a pretty cool thing!
We enjoyed the 71 degree weather this past weekend there!! It was amazing! We have a screened in porch and I was able to open up our doors to the porch at 8am while I was making breakfast and they played on the porch in their p.j.s!! I am SOOOO ready for summer after such a gorgeous weekend! Below are my boys playing with sticks and rocks… gotta love it!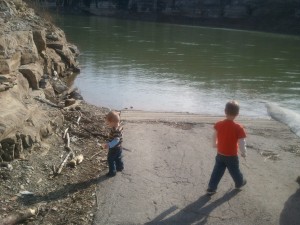 Where do you go to seek quiet? How do you recharge your batteries?