When it comes to breakfast, it dosen't get much easier or more nutritious than a bowl of cereal.  My girls love the challenge of the using a spoon to transport all those little floating "O"s into their mouth.  I love the fact that it is quick and simple for me to prepare and also provides an additional serving of dairy (calcium for those growing bones!!) in their diet.  Gosh, back before I had kids and a husband to feed, a bowl of cereal could be my dinner several nights a week  (yeah, a dinner without meat served cold in a bowl is not gonna cut it with my hubby).
. . Ahhh, those were the days (: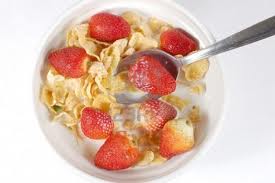 So I do obviously love cereal, but navigating the cereal aisle can be overwhelming!  We are bombarded with pictures of chocolate, marshmellows, and  sugary frosting and at the same time see claims of "whole grain" "no added sugar" etc.  It can be confusing as to what brands are actually the best cereal choices and, more importantly, make sure that we are getting our kiddos off to a nutritious start in the morning.   So here is a list of 10 good choices as rated by Consumer Reports (2008).
 These cereals rated as "very good" according to their scores on low sugar, high fiber, and low sodium.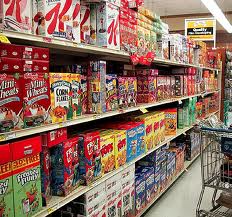 1. Oatmeal:  Oatmeal is a whole grain, loaded with heart healthy fiber, and very filling. If you choose to buy flavored quick-cook oatmeal, watch out for sugar and additives.  Don't forget to add fruit, yogurt, or nuts to make even more nutritious.
2. Cheerios: Cheerios are made with whole grain oats (16 g) and are a great snack for the kiddos (1 g sugar, 3 g fiber, 160mg sodium)
3. Honey Nut Cheerios: Also made from whole grain oats (8g) this is a sweeter version of regular Cheerios, but still low is sugar. They are 1 g short on fiber, but still a good choice. (9 g sugar, 2 g fiber, 160 mg sodium)
4. Kix: This cereal is made from whole grain corn (8g) and contains 45% daily value of iron. (3 g sugar, 3 g fiber)
5. Life: This kid favorite is made with whole grain oat flour (18 g), but  is 1 g short on fiber. (6 g sugar, 2 g fiber)
6. Post Shredded Wheat Original: This classic is made with whole grain wheat (47g).  (0.4 g sugar, 6 g fiber)
7. Barbara's Bakery Shredded Wheat: The company behind this healthy cereal also supports environmental causes. (0 g sugar, 5 g fiber, and 6 g protein)
8. Kashi 7 Whole Grain Puffs: This cereal is low in calories (but is also low in fiber).  (0g sugar, 1 g fiber, and 70 calories)
9. Kashi Island Vanilla: This cereal is made with whole grain wheat (48 g). (9 g sugar, 6 g fiber)
10. Kellogg Unfrosted Bite-Sized Mini Wheats: Loaded with protein and fiber. (0 gm sugar, 8 g fiber, 6 g protein)
Let Breakfast Begin!!   If you'd like to learn more about how I support my family's nutrition with Juice Plus+ (17 fruits and veggies), please visit my website or email me at jenniferacombs @  hotmail . com