Although it was hard for me to let my Code man go the first day of school he has been loving it from day one. It was really hard for me to know that he was having fun with someone other than me and that I was going to miss out on that ( I know I am messed up)! Thankfully, his school has something with the families about once a month so I feel like I am still pretty involved, which makes me a happy mama :)
Last week they had their P.J. day on his birthday (!!) which Cody just LOVED and this week was Valentine's Party (seriously, what could be better than preschool??? Just sayin'!!!). Usually, if you volunteer you sign up for either a game, craft or snack. I signed up for a game and had NO idea what to do until I turned to Pinterest of course. I found this adorable site with tons of V-day ideas and I went with Pin the lips on Miss Valentine. It was sooo easy to print and make and the kids LOVED it!!! I added each kids name to a pair of lips so that they had to pick their name out, which they thought was cool :)
Kim surprised me the other night with a moms night out at Whole Foods. It was AWESOME! They have a ton of vendors with free samples and discounted prices, a guitar player, tons of food and for $5 you were able to sample 5 different wines!! And when I say sample, I mean half glass samples!! That is what I'm talkin' about!!! You even get to keep the wine glass when you are done! I would highly recommend trying it out one night with the girlfriends! As a side bar, they offer Kids Eat Free on WED!!! ANYTIME I can get free food for my kids, I am happy :)
While we were there, we each bought some of this amazing soap, in the shape of a cupcake, for the boys teachers for a V-day gift. Kim had seen this adorable printable on Pinterest and we each did something a little different with it. It was cheap and easy and the teachers thought it was the cutest thing ever!! I couldn't get the pic any bigger, but it says "I was soapin' you'd be mine" :)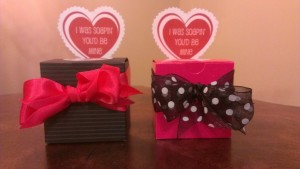 Here is Kim's. She did an adorable printable: I was soapin' you'd be my valentine! Don't you just LOVE the cupcake soap?!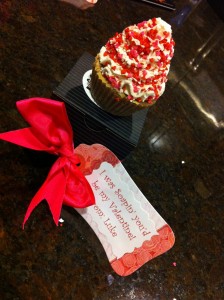 Another friend of mine found an additional adorable Pinterest printable for the Annies gummy bunnies. She printed them off for me in exchange for some bunnies! I thought they were so stinkin cute! I had found v-day bags and stickers at the dollar store and added the bunnies and a V-day card for each kid and it was quick and easy!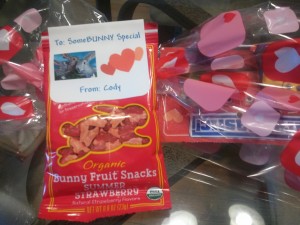 It says To: SomeBunny Special
Overall, it was a great day and with the sun shining you just can't go wrong! Although V-day for us isn't a night out alone at a romantic dinner anymore, the hubs did send me a beautiful bouquet of flowers with a heart necklace on it and we had a lot of fun going through all of Cody's v-day cards and treats… even little Grayson was enjoying some of big brothers sweet treats!!
Hope you had a great Valentines day! Love truly is the greatest gift of all!!
Have a great weekend!
You may also like: