One of my goals this year is to save money where I can. I haven't been so good about this in the past. Don't get me wrong, I am tight with money on some things, but I am not good with price matching, couponing etc. so I have lots of areas to improve upon.
We have a family vacation coming up and although I would LOVE to save the money and drive, we made the decision to fly. Cody does fine in the car now that he can watch movies, but my little Grayson just doesn't like to sit still and a 15 hour drive does not sound like fun! I also like that I can get to our destination in just a few hours, where as in the car, you spend some of your vaca time off, driving. I figure as the kids get older, we will probably try to drive and sight see along the way, but at this stage, it is just easier for us to fly. I remember driving to Florida every year as a kid and back in those days (yes I am old!) there  were no car seats. We just set up a cool bed in the back of the truck, sleeping and playing the whole way down! Those were the good old days :)
Flying, and traveling in general, isn't cheap, but I have found a few ways to save:
American Express Delta Skymiles Card: We signed up for this last year. They had (and still have I think) a bonus of 35,000 miles if you spend a certain amount within the first few months. They recommend paying your bills or your trip with the card to get the miles (and then you could pay the card off of course). You probably all know that you gain skymiles every time you fly with Delta, but it does take time to accrue enough for a free flight (unless you travel a lot with your job). This allowed us to gain a free flight instantly! I used this to fly Delta for FREE when Grayson had his lip tie surgery. If each you and your partner did this, that would be 2 free tickets just about :) When we signed up they were also offering a $99 companion ticket each year so you can fly anywhere for $99. Doing both of these you get one free ticket and another one for $99. Not too shabby! Kids under 2 are free so that works in our favor with Grayson. Another perk of the card is that your first checked bag is free. That is a HUGE savings because it costs something like $25 PER BAG, EACH WAY. This is a great way to save if you want to fly :)
Use your Credit Card Rewards!! I have had the same credit card since I was 18 and I had NO idea that I was racking up reward points along the way. It wasn't until  a friend of mine mentioned that she was checking her credit card rewards to turn them in for gift certificates. I got on the computer right away and looked up my account. To my amazement…. I had enough rewards to get a FREE plane ticket! I still have about $100 left in reward points to turn in for gift certs or I could let my rewards rack up for another free ticket :) The Capital One chick said that a lot of their customers pay their bills every month with their CC and then pay it off every month just to rack up the reward points!! You would have to be disciplined to do this, but I think it would be worth it!
Marriott Card: I don't know a whole lot about this, but my friend has one and said she hasn't had to pay for a room at the Marriott in years! I need to check this one out and I will let you know what I find out. Maybe I can get this friend (you know who you are), to do a guest post on this?! :)
With all of this put together you could get a vaca for cheap :) As you can see below, even my little Grayson likes to fly! He was helping my mom check us in for our flight :)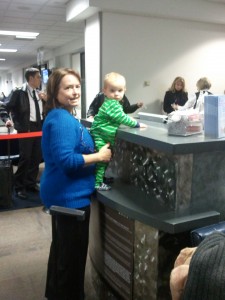 What are your ways to save when you travel? I would love to hear your tips and tricks!