I had been looking for a mom necklace for quite some time. I LOVED the ones from pottery barn, but there was NO way I was spending a couple hundred dollars on one. I wanted something trendy and cute, but meaningful. I adore my charm bracelet and it has been fun getting meaningful, special charms from family and friends. My bracelet is full and it makes me happy when I am wearing it. I can look down and I can account for the why and the who for each charm. I really wanted my mama necklace to have the same feel!
On my quest for the perfect necklace, I came across Origami Owl. It was PERFECT! The necklaces were GORGEOUS and there were a ton of charms to choose from. Best of all, it is rather inexpensive. Each charm is only $5!!! What a steal!
You basically build the necklace you want, starting with the locket. I love that they offer them with some bling because I am ALL about the bling baby! :) You then pick your chain, plate, charms, and dangles.
I built mine with:
The large locket with the bling :)
The blessed plate (these are optional)
The dangle cross
The long chain
Charms: C (for Cody), G (for Grayson), Wedding Ring (for my man), I love you sign (we all do this as a family daily), Heart with the word family (for my beautiful family).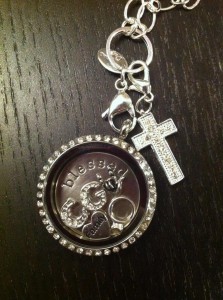 I wanted my necklace to be completely silver, but they have some beautiful colored charms, especially for Valentines Day! I think these would make a great gift and I really do think they are the perfect moms necklace. Very beautiful, modern and sophisticated. The locket opens easily so you can change out your charms as you wish, making an entirely new necklace every day if you'd like. You know us women, we can never make our minds up :) The only thing I haven't loved is my chain. I almost always wear long necklaces so I had to have the long chain. What I have noticed, and not loved so much, is that with the weight of the locket, it sways and hits my stomach as I walk.  I am not really digging that. As much as I LOVE long necklaces, I would probably recommend going with the shorter chain. Overall, I LOVE it and would HIGHLY recommend for any girl out there! They have so many charms so it isn't just for moms! You can build the necklace you want for any occasion and to fit any personality!

Kim has also loved her necklace and made one with the smaller locket with each of her kids birthstones, a J initial for her hubs and a K for her name. She chose the "faith" plate (it took a lot of FAITH to make her perfect family!) You can personalize them however you want and there are so many charms it's hard to pick just a couple! These would also make great Mother's Day gifts too! Be sure to check out all the charms and necklaces online and pick your own fun combination! The chain on Kim's necklace is gorgeous and was only $8!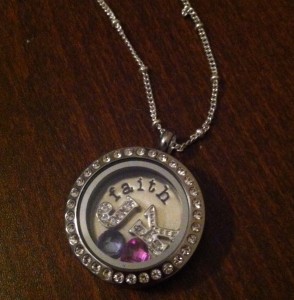 If you're local to Cincy and want to host a party, be sure to contact Shellie Doyle – she is fabulous and will help you build the perfect necklace!