Hard to believe that Valentine's Day is only a little over a week away. I'm as excited as you are to get my candy and chocolate fix on! Red roses and yummy treats go hand in hand when we think of celebrating Valentine's Day. As dedicated, loving, caring mommies and wives, we definitely deserve to treat ourselves to some delicious goodies!! (Preferably, while relaxing in a hot bath or with a glass of vino) And, it's inevitable that the kiddos are going to home from school with a sugar high followed by a sugar crash from all that Valentine's Day chocolate & sugar. So, I decided to do some research on the best and worst candy and chocolate choices for the holiday and I stumbled up some great info on a blog called Care2 Make a Difference. She found some more healthful candy companies that boast "all natural", "organic", "fair trade", and/or "sustainable" goodies. Pretty Cool! Happy Valentine's Day!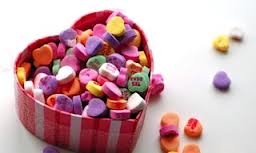 Candy options:
Surf Sweets: Gluten free gummy candies, made in a nut-free facility, corn syrup and GMO free, with only natural colors and flavors using organic fruit juice and sweeteners.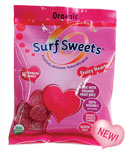 Surf Sweets Fruity Hearts
Glee Gum: All natural colored and flavored gum.
Sugar Coated Organics: An online retailer carrying various organic candies with no artificial flavors or colors and no corn syrup. Many of their brands are gluten free, nut free, dairy free or vegan
Chocolate Options:
Theo Chocolate: The only organic, fair trade, bean-to-bar chocolate factory in the US.
Sweet Riot: "Sweetriot sources their cacao directly in Latin America, uses recyclable, reusable packaging which features emerging artists, and only uses all-natural, healthy ingredients for sweetriot's dark chocolate 'peaces.'"
Dagoba: Fair trade chocolates, syrup and cocoa powder, from a company participating in both local and worldwide humanitarian and environmental stewardship.
Endangered Species Chocolate: Fair trade, organic chocolates with a company policy to profit share 10% net by "providing grants to our 10% non-profit conservation partners and funding on-the-ground sustainable projects in areas where our cocoa is grown."
Read more: http://www.care2.com/greenliving/healthier-valentines-candy-and-chocolate.html#ixzz2Js8kxNGT
*This post does contain affiliate links.*