Cody has been into Jake and the Neverland Pirates for a while now and I knew that we were going to do a pirate party for him this year. Whenever I am planning a party, I turn to Etsy and Pinterest. Both sites spark ideas and get me in party planning mode. There is a great assortment of Jake Birthday stuff on Esty and I was REALLY pleased with the vendors I used!
I started with the invite. This was a biggie for me, as I usually go through evite. I was not having great luck with the evite reaching everyone so I was happy to get an actual invite and it was SOOO CUTE! This one was my absolute FAVORITE on Etsy from MaddieRoseDesignz ! The wording is adorable!! I didn't want to put ours up just b/c of our address and other info, but it was pretty similar to this sample. I had them change the RSVP to RRRRSVP and the first sail said "Please come join our pirate crew". She has a lot of wording choices on her Etsy site! Everything that she has is available as a printable file for the DIYer, but everything is also available printed and shipped for the busy mama! LOVE IT! I had the invite printed at Office Max and it only cost me $10 for 25 invites :)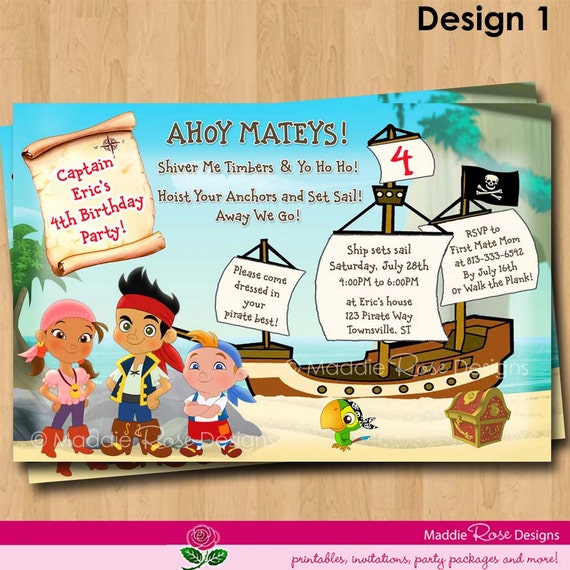 I also got the address labels from her (which were sooo cute saying Captain Cody….,) the envelope seals, and the candy bar wrappers (which I will talk about later)!! I loved everything!
I started collecting things about a month before the party. I got everything from Etsy, the Dollar Store, Target Dollar Bins, and Oriental Trading. I got this adorable Happy Birthday Banner from Lilmisscupcake2 on Etsy.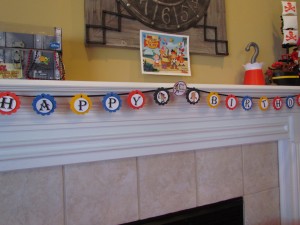 As people entered I had a cute Jake sign to let people know they can come on in (I got this idea from my friend)! You can get the Jake clip art online and make your own sign in Word. I borrowed the ships, the hook, the stuffed Jake and Hook from a friend (yeah baby!) and I printed the Birthday Jake sign off Disney. I put a table under our mantle for the gifts and had Cody's Signature Book on there which has become an annual tradition and is a great way of keeping Birthday memories! I had a craft table set up with Jake Coloring sheets and a DIY looking glass (Disney), Stickers (Oriental Trading), Pirate stamps and stamp pad (Michaels). Kids always love a craft station!!
I also got the idea off Pinterest to name all the food in Pirate lingo :) We had Pirate Punch, Ahoy Ma-TEA, Rotten Fruit Salad, Cannon Balls (purple grapes), Pirates Booty (the popcorn in bags from Costco), Catch of the day (gold fish), Skully's Crackers, Pirate Ship Dip, and Pirate Dogs. I had sandwiches and veggies, but didn't have the any snazzy names for those :) My friend burned me all the songs from Jake and the pirate band so I played that in the background and thanks to my new black box, I was able to play the Jake songs from You Tube during that party as well :)
If you could see in the slide show above, I got Cody this ADORABLE pirate shirt from TheSassySquirrel on Etsy. I was trying to stay away from Skull and Crossbones as much as possible (which is hard with a pirate party!!), but she was able to customize the shirt for me and take the emblem off the pirate hat! The shirt was SUPER high quality and Cody looked SO cute in it :)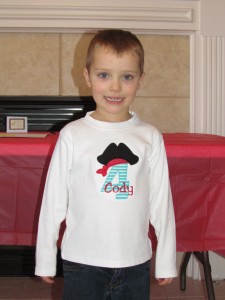 The "Big Event" was the Treasure Hunt!  Every pirate party has to have a treasure map with some treasure and so I did just that! I created the map in powerpoint (thanks to my friend for the instructions!!) and you can buy aged looking paper at Target in the resume section. Once I had them all printed off, my hubby took a blow torch to the ends so it took like 2.3 seconds to age the ends… much easier than taking a lighter to each one which is what I was going to do, until the hubs had the idea of the blow torch. I guess the pyro side of men pays off in situations like these! :)
I had all the kids take a map and then enter the basement through the streamer door. There were typed out instructions, pictures and signs on the walls, leading them through the treasure hunt. After each station they got treasure: beads, compass ring, tattoos, etc. They also got a gold doubloon at each station as well.  I had a walk the plank with tic-toc-crock which the kids LOVED and of course you can't go wrong with tatoos! The last station was dig for buried treasure. Since Cody has a Feb. birthday, we had to have the hunt indoors and sand was out of the question. SO…. I filled the baby pool with rice (from Costco)! The kids had SOOOO much fun with this! I had hershey bars, rings, necklaces, Jake erasers, Jake note pad, and a Jake pencil-case (I got the Jake stuff from the Target dollar bins). They were able to choose one piece of treasure left behind by Captain Cody!
At the end, I had their party favors in a pirate tent my mom had gotten Cody a few years ago. The sign said, "Because you are so sweet, please take a pirate treat" (thanks to my friend for that one… told you I steal ideas)!
I got these adorable party favor tags from Lilmisscupcake2 on Etsy and instead of threading a ribbon through it I just glued them on the bags.  I had a pirate patch, stickers, Jake pencils, gold doubloons, and a Hershey bar in each bag.
Out of all the goodies the kids got, the Hershey bars were my favorite. I got the Jpeg from MaddieRoseDesignz. I had Office Max print them (that cost me less than $10!). You basically take the wrapper off and wrap in foil and then you add the wrapper to the outside and seal with a glue stick. She sends you instructions, but what I loved about it is that you can personalize the wrapper with the party date, a pic of the kids and whatever wording you want. I was given a bin of dress up clothes from a neighbor and there was a pirate hat in there I used for the pic and I had Cody hold his Mr. Potato head sword. It was SOOO cute!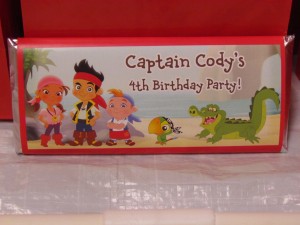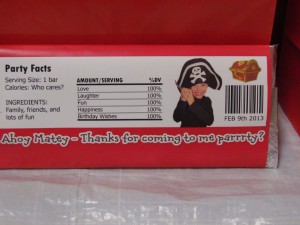 The last thing on the list is the sweet treats for the party! Every year since Cody was born I have made his cake/ cupcakes. Not sure why, it has just become a tradition. He LOVES cooking in the kitchen with me so he helps me make the icing and the cake. I usually make the cake and icing two days before the party. Then I ice everything the day before so it isn't too overwhelming :) Well, at least looking back it doesn't feel like it! Don't ask me in the moment :)
I pinned a ton of stuff for pirate parties and one of the blogs had a great tutorial on making your own pirate ship cake. I went for it. It was actually really easy to assemble and the one thing I did WRONG was not putting it in the fridge after it was all iced. What I would do is cut the cake and assemble. Put in freezer to harden. Ice it all, and then put in the fridge or in the garage if it is cold enough. I think it would have went much more smoothly if I would have done it that way!!  I took the back-end off (because I didn't like the way it looked!) and added a back from one of the ships we borrowed. I also got a cake topper from Lilmisscupcake2 and made it into a mast using construction paper and a hole punch :) I added the tags on the ship (which I got from Lilmisscupcake2) to personalize it.
I made blue cupcakes to look like water and then added brown sugar to some to look like sand. I then added a few figurines that I borrowed to finish off the look.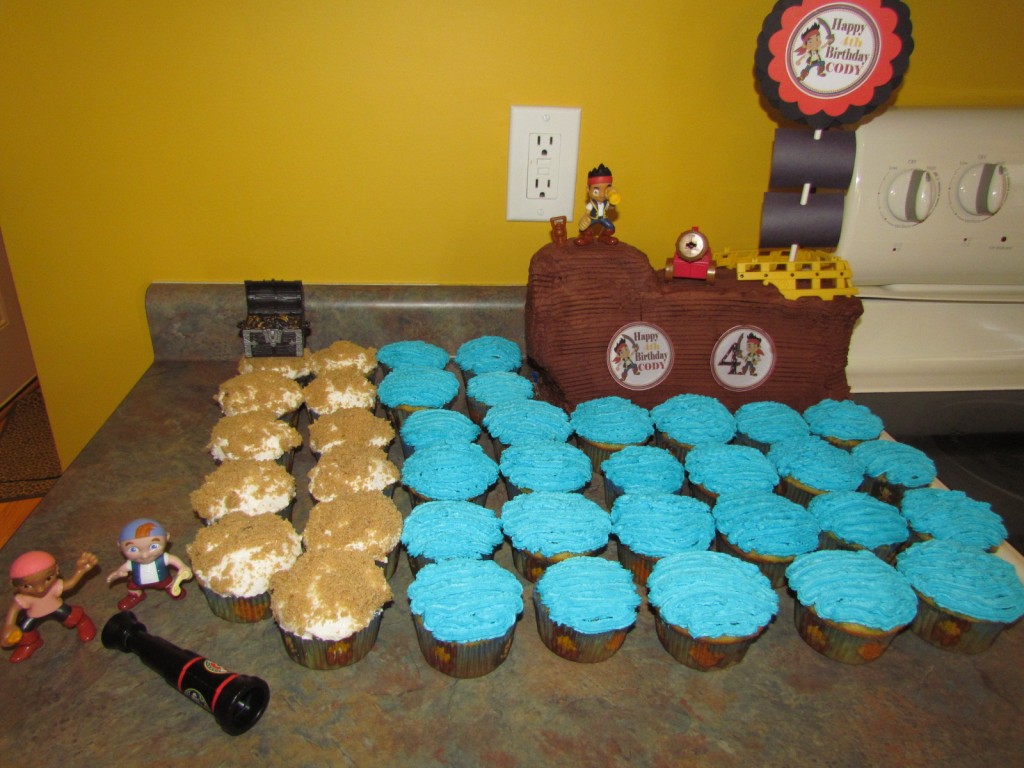 I did make a small cake for Cody. Half water, half "sand" and added a treasure chest, sword and some gold doubloons and it turned our super cute.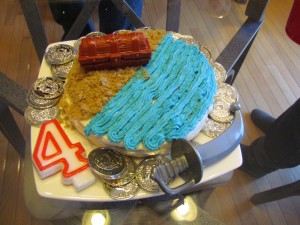 Lastly, I made Pirate Pops. This was SOOO EASY! Take marshmallows, dip them into warm water, roll in sprinkles. Take an edible pen (Michaels) and draw the eye and eye patch. You can stick them on the cake ball sticks. I stuffed the bucket with plastic bags, added a floral spongy thing (I have NO idea what it is called!), but I used it to stick the pops into and then poured brown sugar over the top to look like sand.
Well, now that I have written all this out, it seems like I went a bit over board :) BUT it was SOOOO fun, the kids loved it and Cody and I had such a blast planning it :)
I am going to work on the Thank You's tomorrow so I will have to post about that separately! Hope you got some ideas for a pirate party! Arrrrrrrr!!!!