I am SOOOOO sorry it has taken me this long to update you on Grayson's lip tie. WEEKS upon WEEKS ago, I wrote about coming home from New York after Grayson's lip tie procedure. Let me rewind and talk about how we got there.
I was reading a newsletter from a lactation consultant and for whatever reason my eye was drawn to an article on something called a Lip Tie. I started reading and immediately knew that what I was reading on my computer screen is what my little guy Grayson had.
When Grayson started getting teeth I noticed that I couldn't see his top teeth when he smiled. I kept bringing it up to Steve and he would just laugh and say he inherited his big juicy lips :) But I thought it was odd, big lips or not, why couldn't I see his teeth?! Either way, I really didn't think too much about it, until I read the article. I was baffled, but obviously, as you see below, he certainly was Lip Tied!!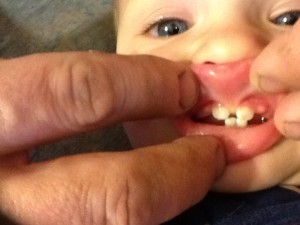 What symptoms may your baby experience if they are Lip Tied?
Poor latching/ Difficulty breastfeeding
Gassy (because of the latch, they are bringing in a lot of air)
Reflux
Poor Weight Gain
Difficulty holding the pacifier or bottle
Gap between teeth
Tooth decay
Irregular sleep patterns
The breastfeeding mama also suffers from painful nursing, sore breasts etc.
You can click here for a full list of symptoms.
Now what was so interesting for me is as I was reading through these, Grayson had NONE of them, but the gap in his teeth and poor weight gain and even that was up in the air. He nursed like a champ from the get go, I never had any issues nursing him, no pain, no problems. I could count on one hand the amount of times he cried in his first year of life. He just never fussed, he slept well early on and I just didn't have any problems with him. He was a "fast nurser", meaning he nursed quickly, but my doctor and the lactation consultant said he was probably just very efficient. I had two different lactation consultants and a nurse check his latch and that was never an issue. He gained weight, but slowly and it wasn't a huge issue because he stayed on that same curve, never dipping off. It wasn't until just recently that they wanted to test him for anemia because of his weight. Looking back, I do think that the Lip Tie probably inhibited him from nursing for longer periods of time, leading to a slow weight gain.
So once you suspect that your child is Lip Tied, what next? I recommend starting with pictures on the web in comparison to your little ones mouth. If there is any question, you can head to your local pediatrician, dentist or lactation consultant to confirm. Unfortunately, a lot of practitioners are not familiar with Lip Ties so you also have the option of emailing Dr Kotlow, the leading pediatric dentist in the country who fixes Lip Ties. He got back with me the very next day and I had a phone consult with him just a few days after that. He is AMAZING! You can send him pics of your little one and he can recommend a plan of action for you. Below is a diagnostic criteria per Dr. Kotlow.
Once you have diagnosed the lip tie, you need to decide whether or not it needs to be fixed. Since I have found Grayson's, I have had almost 5 people I know who have found that their baby is Lip Tied. Some of them have gotten it fixed and some haven't. It all depends on the severity, your comfort and the advice of your doctor. I knew I had to get Grayson's fixed right away. There was even a dark spot on his tooth which was the start of tooth decay. Mind you, he had only had his top teeth at that point for a month! He was getting decay from the Lip Tie quickly so I had to act fast.
There is a doctor close to me in Dayton who has been fixing Lip Ties on babies for over 20 years. Unfortunately, Dr. Notestein would not take Grayson as a patient because of his severity and that he had teeth. His frenulum actually wrapped all the way through the front teeth and around to his palate!!! **UPDATE: Dr Notestein now takes all kids! Kids of all ages and ones with teeth!** The only person left, that I knew of at the time, was Dr. Kotlow. They got me in right away and the entire staff is AMAZING to work with. They answered all my "what in the world is going to happen to my baby" mom questions with sweetness and confidence. Two weeks later, I was on a plane headed to NY! VERY LONG STORY, but the plane ride was awful and we ended up missing our surgery time. Dr. Kotlow gave me his cell and told me to call him when we landed and that he would meet me at his practice to do the surgery. Yeah, this is one amazing doc! We arrived at 6pm (after leaving cincy at 4:30… yeah it was a total nightmare!) and he met us there with his assistant.
They have you watch a short video on how to care for the area post surgery. By the time I was done, Grayson was back in my arms!! Dr. Kotlow doesn't allow for parents to be in the room, but from what I was told, they have a swaddler in which they restrain them and they do numb the area prior to the procedure. Within that short time, he lasered off Grayson's Lip Tie (which was a stage 4 severity) and he fixed his tongue tie (H-E-L-L-O, didn't even know of that) and that was a stage 3 severity. How did this guy even nurse for a year, you got me?! He also had a severe cavity in his front tooth that he fixed. Basically, he explained that depending on the severity, the lip tie can create pockets in the upper gum and regardless of how good you are about brushing, it can still create cavities! If I would have waited, he would have probably developed cavities in all of his top teeth :(
Post surgery, you do have to stretch the area twice a day for 10 days or the area could re-attach. I then had to rub on vitamin E on both areas. It was hard, but I knew it was better than hopping back on a plane :) We had NO problems post surgery. Using a laser, there is NO chance of infection because it cauterizes (SP?) the area and there is no bleeding because of this. Grayson was extremely upset for about 10 minutes in my arms and then he was as good as new. He didn't eat a ton for about two days, but was back to normal after that.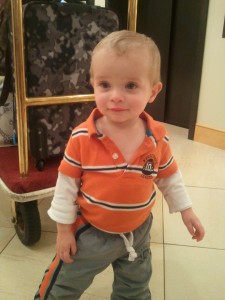 This was Grayson about 30 minutes after the procedure! Happy as can be :) After over 16 hours of traveling with a toddler, followed by a lip tie procedure,
we were both READY for BED!!!
Few things to think about:
If you have diagnosed your child with a Lip Tie, how do you know if you should get it fixed? Are they having a lot of the symptoms mentioned above? Are they eating well, is breastfeeding going well, are they crying a lot, are they losing weight? If they are older, do they have tooth decay starting? If they aren't having any of these issues you may be able to wait until they get older. Most docs are comfortable taking on kids once they are 4 or older. A lot of what I read said that if they lip tie is minimal, most parents don't do anything and you can have the gap fixed when the child gets braces. I say this because not always does a child need to have their lip tie fixed.
If you are having issues breastfeeding, PLEASE check this FIRST! Tongue tie and Lip tie can cause major issues in breastfeeding. It is NOT your fault. Once these issues are fixed, most moms notice an IMMEDIATE difference!
I have NOT done the research on this, but one of the symptoms of lip or tongue ties is delayed or problems with speech. My pediatrician said there was a study done at Children's that if a child nurses o.k. with a lip tie they won't have any speech delays. I was reading on the internet on forums from grown adults who have lip ties saying that they still have a lisp and wish their lip tie would have been fixed when they were young.
I don't think there is a right answer here. I was thankful that there was NO question with Grayson. His had to be fixed ASAP. I had no choice in waiting, not doing etc. It just had to be done. Since all of this, I have found two more doctors in the Cincinnati area who take kids (yeah, I traveled all the way to the big city for fun lol :) )!
Dr. Everheart: 513-424-1834 (dentist. not sure on how he does the procedures)
Dr. Johnson at the Liberty Childrens (I think this is an ENT so he may have to put the child under).
Other resources:
Dr. Kotlow: endless amounts of articles on this topic
Mommypotamus: GREAT site with tons of great info. Also, read the comments on her post!
Feel free to email me (jennie@motherhoodsupport.com) or leave a comment with questions or sharing your experience!