I blogged about  my New Year's Resolution which is  SAVING MONEY on food and I am ON A MISSION!! My hope is to share with you what I learn along the way and hopefully you will share your tips and savings with  me :) With this economy and the world we live in today every dollar counts so let's try to live the best life we can ON A BUDGET!! Are you up for the challenge?
Another New Year's Resolution that many people have is losing weight and/or getting healthy. My friend Mary (who is AMAZING!!!!), is having some fabulous events coming up that can help you on a path to a healthier you!
Detox Presentation (FREE): Details of the 2-3 week Standard Process Purification Program will be explained along with wellness and weight loss tips.  Participants of the program get full support with recipe suggestions and daily emails that provide educational tools to help you maintain a healthier lifestyle.
Detox Cooking Classes ($45): Menu Includes: Chicken & Vegetable Lettuce Wraps, Quinoa Stuffed Peppers, Asparagus with Balsamic Glaze, Caramelized Leeks and Carrots, Delicious Vegetable/Fruit Smoothie OR ($35) Menu Includes: Hot and Sour Soup, Spicy Thai Chicken Lettuce Cups, Aromatic Chai Tea.
You can check out Mary's Pure Life Studio website for more info on any of her events! I personally like the idea of a detox because it truly resets your body of all those awful cravings and can help our bodies to feel its BEST!
I had a great time ringing in the New Year with my boys! We went to the Newport Aquarium for their New Year's Eve Kid's Countdown. It was SO adorable! We went early so that we could go through the entire Aquarium before the party started. Cody has been to the Aquarium many times before so he kept trying to go on to the next thing, but Grayson LOVED looking at everything and just kept pointing and staring and making oohing and awwing noises. It was super cute! They had the New Year's Eve party in their observatory room. They pulled out all the benches and they had Q102 there with the music pumpin :) They handed out beads and mini footballs to all the kids who came in. They also had door prizes, hula hoops and the big penguin was out dancing with the kids. It was SOOOO cute! They had a New Year's Eve countdown at 5pm which I LOVED because it was a kid friendly hour and the kids got to enjoy the night, but still get to bed at a decent hour :)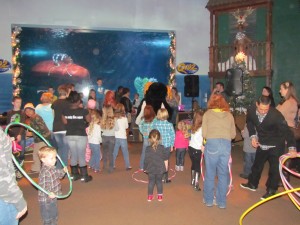 We were able to stop off at the Festival of Lights for their Happy Zoo Year. We go every year, but they did have a cute new area for Smores which we just had to have :) They have a fireworks display to ring in the New Year, but we didn't stay for that. Looking forward to trying that out one year as the kids get bigger!
We came home, got the kids to bed and me and the hubs were able to spend some one on one time together. Overall, it was a great New Year's! Cheers to 2013!
How did you spend your New Years and what is your RESOLUTION?!