We have been taking classes at The Little Gym for some time now. We started with mommy and me classes and then Cody graduated to the big boy class (which was one step closer to getting him comfortable with preschool). He took gym classes for a while, then transferred to their Sports Skills classes and then wanted to try out Karate. He has LOVED karate! I know I want my boys to be in Karate at some point for the self-confidence and discipline it provides, but I didn't think it would be beneficial this young. I have seen the kids attention span improve throughout the semester and Cody has loved showing off his moves :) They have a show day the last week of the semester where family and friends come in so the kids can show off what they have learned. Cody smiled all the way through and he got a medal at the end to celebrate in his accomplishments. It was a bittersweet day because it was the last week the Little Gym Liberty would be open. They decided to close their doors to merge with the Mason location. Most of the staff will be making the transition and they will still be keeping their same wonderful classes, but we had grown to love that place and it was like home so it was hard to say good-bye!
With that being said we are excited to be heading to the Mason location taking classes at the start of their brand new semester which starts today! We went to the open house to let the kids check it out and they both had a blast. Grayson is my little dare-devil and he especially had a good time tumbling around on the mats. I am SO excited to do a mommy and me class with him this semester!!! I am looking forward to seeing what he gets into while we are there :) They allow the older ones to hang out in the waiting area which is AWESOME for me since I don't have a sitter during the days. They have toys and games for the kids to play and there is always someone at the front desk who can watch out for them if they need anything. A lot of places don't allow this so it makes for a great place to take classes when you have multiple kiddos :)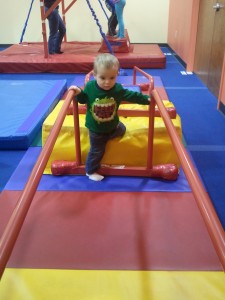 Grayson playing at the Mason open house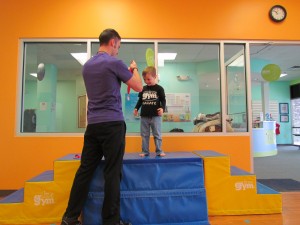 Cody accepting his medal and wearing a proud smile on show day!
I would love to see you at the Mason location. Your first class is always FREE! What classes are your kids into right now?!