I am always looking for fun stuff for us to do and you have to change it up once the winter months hit!  We recently tried out Jump and Jacks. It was a last-minute decision as plans with a friend changed. We ended up meeting another friend there and had a great time! They have a toddler area for the little ones, which is gated (I liked that since my little Grayson seems to want to wander off on his own a lot)! They have a HUGE indoor play area for the older ones. Grayson actually liked that too, but I had to be with him to help him climb and explore. There is a large computer screen on the ground that the kids can play with their feet… stomping bubbles etc. They have bouncers at certain times of the week and food! They pretty much have it all! It was super clean which is a must and the play area was big enough that I could climb through with ease and not feel claustrophobic! It was a little difficult with my kids ages because I had to be right there for Grayson in the bigger area, but there were other moms there that had bigger kids and they were relaxing on a chair watching their kids play! NICE :) We went on a Friday and once you pay for the day you can leave and come back for free. The price of admission on Fridays includes the bouncers which open at 5. Since we only live 5 minutes from there it would be easy enough for me to go before lunch, get Grayson down for a nap and go back later for the bouncers! I would highly recommend checking it out!!
The other place that I have been to a million times, but saw in a new light is Ikea! They are SUPER family friendly. I love that they have a play area drop off for the bigger kids (so you can shop…read a book or go have lunch alone!! lol) for FREE and play areas throughout the shopping  aisles for the younger kids. They also have family parking spaces and family bathrooms with nursing chairs and complimentary diapers! There is quite a bit of food to choose from and their kids meals are only $2.50 WITH a drink! Not bad!! An even bigger bonus is Kids Eat Free on Tuesdays! BONUS! They have disposable bibs, a microwave to heat up kids food that you bring from home and a bottle/ baby food warmer! I love that they have a little kids area set up in the cafeteria so the kids run off some energy!! Yesterday, I had to return something so we went before lunch, returned the item and then had some lunch and I let the kids play. We met a friend and we were actually able to chat for a bit after lunch while the kids were occupied with the Ikea toys! This is a great place to bring the kids when you just want to get out of the house! Shop, grab a bite to eat and let them play!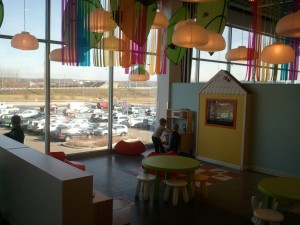 We also started a new session at our much LOVED music class at the West Chester Academy of Music and Dance! We are exploring the Tiger Collection this semester. Both the boys LOVE going to class and we all have fun running around acting out the songs, playing with instruments and the parachute! I love that we get a music book and a C.D. with over 20 songs (!) at the beginning of each semester so we can learn the songs we sing in class. Just as we are getting bored with those songs, a new semester starts! They also just recently started a class for the older kids, ages 4 and up, so you can drop them off and let them have their own time! First class is always FREE so be sure to swing by and check it out!
Where are your favorite places to go in the winter and how do you keep your kids from driving your crazy while you are inside?!