My post today got a little sidetracked since both the kids have been under weather! Luke has been out of school all week with a cold and Emma started a nasty cough yesterday so they both got checked out at the Docs today and it turns out that Luke had an ear infection and Emma has the start of bronchitis. Apparently it peaks at Day 3 or 4 and today was Day 2 for her so I'm hoping and praying that she's able to get over it without having to use any meds. So lately there's been a lot of this…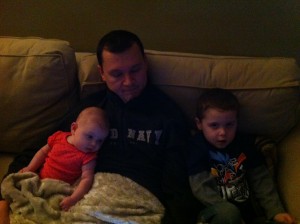 You can see in this picture how much more of a snuggler Emma is than Luke. My little man has never been much for cuddles (notice J's arm isn't around him) but Emma find that sweet spot with Daddy and couldn't be happier. (Daddy's little girl is an understatement.)
This week, I've been trying to finish a couple projects and one FUN one has been getting ready for Valentine's Day! I've started seeing Pinterest overflowing with cute ideas for V-Day and I know, this day isn't one that everyone loves but I'm a sucker for anything mushy. We don't go crazy but I've been wanting to do some cute decorations around the house. Check out this adorable way to count down to V-Day with your kids by posting one think you LOVE about them each day:
Source: skiptomylou.org via Motherhood Support on Pinterest
My Mom just ordered some great new V-Day crafts for me from Stampin' Up and they are pretty cute! They have some great offers going on now, when I checked them out online I was happily surprised at the deals! First up are these gorgeous valentine cards that I put together in just a couple minutes! Get the kids involved with writing their notes and stamping their message inside! They come in packs of 10 and they are reversible with everything you need to put these together including the matching note paper inside and the string!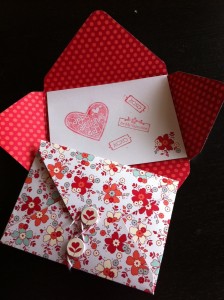 You can get one of the above packs of 10 for FREE when you buy this set of stamps for $9.95: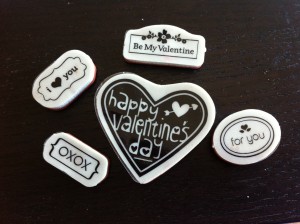 You can do all kinds of things with these stamps and you also get 50 FREE 2×8 cellophane bags too! Use some red stamp ink to make these cute tags: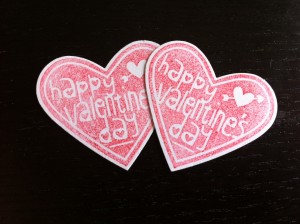 You can make it really easy on yourself and get one of these to cut out the heart shapes which makes this crafting as easy as it gets!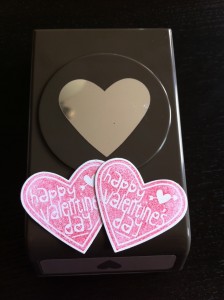 I used the cellophane bags with candy convo hearts and added the tag for an easy peasy V-Day goodie that took less than 5 minutes!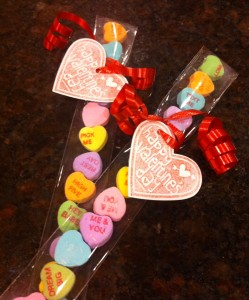 It's the perfect size to hand out as class valentines and I loved not having to hand cut out 15 little hearts! My hand would be cramping after the first 2 hearts! The other thing I am MOST excited to try out are these Talking Tags! Have you seen these codes all over the place for looking up businesses and contact info? These are labels that you place on your greeting cards (or anything!) and by using the Talking Tag app on your smart phone you can record a personal message of your choice up to one minute long! The other person receives this little label, scans it on their smart phone and it instantly plays your message! These are also available via Stampin' Up and come in sheets of 10 for $8.83. These would be fantastic to send to friends and family for occasions year round!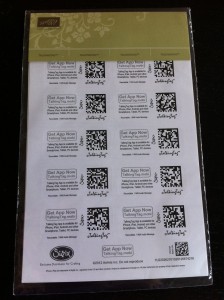 Be sure to check out Stampin' Up and order these great deals before Jan 21st – that's the LAST day! This isn't a sponsored post, it's just too good a deal to pass up! Enjoy and happy crafting!
Pin It
You may also like: