Since Cody was born, I have loved keeping a calendar. I can jot down milestones, memories, funny things he said and I have done the same for Grayson. I usually do that for the first year.
I also have a journal for both of them that I write in every month. I go through things they have done, said, what they are in to at the moment etc. I hope this is a nice thing they can look back on as they are older and laugh at!
I do a yearly photo book (per child) with pics from that year, milestones, letter from mom and dad etc.
I have a birthday memory book that I have guests sign and put some pics from the party that year.
The latest thing I have found that I am IN LOVE WITH and adding to my list is Journal 10+. It is a book that holds up to 11 years of memories! It is set up my month and each day is on a page of its own, but for the next 11 years (if you can imagine that)! See below if you are confused (sorry, this was as big as I could make it)! This is one page of Jan 1st (for example) and it has 2012, 2013, and so on down the page with lines so you can write in the space for that day and year!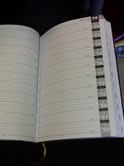 What I love so much about this is that in just a few seconds, I can record the daily highlights of what we did, the kids milestones, things they said etc and it all stays in one place for the next 11 years!!!! When I get out my journal for the month (the one I write to each child), I just pull out my Journal 10+ and go over that month so I can write about what they did specifically. Some days I don't write anything, and other days my lines for that day are full. I use it for the kids stuff, but the possibilities are endless with what you can keep track of! They also have an area for goals, telephone numbers and addresses, birthdays and ongoing records.
This is a MUST OWN for all moms because we are all SO BUSY and this is such an easy way to keep track of family memories! No more feeling guilty that you can't keep up with it because with Journal 10+ YOU CAN! Journal 10+ has offered a special discount of 10% if the code JN009 is used when placing an order on their website for the next two weeks!! Yea!!! :)
I would love to hear how you keep track of your kids memories and how you would use the Journal 10+!
You may also like:
I try to keep our memories preserved as much as I can, but let's face it, it is hard to keep up with our daily to do's, let alone keeping track of milestones and special moments! That task gets more difficult with each child you add to the family too! I am not a huge fan of the baby book only because it is too much pressure for me to keep up! There are a few things I like to do that aren't super time-consuming, but still keep our family memories preserved: