I have been on a more holistic path for quite some time. TRUST ME…. I am NOT even close to perfect with it, but I am always looking for new things to try that move towards becoming a more healthy me. YEARS ago, I was on this colon cleanse kick. O.k. so NO I didn't actually do it, BUT I talked about it all the time and even called the place up to see how it was all done. Yes, I totally chickened out…. I mean, did I really want to stick something up my hmmmm and have some cold water fillin my colon? I think I will pass :)
The next best thing to a colon cleanse is a body cleanse. I have tried a few and I think all systems have their good and bad. It is hard because you can become cranky, hungry and just flat-out mean, but the end result is great. Your body is rebooted and you don't have the same cravings that you had before the cleanse. The problem is sticking to not eating those oh so delicious chocolate chips, which puts me back at square one!
I tried something recently that was a little different from all of this put together. I visited Pure Life Studio and went into an infrared sauna. The "Infrared Saunas deliver a penetrating heat that is highly effective at removing toxins through sweating. Your skin is the body's largest organ and extremely absorbent, making it an ideal delivery portal for nutrients, as well as an exit for impurities in the body. The Infrared Saunas (with detoxifying ozonized essential oils) is a healthy and quick way to lose toxins (and inches) while reducing cellulite and improving the beauty and texture of the skin." I have to say it looks a little funny, but it felt amazing!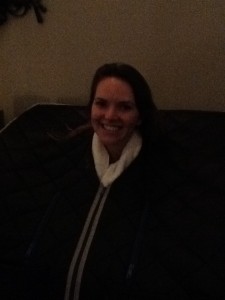 It is a little dark, but you get the idea. I had her take the pic with my ipad and it was dim to create a spa like soothing atmosphere :)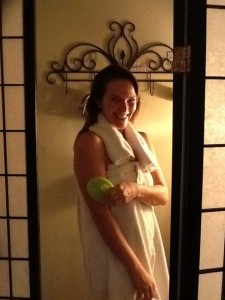 She has you get the blood circulating beforehand and she has a blend of essential oils you put all over your body. The blend smells divine!
The infrared sauna is like sitting in a sauna at the gym, but my face wasn't covered so I was able to talk with Mary (and pick her brain since she is a guru on healthy living!), drink water and feel comfortable during my treatment. I loved that I felt my body sweating a TON because it made me feel like I was getting all the nasties out! During my treatment Mary also did a facial treatment called a an Oxygen Facial Infusion that costs hundreds of dollars at a dermatologist, but that you can get there for $35 and actually even cheaper if you do a combo of both the sauna and the facial. This facial is supposed to help anti-aging, acne, derm-recovery, and inflammation. It is a combination of getting the toxins out of the body and then putting the essential nutrients back into the skin. It is free of all chemicals and it feels divine! I went right before my time of the month, which is when I get my breakouts and I hardly noticed ANY breakouts so this is something I may try to do monthly. My skin felt great afterwards!! I love that all the products she uses is free of nasty ingredients so you know you can trust what you are getting with her!
Mary really is the BEST at what she does. She has so much information at her fingertips and is such a wealth of knowledge and she is just waiting to share it with you. She has you fill out a systems survey which gives her more insight into what is going on with your body and where you need to start. After that, she offers a wide variety of services to get your body back on track and head towards health and happiness :) I really do feel like I hit the jack pot meeting Mary because it is not always easy to find someone so dedicated to nutrition and getting your body in alignment (the holistic way) and she is so easy to talk to and so willing to share her knowledge with you!
I HIGHLY recommend going to see Mary at Pure Life Studio if you are local to Cincinnati. If for nothing else, just a consult. She can get you on the right track with her many services and products available!!