I have recently had the opportunity to try out several books and wanted to share my thoughts:
Healthy Foods A-Z: I thought this was super cute. I am always looking for new ways to get my kids interested in healthy foods and this is a cute book at that goes through their letters, while also teaching them the names of super healthy foods that are in the shape of a silly face. Cody seemed to really like it. They have the english word of the food and the spanish translation which was a bonus. The only thing I thought was confusing is that some of the food was in English and translated Spanish and some were Spanish and translated English. The confusion for me set in when the foods were categorized by the letters of the alphabet. I was going through the foods with Cody and "A" for example, had a picture of celery with the Spanish word "Apio" which starts with an A, but Celery starts with a C so it was a little confusing for me trying to teach him letters with the foods that went with the book.
Harriett's Homecoming: This is a MUST READ if you live in the Cincinnati area! The book is about a falcon chick and her travels through Cincinnati!  It takes kids and parents to the Zoo and Botanical Garden, the Krohn Conservatory, Eden Park, Great American Ball Park, Cincinnati Museum Center, Findlay Market, and more, providing parents with a map of all of the locations in the back and informative sidebars on each page with history/information about each place Harriett stops. I thought this was such an interesting way to teach kids about their home town and give parents ideas on places to build in some family fun time!
Good People Everywhere: This was a winner of the Mom's Choice Award, Honoring Excellence. I can see why. This book talks about all the good things people are doing around the world. It is simple, yet relays a powerful message. It is much easier to look at the negative in the world and this books reminds us and shows our kids that there are a lot of beautiful, kind and gentle spirited people in this world. This is the message I want my kids to see, read and feel in their core because it is true. There are good people everywhere… you just have to open your eyes, look around and you will find them :)
Absolutely Organize Your Family: I LOVE THIS BOOK! It is a great organizational book that is put in an easy to read format and simplistic terms. I felt like I was able to keep myself pretty organized when I had Cody, but once Grayson was in the picture, I had to adjust and figure out a new schedule. As both the boys get older, we just keep getting busier so I have to keep us organized. She has some GREAT ideas on ways to organize all aspects of your family. My favorite part has been the chapter on Calendars. This is something that I have been thinking on because the calendar I currently use is just not big enough to write all of the activities we have as a family of 4. After reading this I do have a good idea on what I am going to do. What I liked about this chapter is that it really honed in on why we need to teach our children to be organized with their time- in regards to free time, activities and school. If we can teach our kids this priceless lesson while they are young, they won't struggle with the stressful demands on time as they get older! One idea she had for the little ones is to create a pictogram for the month so they know what they have going on each week. I knew this is what I need to do for Cody because every day he asks me what we are doing that day and wants a play by play. This way, he will be able to look and see what is on the schedule! Just another way to empower them :)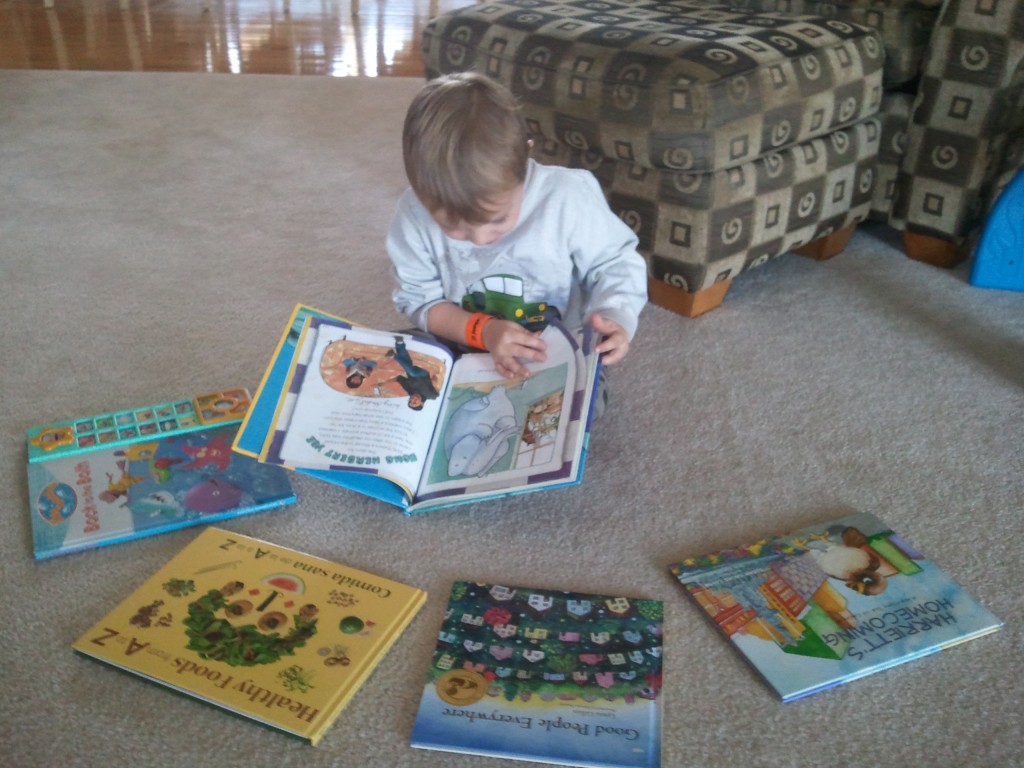 We LOVE books at our house (as you can see above… I totally set this up, but I wanted him to look up and smile and he told me "NO! I am reading"!!)  and when we get bored with books we have here, we head to the library. We do about once a month since we get about that long to check them out. Now that both the boys pick out books from there, I had to come up with a place that they had a home or else we would have lost them all. Absolutely Organize your Family book gave the idea to get a basket to keep them all. Now we have a basket under our coffee table where our library books belong. We read them and then we put them back in the basket. If Cody wants to take some upstairs to read before bed he knows that he has to bring them down in the morning and put them in the basket. Great tip :)
Have you read any good books recently? Any organizing tips you want to share? We would love to hear them!