I went to a friends son's birthday party and I just HAD to have her post about her painted pumpkins. They were SOOOO adorable! This would be SO fun to do to match your party theme, decor of your home, gifts… the possibilities are endless! Read her how-to below so you can do it too :)

"Who doesn't love taking the kids to their favorite pumpkin patch this time of year? Last weekend the weather was perfect, the farms were packed and the apple cider was flowing. Now that we have several pumpkins comes the daunting task of cleaning out the goop and carving them while your kids eagerly watch and give unsolicited advice.
This year, I have a different approach. The whole family will be painting pumpkins! My daughter's birthday was earlier in the month and the theme, "polka dot party", was easily carried out by painting a few pumpkins to display on our mantel. Now I must give credit to pinterest for the brilliant idea, but it was a crafty project I could actually do with very little frustration!
Keep them orange, paint them black or add a current hot trend like chevron stripes (a fancy decorating word for zig zags). I researched the best way to get polka dots onto my pumpkins from this site: Pumpkin Painting Idea Center and then I got creative. Since I had numerous pumpkins to paint to fit our mantel, I decided to run to the local hardware store for spray paint. Two coats later, I was in love with my purple, green and white pumpkins- my party theme colors. Since they always have online and mobile coupons, I headed to Michaels to purchase several small (and cheap) acrylic paints and a package of round sponges. I skipped the finishing spray since they were being kept indoors, however, a clear coat might have been a good idea to keep the paint from peeling off. The spray paint sticks to the pumpkins great without needing a separate primer, but I'm not sure how it would fair in the rain.
I loved my finished product and so did all my party guests. What I loved even more is my three-year old was able to add some polka dots and contribute to making his little sisters party special and memorable.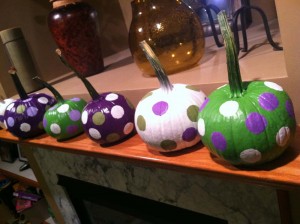 A few additional suggestions:
I purchased some glittery acrylic paint but it didn't adhere or show up well. If you want sparkle try glue and glitter, or puffy paint.
Try displaying your surname or kids names with stencils, or go freehand like I did!
If you are having a Halloween party, pick up the little pumpkins for kids to paint and take home.
Search the web for design ideas that mirror your children's Halloween costumes. This year by kids are dressing as Mickey and Minnie and I can't wait to for them to hold their matching pumpkins!
Paint carved pumpkins! Who says you can't cut out eyes and a mouth and paint them with long eyelashes, big red lips or glasses?
Painting pumpkins can inexpensively add class and sophistication or fun and whimsy to your autumn decorations. And it's a project the whole family can enjoy."
Three years ago Pam White traded in her stilettos to fulfill a hilarious and chaotic job that came with no learning curve or manual. Two children later, she and her husband have happily turned their house into a home filled with love, laughter and lots of  toys. She can be reached at PamelaAWhite@gmail.com